Stand up for the facts!
Our only agenda is to publish the truth so you can be an informed participant in democracy.
We need your help.
I would like to contribute
Says Hillary Clinton once "supported a border wall until she ran for president in 2016."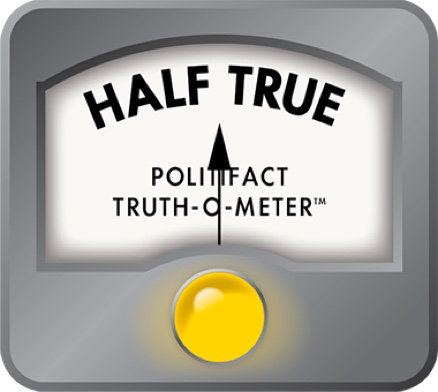 Did Hillary Clinton support a border wall with Mexico?
As President Donald Trump continues to press an aggressive border enforcement policy, some conservatives have said Democrats' expression of sympathy for children separated from their parents is a more about political expediency than sincere concern.
As evidence of Democrats' calculating approach to immigration, syndicated conservative columnist Cal Thomas argued Democratic nominee Hillary Clinton supported a border wall prior to her 2016 White House bid, when "build the wall" became a Trump rallying cry.
"Need proof that the current controversy over children of undocumented immigrants is more political than humanitarian?" Thomas wrote June 20. "Hillary Clinton said she was 'adamantly against illegal immigrants' and supported a border wall until she ran for president in 2016."
We decided to revisit Clinton's record to see if she once backed a wall along the lines of what Trump proposed during the election. We found that while Clinton supported more border security, the plans back then were not the kind of wall Trump has proposed, and Trump himself said that what Clinton supported was inadequate.
The Secure Fence Act of 2006
Thomas' column linked to a video clip of Clinton discussing her voting record on immigration while a senator.
"I voted numerous times when I was a senator to spend money to build a barrier to try to prevent illegal immigrants from coming in," Clinton told an audience at a campaign stop Nov. 9, 2015. "And I do think you have to control your borders."
Clinton voted for the Secure Fence Act of 2006, which President George W. Bush signed after the measure cleared the Republican-held Congress. It authorized about 700 miles of fencing along certain stretches of land between the border of the United States and Mexico.
The act also authorized the use of more vehicle barriers, checkpoints and lighting to curb illegal immigration, and the use of advanced technology such as satellites and unmanned aerial vehicles.
Then-Sen. Clinton voted in favor of the act when it passed in the Senate by a vote of 80 to 19. (Notably, then-Sen. Barack Obama and New York Sen. Chuck Schumer voted for it, too.)
Originally, the act called on the Department of Homeland Security to install at least two layers of reinforced fencing along some stretches of the border. That was amended later, however, through the Consolidated Appropriations Act of 2008, which got rid of the double-layer requirement.
Fence versus wall
So how does the fence-building measure Clinton supported compare to Trump's wall?
For her part, Clinton sought to distinguish the two after TV news anchor Jorge Ramos put the question to her at a campaign event.
"What is the difference between your idea and Donald Trump's idea on building a wall with Mexico?" Ramos asked at the Jan. 11, 2016 Iowa Black and Brown Forum.
"So we do need to have secure borders and what that will take is a combination of technology and physical barrier," Clinton said.
"You want a wall then," Ramos interjected.  
"No, we've —" she said.
"You said that," he said.
"Well, I voted for border security, and some of it was a fence," Clinton said. "I don't think we ever called it a wall. Maybe in some places it was a wall."
On one hand, the differences in semantics between a wall and a fence may not seem too significant because both block people.
However, there are significant differences between the fence Clinton voted for, and the wall Trump pitched during the campaign, which he promised would be an impenetrable, physical, tall and "beautiful" wall that Mexico would pay for.
The plans Trump articulated for the wall during the campaign were somewhat vague and inconsistent.
He said the wall didn't need to run the nearly 2,000 miles of the border, but about 1,000 miles because of natural barriers. He said it could cost between $8 billion and $12 billion, be made of precast concrete, and rise 35 to 40 feet, or 50 feet, or higher.
In any case, Trump himself criticized the 2006 fence as too modest during the 2016 election.
"Now we got lucky because it was such a little wall, it was such a nothing wall, no, they couldn't get their environmental -- probably a snake was in the way or a toad," Trump said. (Actually, the project didn't face environmental hurdles; we rated that part of the claim Mostly False.)
Our ruling
Thomas said that Clinton "supported a border wall until she ran for president in 2016."
Clinton did vote for the Secure Fence Act of 2006, which authorized building a fence along about 700 miles of the border between the United States and Mexico.
But the fence she voted for is not as substantial as the wall Trump proposed. Trump himself called the 2006 fence a "nothing wall."
Thomas' statement is partially accurate, but ignores important context. We rate it Half True.
Browse the Truth-O-Meter
More by John Kruzel
Support independent fact-checking.
Become a member!
In a world of wild talk and fake news, help us stand up for the facts.