Stand up for the facts!
Our only agenda is to publish the truth so you can be an informed participant in democracy.
We need your help.
I would like to contribute
Florida's school marshal program passed by the Florida House is the "first-of-its kind."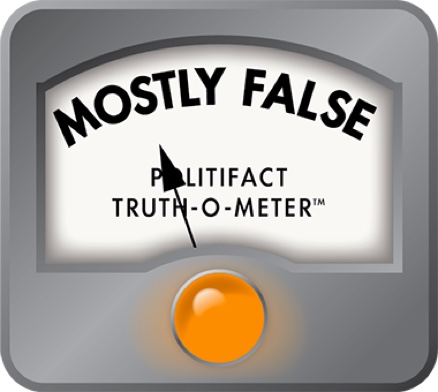 Is Florida's plan to arm teachers the first of its kind?
Florida House Speaker Richard Corcoran, R-Land O' Lakes, is following President Donald Trump's lead by supporting legislation that would arm teachers in the classroom.
On The Ingraham Angle on Fox News, Corcoran said that Florida's proposal to arm teachers, known as a marshal program, is unlike anything else in the country. The voluntary program would train teachers under the direction of local law enforcement.
"One of the things that we are doing in Florida is we have instituted, as President Trump has suggested, the most robust first-of-its-kind marshal program," Corcoran said Feb. 27 on Fox News.
Corcoran may have spoken too soon, however.
The Senate amended the House proposal on March 5 and removed the ability for schools to arm teachers. Instead, school official such as custodians, principals, librarians and counselors would be eligible for training to carry guns. The bill is now moving back to the House.
Still, at the time of Corcoran's claim, the House and Senate were considering plans that would include teachers. So, we wondered whether Florida's proposal was really a "first of its kind" like Corcoran said.
Breaking down Florida's marshal program
At the time of Corcoran's claim, the House and Senate proposed school safety packages that established a "marshal program," which would provide training to teachers so they can be armed on school campuses.
The program would be optional, and school districts and law enforcement would have to agree to adopt the program. A school employee, who voluntarily enters the program, must get a mental health screening and receive 132 hours of training for firearms safety, firearm precision and discretionary shooting.
Corcoran spokesman Fred Piccolo said the one-of-a-kind aspect is the comprehensive nature of the program.
"I think the key word he used is 'robust,' " Piccolo said. "At 132 hours of required tactical training we have been unable to find a more rigorous system in the country."
Texas passed similar law in 2013
According to the National Conference of State Legislatures, at least five states — Georgia, Kansas, South Dakota, Tennessee and Texas — passed legislation allowing school employees to carry firearms at K-12 schools in the aftermath of Sandy Hook.
Of those states, the closest plan to Florida's proposal is in Texas, which has had its own marshal program since 2013. Out of the other four states, Texas requires the most training. South Dakota also has a similar program, just with a different name.
In Texas, districts that choose to enter the program select a volunteer — a teacher, a coach, an administrator with the right to carry guns on school campuses.
There aren't solid numbers on the size of the program, since the identities of marshals are anonymous, but Gov. Greg Abbott of Texas, a Republican, told Trump that in more than 100 school districts in Texas, teachers and other personnel carry a weapon and are trained to respond to an attack. The Dallas Morning News reported that there has not been any reports of incidents involving marshals at schools.
We sent the two pieces of legislation to researchers at the National Conference of State Legislatures to see if there were any major differences between the two programs.
"In my assessment, the programs are not all that different," said Jennifer Palmer, a research analyst, National Conference of State Legislatures. "Both programs are designed to provide additional training for school employees for emergencies including active shooter situations."
That said, there some minor differences that Palmer pointed out, including the amount of training each program requires and where the firearm must be kept.
Storage of weapon: Florida marshals can carry firearms concealed in holsters approved by the sheriff. If a marshal in Texas is in "regular, direct contact" with students, their firearm must be stored and locked.
Training: Texas marshals are required to undergo 80 hours of training, whereas the Florida program would require 132 hours of training.
Number of marshals allowed: In Texas, each school can appoint one marshal per 400 students, whereas Florida's House bill would allow school districts to recommend "school faculty and staff members" with no maximum listed.
Authority to act: Texas marshals are authorized to make arrests, however only "as necessary to prevent or abate the commission of an offense that threatens serious bodily injury or death." Florida marshals are only able to exercise authority with the "limited purpose of responding to an active assailant incident."
Other similar legislation?
Another similar proposal to Florida's marshal program is in South Dakota where schools have the option to allow individuals to carry guns in school under the sentinel programs that was established in 2013. State law requires that sentinels be trained for at least 80 hours.
The Florida marshal program closely resembles a sheriff-initiated program in Polk County, Fla. According to the Lakeland Ledger, Southeastern University, a private school in Florida, implemented a sentinel program that allows teachers to serve as trained special deputies authorized to carry weapons.
Our ruling
Corcoran said the marshal program to arm teachers is the "first of its kind."
Texas established a very similar program in 2013. South Dakota also has a similar program, just under a different name. Both Texas' law and Florida's house proposal have the same goal, which is to provide training to teachers and school employees to carry guns on school campuses. 
The statement contains an element of truth but ignores critical facts that would give a different impression. We rate it Mostly False.
Interview, Fred Piccolo, House Speaker Richard Corcoran spokesman, May 12, 2017
Email exchange, Hannah Shearer, staff attorney & Second Amendment litigation director at Giffords Law Center to Prevent Gun Violence, Feb. 2, 2018
Email exchange, Jeni Palmer, research analyst, National Conference of State Legislatures, Feb. 2, 2018
National Conference of State Legislatures, CARRYING FIREARMS IN K-12 SCHOOLS: A POLICY SNAPSHOT, Feb. 27, 2018
Tampa Bay Times, Florida Senate moves forward with plan to arm teachers, narrowly rejects assault weapons ban, March 3
Texas Legislature Online, HB 1009, accessed March 2, 2018
Fox News transcript, The Florida shooting, sheriff's reaction and Stoneman kids, Feb. 27, 2018
CNN, Step inside the Texas school district that already arms its teachers, Feb. 23, 2018
Browse the Truth-O-Meter
More by Allison Graves
Support independent fact-checking.
Become a member!
In a world of wild talk and fake news, help us stand up for the facts.