Stand up for the facts!
Our only agenda is to publish the truth so you can be an informed participant in democracy.
We need your help.
I would like to contribute
Says Dean Heller "has voted for a GOP bill that funded efforts to revive Yucca Mountain."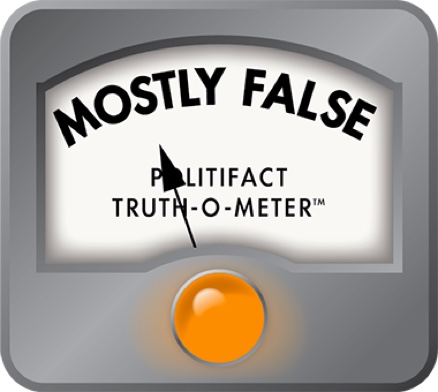 Rosen misleads on Heller Yucca Mountain vote
Yucca Mountain is a hot-button issue in Nevada. The idea of storing up to 110,000 metric tons of highly radioactive spent fuel from nuclear power plants has few fans inside the state.
President Donald Trump supports the plan and put $110 million into his proposed budget to move it forward. With broad bipartisan support, the House voted overwhelmingly May 10 to have the Energy Department plan and build out the storage site.
Democrat Jacky Rosen's Senate campaign fired off a press release tying incumbent Sen. Dean Heller, R-Nev., to the House vote.
"Heller couldn't even stop his close friend of more than a decade, House Majority Leader Kevin McCarthy, from bringing the Yucca Mountain bill to the floor for today's vote," the press release said. "Heller has voted for a GOP budget that funded efforts to revive Yucca Mountain, and he voted to confirm President Trump's pro-Yucca budget director last year."
We decided to look at the statement that Heller voted for a Republican budget that advanced the Yucca Mountain waste repository.
The 2011 vote
The Rosen campaign's press release linked to an April 12, 2011, article in the Las Vegas Sun. The story said a House budget provision that would have revived the Yucca Mountain proposal had died in the Senate.
There's a lot of history here. With the prospect of waste building up at nuclear power plants across the country, Congress passed the Nuclear Waste Policy Act of 1982. In 1987, it amended the act to make Yucca Mountain the only option for Energy Department planning.
Jump forward to 2009. The site had met the safety requirements of the Nuclear Regulatory Commission, but the Obama administration, citing broad opposition in Nevada, put things on hold.
In 2011, House Republicans added a rider to their budget that barred the Nuclear Regulatory Commission from doing anything to close the Yucca Mountain site.
The formal text was: "No funds ... may be used by the Nuclear Regulatory Commission to conduct closure of adjudicatory functions, technical review, or support activities associated with the Yucca Mountain geologic repository license application."
So, while the bill didn't specify any particular sum to open the site, this rider denied money to roll back the planning process.
A big budget bill
The rider was part of an appropriations package that reached virtually every government agency. The bill funded defense, health and human services, agriculture, and more. According to the Congressional Budget Office, the total price tag was $1.3 trillion.
Heller, then a House representative, voted for the bill, which passed pretty much down straight party lines. Every Democrat and only three Republicans voted against it.
The Rosen press release singles out the element related to Yucca Mountain, but as is always the case with budget bills, they are about much more than just one issue.
It's also true that Heller tried to remove the Yucca Mountain rider. He offered an amendment that would have prevented any money going toward the Yucca Mountain Nuclear Waste Repository. That amendment failed on a voice vote.
Stewart Boss with the Rosen campaign said they stand by their press release.
"When a partisan budget bill with a controversial Yucca Mountain funding provision came to a vote in 2011, Senator Heller weakly tried and failed to remove the funding," Boss said.
Heller is on the record as opposing the facility. In 2017, he testified before a House Oversight and Government Reform subcommittee, saying "This ill-conceived project would not only cause significant harm to the well-being of my home state and all Nevadans, but also poses a national security risk that is too great to ignore."
Heller has continued to argue against Yucca Mountain funding in letters to appropriators, including this one in April.
Our ruling
The Rosen campaign said that Heller "has voted for a GOP bill that funded efforts to revive Yucca Mountain."
The GOP bill that got Heller's vote didn't provide money so much as it barred the Nuclear Regulatory Commission from spending money to roll back the licensing process for the waste repository site. Heller floated an amendment that would have barred spending any money on the site at all.
Offering an amendment is not the same as waging a knock-down, drag-out fight, but Heller's amendment would have stymied the intent of the Republican language. Back then and today, Heller's official policy is to oppose the Yucca Mountain plan.
All of this took place in the context of a massive spending measure. To focus on a single element in a $1.3 trillion bill amounts to legislative cherry-picking.
We rate this claim Mostly False.
Jacky Rosen for Senate, Heller's GOP Allies Ram Yucca Mountain Bill Through Republican-Controlled House, May 10, 2018
Las Vegas Sun, Despite House GOP push, Harry Reid declares 'Yucca is dead', April 12, 2011
U.S. Congress, H.Amdt.163 to H.R.1, Feb. 19, 2011
Congressional Budget Office, Estimate of H.R. 1, the Full‐Year Continuing Appropriations Act, 2011, Feb. 25, 2011
U.S. Congress, H.R.1 - Disaster Relief Appropriations Act, Dec. 28, 2012
Nevada Democratic Party, As House Republicans push forward, Heller fails on Yucca Mountain, May 10, 2018
Dean Heller, Heller Makes the Case Against Yucca Mountain to U.S. House of Representatives, Sept. 26, 2017
U.S. Congress, Nuclear Waste Informed Consent Act, Jan. 11, 2017
Congressional Research Service, Civilian Nuclear Waste Disposal, Oct. 23, 2017
Email interview, Stewart Boss, spokesman, Jacky Rosen for Senate, May 10, 2018
Email interview, Keith Schipper, spokesman, Dean Heller for Senate, May 10, 2018
Browse the Truth-O-Meter
More by Jon Greenberg
Support independent fact-checking.
Become a member!
In a world of wild talk and fake news, help us stand up for the facts.