Get PolitiFact in your inbox.
Says he didn't support the lawsuit to repeal the Affordable Care Act.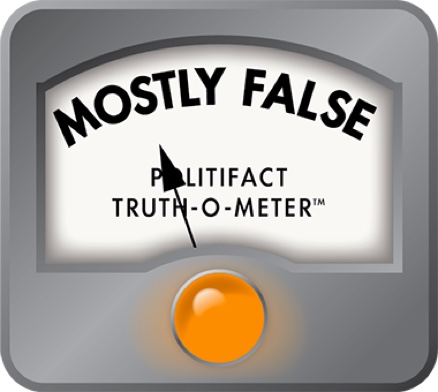 Does Mike Braun support the lawsuit to end Obamacare?
Throughout the country, Democratic candidates are singing a common tune, warning that their Republican opponents want to end protections for pre-existing conditions.
In Indiana, incumbent Sen. Joe Donnelly recently accused his Republican challenger, Mike Bruan, of supporting the Texas lawsuit that aims to cancel Obamacare. This isn't the first time Donnelly has made the claim, but this time, Braun had a chance to respond to it.
In the second and final Indiana Senate debate, the three candidates — Donnelly, Braun, and Libertarian Lucy Brenton — said what they intended to do in order to keep health care insurance premiums affordable for middle- and lower-income families.
In his response, Braun criticized the Affordable Care Act, saying that it was "doomed to fail, because you had big government get in cahoots with big health care, specifically big health insurance." He stressed that he was opposed to any replacement of Obamacare that does not cover pre-existing conditions.
Donnelly responded by saying, "What he said is not true. Mike supports a lawsuit that would end the Affordable Care Act, that would end pre-existing conditions. So all of you watching out there tonight, if you have someone in your family with diabetes, with arthritis, with asthma — their coverage goes away of Mike's lawsuit is successful. As I said, that's how important this is, those are the facts, and he can't deny that."
Braun, however, did deny that, and said, "As a Republican, you get swept into the fact that you would support that lawsuit. That is not the case." He then pointed to his experience in the private sector, saying, "We have done things like health savings accounts, telemedicine where you can actually get healthcare when you're on the road, transparency, consumer-driven. That'll knock the cost down, because my policy costs one fourth of what his Obamacare policy costs. There's no disputing that, and I've done that in the real world, he's crafted something with big health care doomed to fail."
Did Donnelly falsely assume that Braun, as a Republican, would support the lawsuit to end Obamacare?
The lawsuit and what it might mean
Donnelly was referring to a lawsuit filed in a U.S. district court in Texas in February 2018 and backed by 18 attorney generals and two governors, all of whom are Republican.
The basis for the Texas lawsuit is the individual mandate. While Obamacare essentially forced insurance companies to cover everyone, it also contained a mechanism to incentivize everyone to get coverage by imposing a tax penalty on individuals who were not insured. In 2012, the Supreme Court upheld the Affordable Care Act's individual mandate to purchase health care, precisely because it was backed by a tax penalty.
However, the 2017 Tax Cuts and Jobs Act reduced the penalty on not having coverage to zero. This led a group of 20 states to challenge Obamacare in court again, arguing that as the individual mandate could not be enforced, the entire law had become unconstitutional.  
If the lawsuit is successful and the ACA is repealed, the regulations protecting individuals with pre-existing conditions will also be affected. Linda Blumberg, a health policy analyst at the Urban Institute, had previously told us, "There would be much more damage beyond the issue of people with health problems being denied coverage, but that would in fact be one outcome."
Where Braun stands on the lawsuit
Braun, who is not currently in office, has not made a lot of statements relating to the Texas lawsuit. When asked about the lawsuit in an interview to Politico, Braun said: "Sure, anything that's going to actually get rid of it," he said of the ACA. "And then be ready to come back and talk about what you're ready to do about pre-existing conditions and no limit coverage. That's where you don't hear much conservative talk."
This quote essentially sums up Braun's rather consistent position on health care: He supports coverage for pre-existing conditions, but maintains that they should guaranteed through market-based solutions, not government intervention.
Politico, RTV (an Indianapolis ABC affiliate), Joe Donnelly and we here at PolitiFact have cited the Politico interview as a source on Braun's position regarding the lawsuit. It seems that the candidate hasn't made any other comments in support of it, but he hasn't said anything to the contrary, either.
Braun's office told us that "Mike Braun supports covering pre-existing conditions, and believes plans that work for Hoosiers will come from market-driven solutions, not more of what big government and the insurance industry force upon them." While stressing Braun's commitment for the maintaining protections for pre-existing conditions, his office did not address his position on the lawsuit.
Our ruling
Braun said, "As a Republican, you get swept into the fact that you would support that lawsuit. That is not the case."
Braun only seems to have made one comment with regard to the lawsuit to repeal the ACA, in which he said he supported it, but stressed his commitment to maintain protections for pre-existing conditions through other means. Those other means, though, are unspecified vague, so it's hard to give him much credit. We rate his statement Mostly False.
PolitiFact, Did Mike Braun endorse three initiatives to end coverage for pre-existing conditions?, Aug. 13, 2018
Debate between Mike Braun, Joe Donnely and Lucy Brenton, Indianapolis, Oct. 30, 2018. Video from C-SPAN. Accessed Nov. 5, 2018.
Attorney General of Texas, AG Pax­ton and Wis­con­sin AG File 20-State Law­suit to End the Grip of Oba­macare on Texas and the Nation, Feb. 26, 2018.
PolitiFact, Did Patrick Morrisey join a lawsuit to allow insurers to deny coverage for pre-existing conditions?, June 26, 2018.
Politico, GOP's midterm peril: What if they win on killing Obamacare?, Aug. 19, 2018.
Politico, 'It was not real insurance', Oct. 5, 2018.
RTV, Fact Check: Race for the U.S. Senate seat - Mike Braun and pre-existing conditions, Oct. 17, 2018.
Support independent fact-checking.
Become a member!
In a world of wild talk and fake news, help us stand up for the facts.