Get PolitiFact in your inbox.
A photograph shows Joe Biden with a Grand Wizard of the Ku Klux Klan.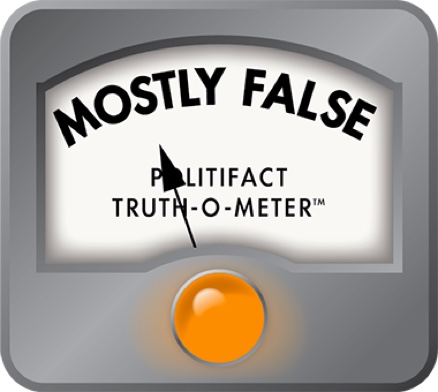 Robert Byrd wasn't a Grand Wizard of the KKK but he once led a local chapter
An old photograph of former Vice President Joe Biden has been circulating online as some social media users try to tie the Democratic presidential candidate to the KKK.  
"Biden with the Grand wizard of the KKK," the Aug. 9 post says. "So who again is playing you, lying to you, using you for the votes, Creators of the KKK, opposed civil right (sic) of blacks. Yup thats (sic) the Democratic party."
The black and white photo beneath the words shows Biden holding hands with then-Democratic U.S. Sen. Robert Byrd of West Virginia, who the post identifies as a "KKK leader."
The post, which had been shared more than 1,400 times by Aug. 15, was flagged as part of Facebook's efforts to combat false news and misinformation on its News Feed. (Read more about our partnership with Facebook.) 
The image is authentic. It was shot by Associated Press photographer Bob Bird in October 2008 as Biden, then a Democratic senator from Delaware and Barack Obama's Democratic vice presidential candidate, attended a campaign rally in downtown Charleston, W. Va. Also in the photo are the state's then-Gov. Joe Manchin and then-U.S. Sen. Jay Rockefeller, also a West Virginia Democrat.
When Byrd died in 2010, he had served in the Senate longer than anyone else; the New York Times described him as "a pillar of Capitol Hill." In a statement, then-President Barack Obama called him "a voice of principle and reason." Biden said Byrd was "a dear friend."
He was also once a member of the Ku Klux Klan. 
"It has emerged throughout my life to haunt and embarrass me and has taught me in a very graphic way what one major mistake can do to one's life, career, and reputation," Byrd wrote in a 2005 memoir. 
In West Virginia in the 1940s — late 1941 or early 1942, according to Byrd's memoir — he organized and led a 150-member chapter, or "Klavern," of the Klan as the "Exalted Cyclops." In Klan hierarchy, according to Slate, each Klavern is led by an Exalted Cyclops typically elected by his fellow Klansmen. The Exalted Cyclops reports to a "Grand Giant" (provincial leader), "Grand Dragon" (state director) and "Grand Wizard" (national chair). 
In his book, Byrd says he worked as a recruiter, or "Kleagle," for the Klan until early 1943 and then left the state for a welding job in Baltimore. He returned to West Virginia after World War II ended and sent a letter in 1945 to Theodore Bilbo, a Democratic senator and segregationist from Mississippi, complaining about efforts to integrate the military. 
"Rather I should die a thousand times, and see Old Glory trampled in the dirt never to rise again, than to see this beloved land of ours become degraded by race mongrels," he wrote.  
He was elected to the West Virginia House of Delegates the following year and again in 1948. In 1950, he was elected to the state Senate and in 1952, he ran for the U.S. House of Representatives. It was then that political opponents revealed his former ties to the KKK, according to a 2005 article in the Washington Post titled "A Senator's Shame." Byrd acknowledged he belonged to the Klan from "mid-1942 to early 1943" and said he joined "because it offered excitement and because it was strongly opposed to communism." 
He said he quit after a year but contemporaneous newspaper accounts and letters show that Byrd was involved with the Klan throughout much of the 1940s, according to the Washington Post. In 1946, for example, he said in a letter to the Grand Wizard that "the Klan is needed today as never before, and I am anxious to see its rebirth here in West Virginia."
Still, Byrd won his election and "then spent decades apologizing for what he called a 'sad mistake,'" according to the Times. His civil rights record is mixed. He voted for civil rights legislation in 1957 and 1960 but he filibustered against the 1964 Civil Rights Act because he said the measure infringed on states' rights. He said he voted against the 1965 Voting Rights Acts and its renewal in 1970 for the same reason. After becoming a party leader, he consistently supported civil rights legislation and he backed Obama's presidential bid, as seen in the photo used in the Facebook post. 
Our ruling
The Facebook post claims that Joe Biden was photographed with Robert Byrd, Grand Wizard of the KKK. That exaggerates Byrd's role in the KKK.  
In the 1940s, Byrd organized and led a local Klan chapter as its Exalted Cyclops, but he wasn't a Grand Wizard. And he ultimately renounced his views from that period of his life though his past and former ties to the KKK were raised throughout the rest of his life.
By the time this photo of Byrd and Biden was taken, Byrd's public expressions of regret and shame over his earlier involvement in the KKK was well-documented and often-repeated.   
We rate this Facebook post Mostly False.
Browse the Truth-O-Meter
More by Ciara O'Rourke
Support independent fact-checking.
Become a member!
In a world of wild talk and fake news, help us stand up for the facts.