Stand up for the facts!
Our only agenda is to publish the truth so you can be an informed participant in democracy.
We need your help.
I would like to contribute
"1 out of every 4 car accidents in the U.S. is caused by texting and driving."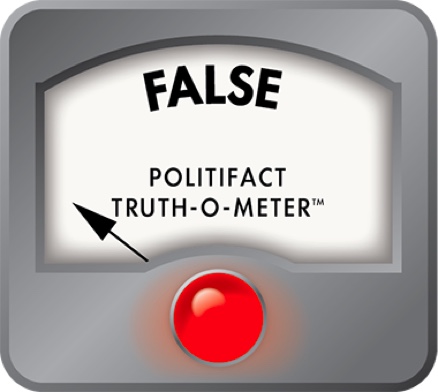 Evers wrong on texting and driving stat
Pushing safe driving on Twitter, Gov. Tony Evers urged state residents to buckle up, ditch distractions, drive sober and obey traffic laws.
Those phrases appeared in a graphic that accompanied Evers' Aug. 20, 2019, tweet saying "safe driving is everyone's job."
The graphic, created by Evers' office, used a series of statistics in an attempt to drive home the point. It noted, for example, that seat belt use reduces injuries and that the blood-alcohol limit in Wisconsin is 0.08.
But this distractions stat stood out:
"1 out of every 4 car accidents in the U.S. is caused by texting and driving."
Amid all the potential causes for a crash — weather, impaired driving, other technology-related distractions — does texting really account for a full 25%?
Let's see if Evers' took a wrong turn.
Experts say crash data is incomplete
The National Safety Council, a nonprofit organization chartered by Congress, says distracted driving of any kind is difficult to track since local authorities don't consistently record crash data.
The council used to track texting and driving, but stopped doing so in 2015 with the proliferation of in-vehicle technology (such as entertainment systems, navigation and phone-linked operating systems).
"The nature of distracted driving has changed with the explosion of built-in dashboard systems," said Ken Kolosh, the safety council's manager of statistics.
The council has long used crash stats from the National Highway Traffic Safety Administration, which compiles crash reports from local police agencies around the country. But those reports have not kept up with changes in technology.
A safety council report identified Wisconsin as one of a handful of states that require police to enter detailed information in each crash report showing how technology was involved. But that's the exception rather than the rule.
Twenty-six states don't even have a report field to identify texting as a cause of a crash. Only three states have crash report fields addressing built-in technology in vehicles.
A 2013 safety council study of fatal crash reports found that even when drivers admitted phone use to police, the officer listed cellphone use as a cause only half the time. 
"There are no reliable estimates of the number of crashes caused by distracted drivers," the Insurance Institute for Highway Safety reports on its website. "Statistics based on police-reported crash data almost certainly underestimate the role of distraction in fatal crashes."
The stats we do have
The insurance group said there is a clear connection between cellphone use and crash risk, based on several studies conducted over the last decade using in-vehicle cameras and sensors to monitor a sample of drivers.
Drivers manipulating a cellphone were two to six times more likely to crash compared to when they weren't distracted.
But none of the available data shows a crash rate like the one Evers cited.
The National Highway Traffic Safety Administration — while noting data concerns about inconsistent reporting between police agencies — reported in April 2019 that distracted driving accounted for 9% of fatal crashes in the U.S. in 2017.
Their analysis of crash report data showed 1.2% of fatal crashes were related to cellphone use as a distraction (401 out of 34,247).
The last statistics the safety council compiled on texting also fall well short of Evers' claim.
A 2015 safety council analysis, based on 2013 data, found cellphones were a factor in 26% of all crashes, the same as the prior year.
But texting accounted for only 6% of crashes. The other 20% were classified as "talking."
More recent data focuses on driver behaviors rather than connecting them directly to crash frequency.
The traffic safety administration reports the number of drivers visibly manipulating a cellphone — based on an observational survey  — has risen slightly since then. But overall observed use of a handheld cellphone (not counting hands-free devices) has dropped from 4.6% in 2013 to 2.9% in 2017.
A 2016 safety council survey found 32% of drivers were willing to occasionally review or send text messages, and 20% to 25% said they were willing to review or send email, check social media or surf the Internet.
An Evers spokeswoman did not provide any evidence to support the texting and driving claim.
Our ruling
Evers said in a tweet that texting and driving accounts for 1 in 4 crashes nationwide.
The general point is right that distracted driving is a significant and deadly problem. And cellphone use is a core piece of that.
But the statistic he used to make that point is wrong.
Experts say we don't have enough data to show how many crashes are currently related to texting. And the latest attempt to do that using 2013 data found only 6% of crashes were directly tied to texting — far short of what Evers' claimed.
We rate this claim False.
Gov. Tony Evers, tweet, Aug. 20, 2019
Email exchange with Kathy Balcazar, spokeswoman for the National Safety Council, Aug. 20-26, 2019
National Safety Council, Undercounted is Underinvested: How incomplete crash reports impact efforts to save lives, accessed Aug. 26, 2019
National Safety Council, Motor Vehicle Safety Issues/Distracted driving, accessed Aug. 26, 2019
National Safety Council, Cell phones are involved in an estimated 27 percent of all car crashes, says National Safety Council, June 17, 2015
National Highway Traffic Safety Administration, Traffic Safety Facts: Distracted Driving in Fatal Crashes, 2017, April 2019
National Highway Traffic Safety Administration, Driver Electronic Device Use in 2017, January 2019
Insurance Institute for Highway Safety, Distracted driving, accessed Aug. 27, 2019
Browse the Truth-O-Meter
More by Eric Litke
Support independent fact-checking.
Become a member!
In a world of wild talk and fake news, help us stand up for the facts.