Get PolitiFact in your inbox.
Says U.S. Rep. Sean Casten has held numerous "invite-only" town halls.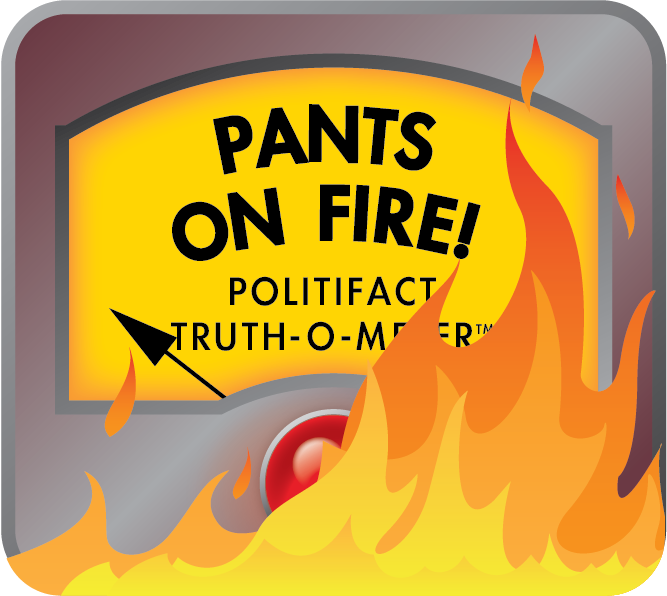 Ives wrongly calls Casten's public town halls 'invite-only'
Before Republican Jeanne Ives can challenge freshman Democrat Rep. Sean Casten for his 6th District Congressional seat, she has to win her party's primary in March.
But that hasn't stopped Ives from focusing her attacks squarely on Casten, who flipped the once ruby-red west suburban district blue in 2018. Ives, a former state lawmaker from Wheaton, Ill., made a name for herself the same year by nearly defeating then-incumbent Republican Gov. Bruce Rauner in the GOP primary.
Several months ago, when Rauner's former lieutenant governor was also vying for the chance to oust Casten, Ives claimed her conservative opponent had not denounced a controversial bill that expanded public funding for abortions. We rated that False.
Now, Ives is making a baseless claim about her Democratic foe.
"His numerous (invite-only) town halls don't make up for a failure to take action to save jobs & protect independent biz," Ives wrote in a tweet about Casten.
The press release attached to that tweet repeated that claim, and included a link to another one she published in October, which explained what she meant.
"Rep. Sean Casten announced a series of town halls that are invite only. Tickets required," that release stated. But it linked to a public eventbrite page advertising a series of town halls Casten held on Oct. 5 to which anyone could book a ticket for free by providing a name and email.
So we reached out to Ives' campaign to find out whether the congressional hopeful had any evidence showing only those who received some kind of invitation to Casten's town halls were allowed to attend.
Neither she nor her staff responded to our repeated calls and emails.
We also contacted Casten's team to learn more about how people can participate in the congressman's town halls.
Spokeswoman Chloe Hunt said they use the online sign-up as a way to track attendance.
"It's all first come, first served, it's all posted online," she said. "There's no additional vetting. It's literally just if you sign up."
Even those who don't sign up can still attend if there is enough space, Hunt added. Getting a ticket simply reserves their spot at the events, which are advertised online ahead of time.
Casten posted on Facebook and tweeted about the series of town halls Ives focused on several days before the events took place, inviting readers to RSVP at the same eventbrite link. His office also sent out an email the day before to his subscriber list.
All told, Casten has held 20 town halls this year, according to Hunt. They are live-streamed on Facebook so those who can't make it can follow along virtually.
What's more, it's clear participants with views different from Casten's were able to attend his October events.
A report from Politico on Casten's town hall marathon describes several heated exchanges between the congressman and constituents. In one, he was taken to task for labeling Trump's immigration policies "racist." In another he was pressed to "push back" against progressive House Democrats, including New York's Alexandria Ocasio-Cortez and Minnesota's Ilhan Omar, whom the speaker referred to as "crazies."
Our ruling
Ives said Casten has held numerous "invite-only" town halls.
But her own press release on the subject makes clear she was referring to a public event page the congressman's team created that allowed anyone interested in attending to reserve a seat for free. Those events, and the sign-up link, were advertised in advance online.
We rate her claim Pants on Fire!
---
PANTS ON FIRE – The statement is not accurate and makes a ridiculous claim.
Click here for more on the six PolitiFact ratings and how we select facts to check.
Tweet, Jeanne Ives, Dec. 3, 2019
Press release, Jeanne for Congress, Dec. 3, 2019
Press release, Jeanne for Congress, Oct. 4, 2019
Six for the Sixth Tickets, eventbrite, accessed Dec. 4, 2019
Phone interview, Casten spokesperson Chloe Hunt, Dec. 4, 2019
Facebook post, Rep. Sean Casten, Oct. 2, 2019
Tweet, Rep. Sean Casten, Oct. 2, 2019
"I sat through 6 hours of town halls. Here's what I learned about impeachment," Politico, Oct. 6, 2019
Browse the Truth-O-Meter
More by Kiannah Sepeda-Miller
Support independent fact-checking.
Become a member!
In a world of wild talk and fake news, help us stand up for the facts.