Get PolitiFact in your inbox.
"Jim Justice is the first West Virginia governor to fight for pay raises for educators."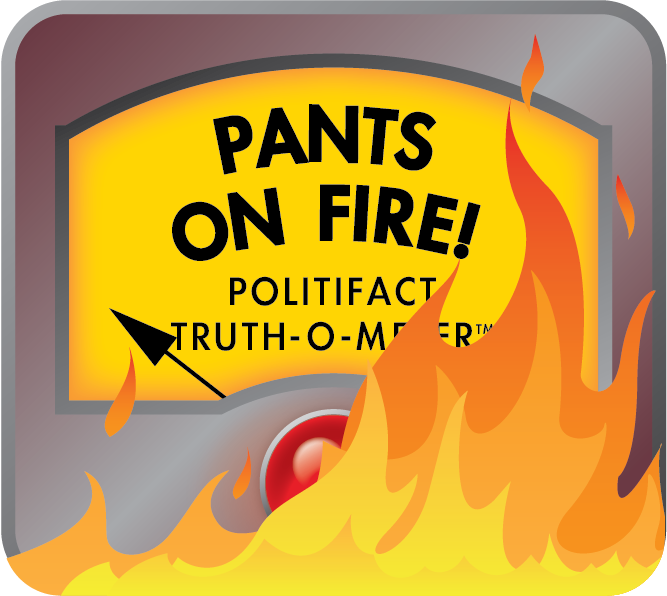 Is Jim Justice the first West Virginia governor to fight for teacher pay raises?
West Virginia Gov. Jim Justice, facing a competitive Republican primary in 2020, recently introduced an ad touting his accomplishments in office, including a focus on K-12 education.
The ad, released in a Dec. 4 tweet, features several West Virginians reading off a series of scripted accomplishments from Justice's tenure. One of the accomplishments, voiced by a teacher, is that "Jim Justice is the first West Virginia governor to fight for pay raises for educators."
This struck us as odd, since governors of all parties regularly tout their support for teachers — a group that's popular with voters and, in many states, a politically powerful constituency.
Teacher salaries have been an especially sensitive issue in West Virginia. Between 2005 and 2017, West Virginia teacher salaries never rose higher than 44th in the nation. That history set the stage for a 2018 teacher strike in West Virginia, which was the state's first major K-12 walkout in almost three decades. Justice eventually signed a 5% pay bump, which is more than the legislature had offered prior to the strike.
So is Justice really the first West Virginia governor ever to push for teacher pay raises? His office did not respond to inquiries for this article, but we found that each of Justice's five immediate predecessors either proposed or enacted teacher pay raises.
Gov. Earl Ray Tomblin, Democrat, 2011-2017
In his first state of the state address in 2011, Tomblin proposed a one-time, across-the-board $800 increase for teachers. "Frankly, it should be more and we need to strive for a day when our teachers are paid at a rate equivalent to the most important role they play," he said in the speech, according to the Associated Press.
In 2014, despite offering few increases in his relatively austere budget proposal, Tomblin did include a 2% pay raise for teachers. The bill he eventually signed contained a $1,000 raise for teachers for the 2014-2015 school year. 
Gov. Joe Manchin, Democrat, 2005-2010
As governor, Manchin — now a U.S. Senator — periodically sparred with teachers' unions over the size of his salary increase proposals. But both Manchin's Senate office and West Virginia teachers' unions agree that he proposed a teacher salary increase and signed it into law.
During his tenure, Manchin raised teacher salaries by 3.5%, according to a joint statement released by the West Virginia Education Association, the American Federation of Teachers-West Virginia, and the West Virginia School Service Personnel Association when the groups endorsed Manchin's Senate reelection bid in 2018. Manchin's Senate office cited the same 3.5% increase when we inquired.
The legislation Manchin signed also improved teachers' annual salary increments and allowed educators to move from a 401(k)-style defined contribution plans to a defined-benefit system.
Gov. Bob Wise, Democrat, 2001-2005
In his 2001 state of the state address, Wise proposed raising teacher salaries by $1,000, plus $2,500 in incentives. "Teachers are the heart of the educational system. We must honor the work of our teachers," he said.
After leaving the governor's office, Wise became CEO of the Alliance for Excellent Education, an education advocacy group.
Gov. Cecil Underwood, Republican, 1997-2001
In his 1998 state of the state address, Underwood proposed giving teachers a $750 pay raise. He signed a three-year pay raise into law later that year.
Gov. Gaston Caperton, Democrat, 1989-1997
Caperton was governor during a divisive, 11-day West Virginia teacher strike in 1990, but he ended up presiding over a significant pay increase for the state's teachers. The strike was settled when all parties agreed on a $5,000 pay increase phased in over three years.
Last year, PolitiFact reported that most significant recent improvement in West Virginia teacher pay compared to other states came between 1990 and 2000, a period during which Caperton and Underwood were in office.
Like Wise, Caperton headed an education group — the College Board — after serving as governor.
Our ruling 
Justice's ad said he's "the first West Virginia governor to fight for pay raises for educators."
That's far off-base. Seeking pay raises for teachers is practically a rite of passage for governors, and West Virginia is no exception. Not one, not two, but each of Justice's five most recent predecessors — Tomblin, Manchin, Wise, Underwood, and Caperton — either proposed a teacher pay raise, signed one into law, or both. We rate the statement Pants on Fire!
Jim Justice, tweet, Dec. 4, 2019
National Education Association, "Education News: U.S. Sen Joe Manchin, dating to his days as WV gov, has earned educators' trust," Oct. 11, 2018
MetroNews, "Teacher rolling walkouts, complaints, getting lawmakers' attention," Jan. 31, 2018
MetroNews, "Tomblin budget austere, but includes teachers' raise," Jan. 8, 2014
Register-Herald, "State of the State," Jan 13, 2011
Associated Press, "Tomblin proposes food tax cut," Jan. 13, 2011
New York Times, "West Virginia Raises Teachers' Pay to End Statewide Strike," March 6, 2018
Times West Virginian, "Teachers unions slam governor's salary proposal," Jan 26, 2008
Charleston Gazette-Mail, "Governor signs ed bill, opening WV to charter schools, upping school funding," June 28, 2019
Pittsburgh Post-Gazette, "Unhappy with 3.5 percent pay raise, some West Virginia teachers strike," March 15, 2007
Stateline, "Underwood Outlines Plans and Proposals in 1998 State of State Address," February 1998
Stateline, "From the Governor's Desk," May 1998
PolitiFact West Virginia, "How low does West Virginia rank in teacher pay?" Dec. 7, 2018
PolitiFact, "Precedent says West Virginia teacher's strike isn't lawful," Feb. 26, 2018
Email interview with Kym Randolph, communications director for the West Virginia Education Association, Dec. 5, 2019
Email interview with Katey McCutcheon, deputy communications director for Sen. Joe Manchin, Dec. 5, 2019
Browse the Truth-O-Meter
More by Katherine Baile
Support independent fact-checking.
Become a member!
In a world of wild talk and fake news, help us stand up for the facts.