Stand up for the facts!
Our only agenda is to publish the truth so you can be an informed participant in democracy.
We need your help.
I would like to contribute
"Not a dollar would be paid out until jobs in the Foxconn development area were created."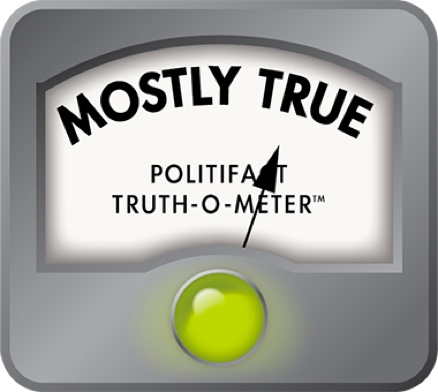 GOP leaders' claim that Foxconn won't get a dollar of taxpayer funds without jobs is on the money
It didn't take long for political finger-pointing to begin following a report that Foxconn Technology Group was reconsidering plans to make advanced liquid crystal display panels at a $10 billion Wisconsin campus.
As fallout from the report roiled Wisconsin politics, Foxconn on Feb. 1, 2019, said it will indeed build a liquid crystal display manufacturing plant in Wisconsin, following talks between President Donald Trump and company CEO Terry Gou.
Back to the beginning
In a Jan. 30, 2019, story, Reuters reported that Louis Woo, special assistant to Gou, said the company was considering moving away from the high-end display screens and would likely hire mostly engineers and researchers rather than the manufacturing workforce the project originally promised.
Under the deal between Foxconn and the Wisconsin Economic Development Corp., the state will pay Foxconn up to $2.85 billion in cash over 15 years, depending on how many jobs the company creates and how much the company invests in the plant.
The company also gets an additional sales tax break worth up to $150 million on construction material for the factory. Together with aid from local government and utility ratepayers, the total incentives are worth about $4 billion, in exchange for the manufacturing facility and up to 13,000 jobs.
Reaction in Wisconsin to the news Foxconn was considering changing its plans was swift.
In a Jan. 30, 2019, joint statement, Assembly Speaker Robin Vos, R-Rochester, and Senate Majority Leader Scott Fitzgerald, R-Juneau, blamed Democratic Gov. Tony Evers for the changes, saying his administration brought with it a "wave of economic uncertainty." We rated that Pants on Fire.
A separate part of their statement provided another claim we want to check:
"From the very beginning, we looked out for the best interest of the taxpayers of the state," the statement read. "Not a dollar would be paid out until jobs in the Foxconn development area were created. The incentive package is based on fulfilling the contract."
Are the GOP lawmakers correct that "not a dollar would be paid out until jobs in the Foxconn development area are created?"
The evidence
When asked for backup, Vos spokeswoman Kit Beyer offered this statement via email:
"This part of the statement directly refers to the state incentives that were agreed to in the contract with Foxconn in the EITC (Earned Income Tax Credit) zone. No state tax dollars are awarded with sales tax break. And the bench marks that were set for the incentive plan that Democrats criticize were not met as outlined in the letter to WEDC (Wisconsin Economic Development Corporation)."
She also noted that Foxconn fell short of its job goals for 2018 and, thus, did not get the related state money.
Let's break it down.
Job-related incentives: In January 2019, Foxconn reported 178 full-time Wisconsin employees in 2018 as of Dec. 31, 2018 — 82 jobs short of the minimum required for the company to immediately claim state job-creation tax credits.
Foxconn, however, can still earn credits for the 2018 employment by making up for the job-creation shortfall in future years of its long-term contract with the state.
Sales tax break: Unlike the job-related incentives, Foxconn is already benefiting from state-granted sales tax break of up to $150 million. According to a 2017 Legislative Fiscal Bureau report, the Department of Revenue estimates that the sales and use tax exemption will result in tax savings of $139 million for Foxconn and its contractors.
It does amount to money for Foxconn, but it is fuzzier. As the Fiscal Bureau report notes, in part: "Since it is highly unlikely that Foxconn would locate in the state without the incentives provided under the Act, this amount should not be viewed as a state revenue loss."
Local incentives: In the statement, Vos and Fitzgerald framed their claim around state-based incentives. But that ignores another significant piece -- support provided by local units of government.
The Village of Mount Pleasant and Racine County have borrowed $355 million so far in support of Foxconn. The local governments have spent about $190 million of that, with most of the money going for land acquisition.
So, looking at all three, the "not a dollar" claim from Vos and Fitzgerald is a mixed bag.
If you look strictly at the job-related incentives, the two are on solid ground. But their original statement refers broadly to state tax dollars. The company is already saving dollars through the construction sales tax break, even if it's not considered a state revenue loss.
Finally, while money borrowed at the local level may not strictly count as state incentives, it does amount to a substantial public investment in the project. And that money is already being spent -- a fact the claim glosses over.
Our rating
Vos and Fitzgerald said "not a dollar" in state taxpayer money will be paid out "until jobs in the Foxconn development area were created."
While job-creation incentives have not kicked in, that only represents a portion of the state-level support -- and the company is already benefiting from the sales tax break on construction materials. In addition, the statement ignores costs to local taxpayers -- ones the company is also benefiting from already.
On balance, we rate the claim Mostly True.
The White House "President Trump welcomes Foxconn to the White House for a major jobs announcement." July 26, 2017.
Joint statement: "Foxconn's plans in Wisconsin,"Jan. 30, 2019.
Reuters Foxconn reconsidering plans to make LCD panels at Wisconsin plant," Jan. 30, 2019.
News release "Local leaders address reported changes to Foxconn's plans in Racine County," Jan. 30, 2019.
Milwaukee Journal Sentinel After discussions with Trump, Foxconn says it will build factory in Racine County," Feb. 1, 2019.
Milwaukee Journal Sentinel "Foxconn falls short of first job-creation hurdle but reiterates ultimate employment pledge,"Jan. 18, 2019.
Milwaukee Journal Sentinel "Wisconsin is shifting up to $90 million in local road funding to Foxconn-related projects," Feb. 28, 2019.
Milwaukee Journal Sentinel "What we know: The latest on the Foxconn deal in Wisconsin,"Jan. 30, 2019.
Milwaukee Journal Sentinel "Credit rating agency Moody's issues cautionary note on local Foxconn debt," Jan. 31.
Foxconn letter to Mark Hogan, secretary and CEO of Wisconsin Economic Development Corporation, Jan. 17, 2019.
Twitter Scott Walker. Jan. 30, 2019.
Legislative Fiscal Bureau "2017 Wisconsin Act 58" (Foxconn/Fiserv)
Page 23
Browse the Truth-O-Meter
More by D.L. Davis
Support independent fact-checking.
Become a member!
In a world of wild talk and fake news, help us stand up for the facts.