Stand up for the facts!
Our only agenda is to publish the truth so you can be an informed participant in democracy.
We need your help.
I would like to contribute
Says 89 members of Congress "hold dual citizenship with Israel."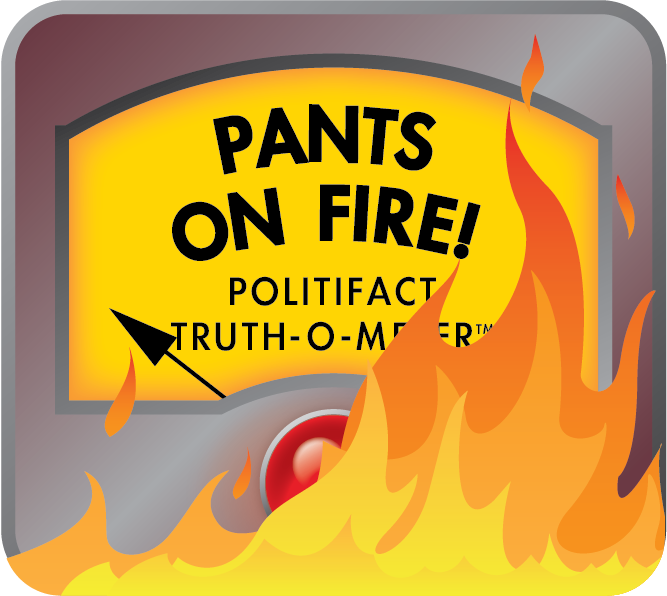 No, members of Congress don't have automatic dual citizenship with Israel
A long-running online rumor questions the loyalties of dozens of Congress members by saying they have dual citizenship with Israel.
A photo, posted Feb. 17 on the Facebook page "SMALL PEOPLE" AGAINST BIG GOVERNMENT said, "89 of our Senators and Congress hold dual citizenship citizenship (sic) with Israel."
Text accompanying the post says: "Imagine if they were Russian citizens, or Iranian; all hell would break loose. But Israelis in our US Congress? That's fine, right?"
The story was flagged as part of Facebook's efforts to combat false news and misinformation on its News Feed. (Read more about our partnership with Facebook.)
The post sourced a June 22, 2018, story from Prepare For Change, a conspiracy site that says a massive upheaval of society is imminent. The moderator of that website told us the story's content was pulled from an article by the Governmental Services Corporation Watch and a post from Reddit's conspiracy page.
We noticed a discrepancy right away: The article's headline reads "89" members of Congress hold dual citizenship. But the first sentence claims 89 percent of senators and congress hold dual citizenship.
It's unclear where the 89 or 89 percent figure comes in. But the list is problematic for several reasons.
Before we get into specific flaws of the list, it's important to know that just because everyone on the list is Jewish does not mean they hold dual citizenship with Israel. The social media posts seem predicated on that. 
None of the current members listed were born in Israel, so they wouldn't be naturalized Israeli citizens. Sen. Michael Bennet was born in India. Everyone else? The United States. (We explained in a 2015 fact-check why American-born Jews, including Sen. Bernie Sanders, aren't automatically granted dual citizenship, despite pervasive online lists.)
Some people may think American-born Jews have automatic dual citizenship due to a misinterpretation of the Israeli Law of Return. This is an immigration visa that "shall be granted to every Jew who has expressed his desire to settle in Israel," with some stipulations.
This is a visa someone must request; it is not automatic. Also, none of these named politicians have settled in Israel.
There are other reasons why the list is not credible.
Only 62 officials from Congress and the executive branch — mostly Democratic or independent — were listed in this article, and 40 were called current members of the 112th U.S. Congress. Note that Congress is in its 116th session, with 34 Jewish representatives. One listed, Frank Lautenberg, has been dead almost six years.
The list comes from a 2011 article published by the magazine Jewish Currents to highlight Jews in politics and point out Jewish liberalism. It did not say the politicians listed held dual citizenship. The order of the names in Jewish Currents matched Prepare For Change.
Aryeh Tuchman, associate director of the Anti-Defamation League's Center on Extremism, said the list perpetuates the anti-Semitic trope of Jewish disloyalty. Prepare For Change's article links to a page by the American Freedom Party, a white supremacist group.
"Jews have a long experience of being put on lists with very negative results," Tuchman said. "The implication that you are promoting is that these people are not loyal citizens of the country."
Such lists aren't confined to the questioning of politicians, either. Lists of Jews in positions of power in Hollywood, banking and academia surface in many cases, Tuchman said, to paint Jews as disloyal to the country and harboring an agenda.
U.S. representatives must be U.S. citizens for seven years to qualify for office, and senators must be U.S. citizens for nine years, according to Article I of the Constitution.
A disclaimer at the bottom of Prepare For Change's article says, "Use logical thinking, your own intuition and your own connection with Source, Spirit and Natural Laws to help you determine what is true and what is not."
We have a different take: This claim is Pants on Fire.
Facebook, post about Israeli dual citizenship, Feb. 17, 2019
Prepare For Change, "89 of our Senators and Congress hold dual citizenship citizenship with Israel," June 22, 2018
Governmental Services Corporation Watch, "Corporate U.S. Senators and U.S. Representatives that are Israel Dual Citizens," June 7, 2017
Reddit, "Why do so many US politicians have dual US/Israeli citizenship? At least 13/100 Senators, at least 27/435 House Reps, and many of The Presidents's cabinet." Aug. 25, 2016
Jewish Virtual Library, "Jewish Members of U.S. Congress (1845 - Present)," accessed Feb. 22, 2019
United States Senate, Article I of the U.S. Constitution (sections 2 and 3), June 21, 1778
United States Senate, Senators Born Outside the United States, accessed Feb. 22, 2019
PunditFact, "The backstory behind Diane Rehm's question to Bernie Sanders on dual Israeli citizenship," June 11, 2015
U.S. State Department, "Dual Nationality," accessed Feb. 22, 2019
Jewish Currents, "Jews in the 112th Congress," Jan. 5, 2011
Israel Ministry of Foreign Affairs, the Law of Return, accessed Feb. 22, 2019
Pew Research Center, "Faith on the Hill," Jan. 3, 2019
Interview, Aryeh Tuchman, associate director of the Anti-Defamation League's Center on Extremism, Feb. 21, 2019
Email interview, Yoram Hazony, president of the Herzl Institute, Feb. 19
Email interview, Yigal Palmor, spokesman for The Jewish Agency for Israel, Feb. 19
Browse the Truth-O-Meter
More by Sarah Stanley
Support independent fact-checking.
Become a member!
In a world of wild talk and fake news, help us stand up for the facts.