Stand up for the facts!
Our only agenda is to publish the truth so you can be an informed participant in democracy.
We need your help.
I would like to contribute
In-state tuition available "for non-U.S. citizens after three years … veterans have to wait five years."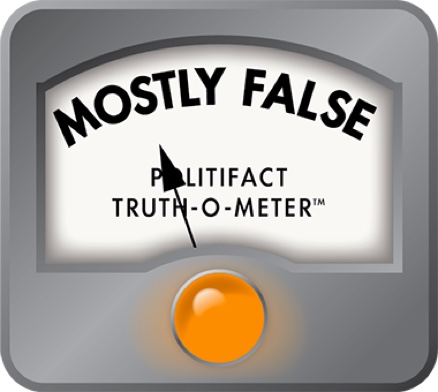 Republicans botch claim comparing tuition for immigrants, veterans
In the latest volley of Wisconsin's budget battle, Republican lawmakers zeroed in on proposed tuition breaks for Wisconsin residents who aren't U.S. citizens.
Five Republicans who are military veterans put out a joint news release criticizing Gov. Tony Evers' budget for proposing that non-citizen immigrants be allowed to pay in-state tuition rates throughout the University of Wisconsin System and state technical colleges.
In the March 12, 2019 release, state Reps. Jesse James, Ken Skowronski, Jim Ott, John Spiros and Tony Kurtz said immigrants would get a break on tuition after three years, while military veterans must wait five years.
Republican leaders took up the cause on Twitter, including Assembly Speaker Robin Vos and Assembly Majority Leader Jim Steineke.
"Under (Gov. Tony Evers') budget, undocumented immigrants would qualify for in-state tuition two years sooner than our veterans would," Steineke, R-Kaukauna, said in a March 12, 2019, tweet.
The news release and tweets all included a graphic titled "The Fine Print," attributed to the Wisconsin Assembly GOP.
It read: "In state tuition for non U.S. citizens after 3 years in WI. (Veterans have to wait 5 YEARS)."
Did Republicans get their own fine print right?
Not really.
Let's check out the tuition benefits available to the two groups.
Differences in veteran and immigrant benefits
The graphic claimed non-U.S. citizens could pay in-state tuition after three years, but veterans have to wait five years for that benefit.
The first problem: The graphic conflates two different types of programs.
Under Evers' budget proposal, citizens of other countries who live in Wisconsin would be able to pay in-state tuition rates if they graduated from high school in Wisconsin, lived in the state at least three years before applying to college and show proof they have filed or will file for a permanent resident visa, according to a memo prepared by the nonpartisan Legislative Fiscal Bureau
Meanwhile, the veteran's program cited is for tuition remission. That is, tuition paid for.
Under the program, veterans can have all of their tuition and fees covered for up to eight semesters if they meet certain conditions, according to the memo. Requirements include serving at least two years under "honorable conditions," maintaining a 2.0 GPA and being a Wisconsin resident. Veterans qualify for remission after they have used their education benefits under the GI Bill.
Here is an important point: Veterans who lived in Wisconsin when they entered the service get the school funding right away. There is no wait at all. Those that moved to Wisconsin after their service must live here five years before getting the funding.
So the wait is five years for one category of veterans and three years for undocumented immigrants, which is the number Republicans focus on.
But many veterans get the larger benefits without a wait.
In the 2017-18 school year, more than 3,300 veterans had their tuition covered through the remission program within the UW System or the state technical college system, according to the fiscal bureau. We aren't aware of any data on the background of the veterans before they applied for the benefit, but it is likely more qualified immediately as residents than those who faced the five-year wait.
Deleted tweets, amended news release
The problematic comparison between the two programs led Republicans to pull back their initial salvo.
Tweets comparing the tuition breaks from Vos, Steineke and the Assembly GOP were all deleted a few hours after they were posted. The Republican veterans' news release was amended to show a new graphic.
Staffers for Vos and Steineke said the tweets were removed because the graphic was "updated."
The updated news release — and later tweets from Republican legislators — changed the veterans reference in "The Fine Print" graphic to say "Non-resident veterans have to wait 5 years before the remission."
So the new version clarifies that it is referring to "non-resident" veterans and mentions remission. But it still has a comparison that is built on two different programs with two very different benefits.
Our rating
A graphic that popped up in a news release and tweets from an array of Republicans — many later deleted or updated — claimed Wisconsin residents who aren't citizens could get in-state tuition in three years, but veterans have to wait five years.
The claim is off on several counts.
The available benefit for veterans is not discounted in-state tuition, but full coverage of all tuition and fees. And the five-year wait applies only to veterans who move to the state after their service time ends, not to all veterans. Many would get the larger benefits without any wait.
In our view, the original claim contained an element of truth but ignored critical facts that would give a different impression. That's what we call Mostly False.
Twitter.com, Rep. Jim Steineke (@RepSteineke), March 12, 2019
Legislative Fiscal Bureau, Veterans Tuition Remission Program Requirements and Requirements for Resident Tuition Eligibility for Undocumented Individuals Under 2019 AB 56/SB 59, March 8, 2019
Interview with Erin Probst, fiscal analyst, Legislative Fiscal Bureau, March 12, 2019
Wisconsin Legislature, Assembly Republican Veterans Speak Out Against Gov. Evers' Budget Proposal, March 12, 2019
Email exchange with Kit Beyers, spokeswoman for Rep. Robin Vos, March 12, 2019
Interview with Alesha Emmert, communications director for Rep. Jim Steineke, March 12, 2019
Interview and email exchange with Melissa Baldauff, deputy chief of staff for Gov. Tony Evers, March 12, 2019
Wisconsin Legislative Fiscal Bureau, Student Financial Aid, January 2019
Browse the Truth-O-Meter
More by Eric Litke
Support independent fact-checking.
Become a member!
In a world of wild talk and fake news, help us stand up for the facts.