Stand up for the facts!
Our only agenda is to publish the truth so you can be an informed participant in democracy.
We need your help.
I would like to contribute
Between 27,000 and 200,000 Wisconsinites were "turned away" from the polls in 2016 due to lack of proper identification.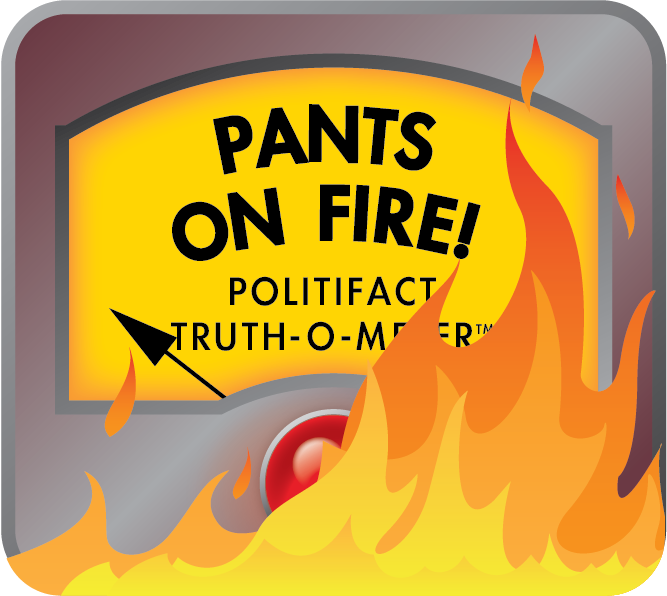 Hillary Clinton way off, again, on Wisconsin voter ID
Hillary Clinton just can't quit Wisconsin.
Or, more specifically, can't quit blaming its voting system for her 2016 electoral defeat.
The former Democratic presidential candidate has repeatedly criticized the state's voter ID law, which was in place for the first time in the election that pitted Clinton against Republican Donald Trump. And she's repeatedly found herself at odds with the facts.
In May 2017, Clinton claimed that 200,000 Wisconsinites "were either denied or chilled in their efforts to vote." We rated that Mostly False.
In March 2019, she then claimed that "somewhere between 40,000 and 80,000 people were turned away from the polls (in 2016) because of the color of their skin" and other factors. That was even farther from the truth and drew a Pants on Fire rating.
Clinton returned to the topic again Sept. 17, 2019, in a speech at George Washington University. She listed reasons "you can win the popular vote and you can lose the Electoral College," starting with what she called voter suppression.
"Experts estimate that anywhere from 27,000 to 200,000 Wisconsin citizen voters, predominantly in Milwaukee, were turned away from the polls," Clinton said. "That's a lot of potential voters. They showed up, but maybe they didn't have the correct form of identification. Maybe the name on their driver's license included a middle name or an initial that wasn't on their voter registration. But officials made every excuse in the book to prevent certain people from voting in that election."
That's a lot of people to be "turned away" from polling places.
So let's recap this. Again.
Spoiler alert: Clinton's numbers still aren't anywhere close to accurate.
What the studies said
Clinton's team didn't respond to our request for evidence, but the vastly different numbers she cites — 27,000 and 200,000 — roughly reflect two analyses that examined voter ID impact in the 2016 election.
Even the low end of that range, if true, could have made a huge difference. Clinton lost Wisconsin by about 22,000 votes out of about 2.8 million cast. Wisconsin flipped to the Republican side — a key reason Trump won the election.
A May 2017 report commissioned by Priorities USA Action, a political action committee that supported Clinton and Barack Obama, looked at changes in voter turnout and connected them to changes in voter ID law. They said turnout increased by 1.3% from 2012 to 2016 in states with no change to voter ID laws, but dropped in Wisconsin by 3.3%.
If Wisconsin's turnout had instead risen by 1.3%, Priorities USA estimated that would generate 200,000 more votes. The analysis called these the "theoretical 200,000 lost voters."
But that's very different than tallying specific people "turned away" from the polls, as Clinton claimed.
In any case, the 200,000 has its own problems. Experts we've quoted in past fact checks said it's not reasonable to attribute all the changes in turnout to the voter ID law when general enthusiasm — including for Clinton's candidacy — and other factors doubtless played a role.
The University of Wisconsin conducted a study that could be what Clinton relied on for the low end of the range. It involved a survey of 293 registered voters who didn't vote in Dane and Milwaukee counties in the 2016 election.
The study estimated a total 12,000 registrants were affected by the ID requirement in those two counties.
But its findings don't at all match how Clinton phrased her claim, according to the author.
"Our measure captures people who both say they were turned away but also people who didn't even bother because they didn't think they could vote," Kenneth R. Mayer, a professor of American Politics at UW told PolitiFact Wisconsin. "Our estimate is that it's plausible to think that the voter ID law reduced overall turnout somewhere in the range of 1% in these counties, but that doesn't get you anywhere close to (Clinton's) numbers." 
A news release announcing the study also noted most of the respondents who said they did not vote because they lacked ID "actually possessed a qualifying form of ID." That makes it even more ridiculous to group those people into the "turned away" category as Clinton did, since they would not in fact have been turned away based on ID if they went to the polls.
How many were really 'turned away'?
Mayer said he saw anecdotal reports of people being turned away, and the UW study asked people if that happened to them.
The study reported 1.4% of those surveyed said they were told at a polling place their ID was inadequate. That would be four out of the 293.
"It was small enough that we regarded it as not material to the overall conclusion," Mayer said.
Firmer numbers are hard to come by.
The Wisconsin Elections Commission reported 821 ID-related provisional ballots were cast statewide in the 2016 election. Those are people who showed up without proper ID but cast a vote anyhow. If the person follows up to provide the correct ID by the Friday following the election, the ballot then counts.
Not everyone who showed up without ID would cast such a ballot, of course. But it's one measure of how often ID issues surfaced at the polls.
Mayer said we simply don't know how many people were turned away. But he said Clinton's number isn't realistic.
"There is no possibility that (200,000) happened, because that would have been on the order of 60 people per polling place," he said, referencing the state's roughly 3,500 polling locations.
Will Flanders, research director at the conservative Wisconsin Institute for Law & Liberty, has criticized the UW survey for having a small sample size and focusing only on Democratic strongholds, among other elements. He said that makes Clinton's exaggeration of the study's findings even more extreme.
"Given the problematic nature of that (UW) estimate, estimates that are larger than that are even more out of the realm of reasonable possibility," Flanders told PolitiFact Wisconsin.
Our ruling
Clinton said between 27,000 and 200,000 Wisconsinites were "turned away" from the polls in 2016 due to lack of proper identification.
But studies examining voter ID here say nothing of the sort.
They looked broadly at how voter turnout changed — which includes the far larger number who simply stayed away. Experts say there is no reliable number for how many were physically turned away, but the existing work leaves no doubt it's far short of the range cited by Clinton.
This is the third time we have rated claims from Clinton on the Wisconsin turnout. She's no closer on this one than the last one.
We rate this claim Pants on Fire.
YouTube.com, dcexaminer, Hillary Clinton blames voter suppression for her and Stacey Abrams' election loses, Sept. 17, 2019
PolitiFact Wisconsin, Hillary Clinton's Mostly False claim on photo ID, voter suppression in Wisconsin in 2016 election, June 9, 2017
PolitiFact Wisconsin, Clinton on the hot seat with claim that thousands were turned away from the polls in Wisconsin, March 6, 2019
Priorities USA, Voter suppression analysis, May 3, 2017
University of Wisconsin, Voter ID Study, Sept. 25, 2017
Email exchange and interview with Kenneth R. Mayer, professor, University of Wisconsin, Sept. 18-19, 2019
Email exchange and interview with Will Flanders, research director, Wisconsin Institute for Law & Liberty
Wisconsin Elections Commission, 2016 general election summary statistics, accessed Sept. 19, 2019
Wisconsin Elections Commission, Provisional Voting, accessed Sept. 19, 2019
Browse the Truth-O-Meter
More by Eric Litke
Support independent fact-checking.
Become a member!
In a world of wild talk and fake news, help us stand up for the facts.