Stand up for the facts!
Our only agenda is to publish the truth so you can be an informed participant in democracy.
We need your help.
I would like to contribute
Says COVID-19 remains in the air for eight hours and that everyone is now required to wear masks "everywhere."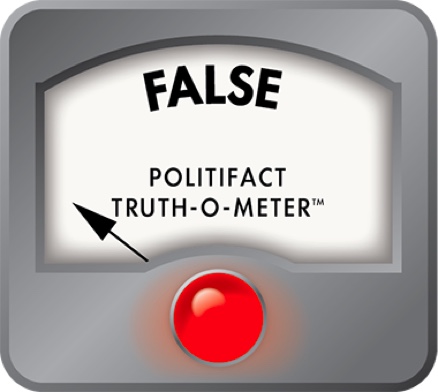 Post saying new coronavirus stays in the air for 8 hours is false
If Your Time is short
There are different definitions of what is considered "airborne," and while COVID-19 is spread through the air via droplets, it isn't believed to be as transmissible as typical airborne illnesses, such as measles.

One study found COVID-19 may remain in the air longer in some settings but environment plays a role and further research needs to be done, experts say.

There is no evidence that the virus stays in the air for eight hours and there is no requirement for "everyone" to wear masks everywhere.
Since the novel coronavirus hasn't been around that long, public health information about the virus and how it behaves is constantly changing. 
That's why social media posts that make sweeping medical claims about COVID-19 should be viewed with skepticism.
Like this Facebook post, which displays a screenshot of a CNBC headline and claims COVID-19 is now considered "airborne" and remains in the air for eight hours.
The post shows part of a real CNBC headline before cutting off at an ellipsis: "WHO considers 'airborne precautions' for medical staff after study shows coronavirus …"
Below that, the post's text reads, "COVID-19 is confirmed as airborne and remains 8 hrs (sic) in air! So everyone is required to wear mask (sic) everywhere!!" 
The post was flagged as part of Facebook's efforts to combat false news and misinformation on its News Feed. (Read more about our partnership with Facebook.)
First, the word "airborne" means different things to different scientists. Second, data about the nature of the coronavirus is evolving. But even in light those two considerations, this social media post distorts facts and presents exaggerated, alarmist information.
Health officials are not recommending face masks for everyone "everywhere." Not yet, anyway. While the matter is being considered by the Centers for Disease Control and Prevention, so far the agency hasn't advised face masks for healthy people.
It did recently update its guidance to say that, when masks are available, sick people should wear them when they are around others and upon entering healthcare providers' offices. The CDC also says that if a sick person is unable to wear a mask, their caregiver should wear one when in the same room. 
Is it airborne?
Public health officials have said that they don't consider the virus to be airborne because its droplets are too large and heavy to remain in the air long, falling within a few seconds.
"The virus that causes COVID-19 is mainly transmitted through droplets generated when an infected person coughs, sneezes, or speaks. These droplets are too heavy to hang in the air. They quickly fall on floors or surfaces," the World Health Organization says.
"You can be infected by breathing in the virus if you are within 1 meter of a person who has COVID-19, or by touching a contaminated surface and then touching your eyes, nose or mouth before washing your hands."
The Facebook post's claim that the virus can remain in the air up to eight hours is unsubstantiated. Furthermore, the CNBC article the post references makes no such statement. 
The article does refer to one recent study that suggests the virus might be able to stay in the air longer in some settings such as when medical staff are engaged in an "aerosol-generating procedure." Such procedures might include intubation, ventilation and airway suction. Under those circumstances, health officials are considering "airborne precautions" for medical staff, the story said.
The study, published March 17 in the New England Journal of Medicine, found that transmission by aerosol — defined as a suspension of tiny particles or droplets in the air — is plausible in this virus, technically called SARS-CoV-2, in some settings. The virus "remained viable in aerosols" for three hours, the study said. 
But this doesn't mean the virus is now considered airborne. One researcher who participated in the study warns that the airborne question "bedevils scientists trying to communicate with the public."
"It combines a locus of substantial public fear with a question of true scientific nuance — a recipe for a misinformation mess," Dylan Morris, Princeton University researcher and co-author of the study, wrote in a post on his website. 
"Many viruses — from measles to flu, and including SARS-CoV-2 — are 'airborne' in the sense that one way of getting sick is to inhale virus particles ('virions') sneezed or coughed into the air within respiratory secretions. Some secretions are on the bigger end, and we tend to call those 'droplets.' Others are smaller, and we tend to call them 'aerosols,'" Morris says.
"The tricky crux of the matter is that when people say 'airborne,' what they often mean is 'you're at risk from virus particles hanging in the air — or being kicked back up into the air after falling to the ground — long, long after an infectious person sneezed them out.' That's much more of a risk for smaller, 'aerosol'-end-of-the-spectrum secretions. And it turns out that it's more of a risk for some viruses than for others."
Measles, for example, is considered a truly airborne virus because it typically remains infectious in the air for hours. Even though measles and flu illnesses can both be found in aerosol-like and in droplet-like secretions, Morris says, the flu is less transmissible. So far, scientists think COVID-19 looks more like the flu. 
Linsey Marr, an expert in airborne disease transmission at Virginia Tech, told FactCheck.org that there isn't enough evidence showing how exactly the new coronavirus is being spread between people, but said transmission is much more likely if you're close to someone who is sick. 
She gave an example of being directly next to someone smoking a cigarette — the closer you are, the more off a whiff you could catch — but the farther away you are from someone releasing the virus into the air, the lesser the concentration.
Our ruling
A Facebook post says the virus that causes COVID-19 remains in the air for eight hours, and everyone is now required to wear masks.
This is inaccurate. There is no current evidence that the virus can remain in the air for eight hours. While the CDC is exploring its position on whether masks should be worn more widely in the general population, it doesn't "require" everyone to wear masks "everywhere." As more studies are done on how the virus persists in various environments, there may be extra precautions put in place, especially for health care professionals treating COVID-19 patients.
There is still not enough known to say definitively how this new virus behaves in every setting. Preliminary studies suggest the virus may be more "airborne" than initially believed. But the term "airborne" should not be applied loosely as current research doesn't indicate that COVID-19 is comparable to highly transmissible airborne illnesses like measles. Experts say the biggest threat of transmission is close contact with an infected person.
The post makes unsubstantiated claims and twists facts to give a different impression. We rate it False.
Browse the Truth-O-Meter
More by Samantha Putterman
Support independent fact-checking.
Become a member!
In a world of wild talk and fake news, help us stand up for the facts.