Get PolitiFact in your inbox.
Says "Joe Biden is absolutely on board with defunding the police."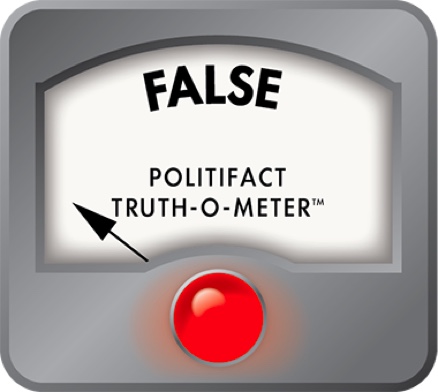 No, Joe Biden isn't 'on board with defunding police'
If Your Time is short
The latest commercial by Trump's reelection campaign claims that Biden would defund police if elected

Biden has repeatedly refuted that statement, saying that he wants to bring back community policing and help hire more officers.
The funding of police forces across the country has made its way to center stage in the presidential race, after more than two months of protests over George Floyd's death at the hands of officers in Minneapolis. 
President Donald Trump's campaign has started running an ad in Wisconsin that claims presumptive Democratic nominee Joe Biden is "absolutely on board with defunding the police." 
The 30-second ad, posted to Youtube on July 20, 2020, shows an older woman, seemingly home alone, watching a news program that shows protests in Seattle and other cities. The voiceover claims that Seattle is planning to defund its police department by 50%, as well as remove some 9-1-1 dispatchers. Then, the voice of Sean Hannity of Fox News is heard: 
"Joe Biden is absolutely on board with defunding the police." 
Immediately following that, Biden's voice can be heard saying: "Yes. Absolutely." 
Trump has also made the same charge against Biden over and over again.
A June 7, 2020 tweet on stated that Biden and Democrats want to defund police and another tweet made the same claim on July 17, 2020. He also repeated the claim during a July 19, 2020 interview with Chris Wallace on "Fox News Sunday."
But repeating -- and repeating -- a falsehood does not make it true. 
Biden is clear on police reform
While some argue police departments should be eliminated entirely, as PolitiFact National detailed in a June 9, 2020 article, the use of the phrase "defund the police" more typically means to revisit the functions of police departments and shift funding toward, for instance, mental health and social services.
So, where does Biden land?
On June 9, 2020, he told "CBS  Evening News" host Norah O'Donnell that he supports "conditioning federal aid to police, based on whether or not they meet certain basic standards of decency and honorableness." 
The following day, in an opinion piece that ran in USA TODAY, Biden said that abuse of power in police departments must stop and that reform is the answer to problems -- not defunding. 
"While I do not believe federal dollars should go to police departments violating people's rights or turning to violence as the first resort, I do not support defunding police," he wrote. "The better answer is to give police departments the resources they need to implement meaningful reforms, and to condition other federal dollars on completing those reforms." 
He then goes on to explain a $300 million plan to reinvigorate community policing in America, which would encourage relationship building between police officers and community members. 
Biden's campaign website says the $300 million would be used to set up grants that departments across the country could apply for to hire more officers. In order to get a grant, the departments would have to hire officers that reflect the racial diversity of the community they serve. 
So, Trump flatly misrepresents Biden's position.
Our ruling
A Trump campaign ad running in Wisconsin claimed that Biden "absolutely wants to defund police." 
But Biden himself has said several times in interviews and op-eds that he does not support defunding the police. And his campaign platform actually includes hiring more officers, focused on community policing. 
We rate this claim False. 
Youtube, "Break In," July 20, 2020
Youtube, "Joe Biden's Emotional Conversation with Activist Ady Barken," July 8, 2020
Donald Trump on Twitter, June 7, 2020
Donald Trump on Twitter, July 17, 2020
Fox News, "Fox News Sunday," July 19, 2020
PolitiFact, "'Defund the police' movement: What do activists mean by that?" June 9, 2020
CBS News, "CBS Evening News," June 9, 2020
USA TODAY, "Biden: We must urgently root out systemic racism, from policing to housing to opportunity," June 11, 2020
Joebiden.com, "Justice," Accessed July 28, 2020
PolitiFact, "Joe Biden says he doesn't want to defund police," June 9, 2020
FactCheck.org, "Trump's False, Recurring Claim About Biden's Stance on Police," July 21, 2020
Browse the Truth-O-Meter
More by Laura Schulte
Support independent fact-checking.
Become a member!
In a world of wild talk and fake news, help us stand up for the facts.