Get PolitiFact in your inbox.
"Joe Biden left Marines behind in Afghanistan. And now he left a Marine behind in Russia."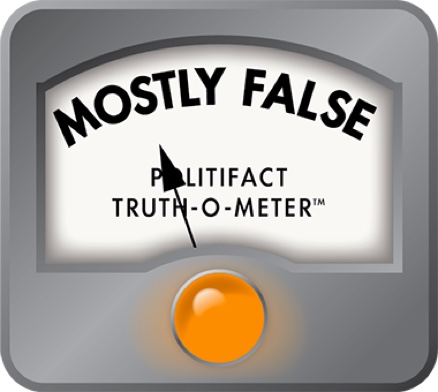 Tiffany misses the mark with claim that Biden left Marines behind in Afghanistan, Russia
If Your Time is short
In Afghanistan, while 13 Marines were killed during the U.S. withdrawal in 2021, no Marines were left behind and none remain there today.

In Russia, Paul Whelan was taken into custody in 2018, and was not part of the prisoner exchange involving WNBA star Britney Griner.

He is a U.S. Marine Corps veteran, but was discharged from the Marines in 2008 after being convicted on charges related to larceny. He was in Russia as a private citizen, not on Marine business.

That said, the U.S. Marine Corps itself uses the slogan "Once a Marine, Always a Marine."
After the release of WNBA star Brittney Griner, U.S. Rep. Tom Tiffany, a Wisconsin Republican, was among those who criticized President Joe Biden for failures in getting the release of other prisoners being held in foreign countries. 
"Joe Biden left Marines behind in Afghanistan. And now he left a Marine behind in Russia," Tiffany wrote in a Dec. 8 tweet. "Americans are tired of his weakness on the world stage.'
But did Biden really leave Marines in Afghanistan? And is there a Marine still being held in Russia? 
Let's take a closer look.
No Marines remain in Afghanistan after 2021 withdrawal
First, let's consider the portion of the claim regarding Afghanistan.
When we asked Tiffany's office for clarification on that part of the statement, his communications director, Caroline Briscoe, said it was "in reference to the U.S. Marines who were killed in President Biden's chaotic and botched Afghanistan withdrawal." 
Although it's true that the withdrawal from Afghanistan was fast and hectic, there weren't actually any Marines left behind after the withdrawal, and none remain today. 
John Hall, an associate professor of U.S. military history at the University of Wisconsin-Madison's College of Letters and Science, said Tiffany's characterization in the claim is a bit misleading.
"It's worth emphasizing that the withdrawal was completed on an aggressive but deliberate schedule set by US Forces Afghanistan," he said in a Dec. 21 email. "Weeks later, the U.S. had to send units (including Marines and a brigade of the 82nd Airborne Division) back into Afghanistan to execute a noncombatant evacuation operation, and these units also retrograded on schedule without leaving anyone behind."
Thirteen Marines were killed in a bombing at the Kabul airport during the withdrawal, according to a Aug. 26 report from NPR. But the claim was not that Marines were killed. In the context of responding to the Griner release, it suggested Marines were being held in jail or otherwise remained detained.
So, Tiffany is wrong here.
Marine veteran in Russia was discharged nearly a decade before Russian arrest
Now let's take a look at whether or not there is a Marine left behind in Russia.
When asked about this portion of the claim, Tiffany's team said he was referring to Paul Whelan, who is currently imprisoned in Russia. 
Griner, who was imprisoned in Russia for about 10 months over a drug charge, was exchanged for Russian arms dealer Viktor Bout, who was serving a 25-year sentence in the U.S. 
Critics of the trade were quick to point to Whelan, who was arrested in 2018 in Moscow. Experts say Russian officials view his case differently, because he was convicted of espionage. 
Whelan is a Marine veteran, who served several tours in Iraq as an active-duty reservist, according to a Dec. 9 report from The Washington Post. But he was punitively discharged in 2008 after being convicted of charges related to larceny. 
Let's pause for a moment to note that the U.S. Marine Corps itself uses the slogan: "Once a Marine, Always a Marine." On the Marines' website, it is described this way: "There truly is no such thing as a former Marine, as after service our Marine Veterans are just as dedicated to advancing our Nation and defending its ideals. If you become one of us, the fight in you will always be a part of our Nation's moral cause."
But in how Tiffany phrased the claim, he suggests Whelan is an active duty member. And, beyond that, the claim makes no reference to his checkered history that led to his discharge.
After leaving the Marines, Whelan spent more than a decade working as a corporate security expert, The Washington Post reported, and at the time of his arrest was corporate security director at BorgWarner, a Michigan-based automotive parts supplier. 
After his arrest in 2018, Whelan was sentenced in 2020 to 16 years of hard labor during a trial that heightened tensions between the U.S. and Russia, according to The Washington Post report.
Although Whelan has not been released during Biden's presidency, it's important to note that former President Donald Trump also did not succeed in securing his release. In fact, Trump said he turned down a deal to release him, according to a Dec. 11, report from The Hill. 
Trump said in a social media post that he declined to release Bout in exchange for Whelan in 2018, because he "wouldn't have made the deal for a hundred people in exchange for someone that has killed untold numbers of people with his arms deals." 
So, while Whelan is still being detained in Russia, he wasn't taken into custody as a Marine, and he wasn't in Russia as an active-duty Marine, either.
Our ruling
Tiffany claimed that Biden has left Marines behind in both Afghanistan and in Russia during his time in office. 
Although the withdrawal from Afghanistan in 2021 was hectic and resulted in the deaths of 13 U.S. Marines, none were left behind when the withdrawal was complete. 
As for Russia, Whelan was discharged from the Marines about a decade before his arrest. He was also not in Russia on any Marines-related business at the time, either. But, as noted, the view of the Marine Corps is that one truly never becomes a former Marine.
We rate this claim Mostly False, meaning "the statement contains an element of truth but ignores critical facts that would give a different impression."
Tom Tiffany, Twitter, Dec.8, 2022
Email conversation with Caroline Briscoe, Tom Tiffany's communications director, Dec. 20, 2022
Email conversation with John Hall, UW-Madison, Dec. 21, 2022
NPR, "1 year later, more details emerge about the Americans killed in Kabul airport bombing," Aug. 26, 2022
The Washington Post, "Who is Paul Whelan, the former U.S. Marine held in Russia?" Dec. 9, 2022

The Hill, "Trump says he turned down deal to release Paul Whelan," Dec. 11, 2022
Browse the Truth-O-Meter
More by Laura Schulte
Support independent fact-checking.
Become a member!
In a world of wild talk and fake news, help us stand up for the facts.