Facts are under assault in 2020.
We can't fight back misinformation about the election and COVID-19 without you. Support trusted, factual information with a tax deductible contribution to PolitiFact
I would like to contribute
"...Virginia, more than any other state, had the steepest drop in the number of abortions between 2011 and 2017."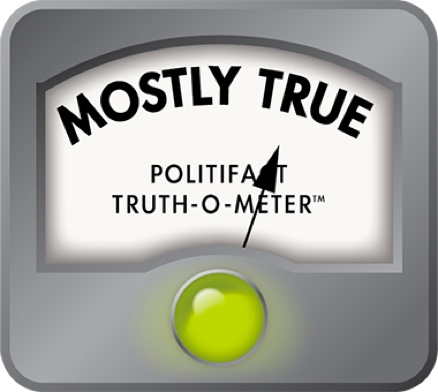 Did Virginia lead the nation in reducing abortions? Not quite
The Family Foundation, an influential voice for socially-conservative policies, recently predicted that an era of declining abortions in Virginia will be halted by new Democratic majorities in the General Assembly.
"Frankly, an uptick is unavoidable," the group said in a blog posted July 9 - shortly after laws went into effect repealing major abortion restrictions Republicans won in 2011 and 2012.
The Foundation wrote, "It wasn't long ago (September 2019) that the Guttmacher Institute – a left-wing organization that advocates abortion– released a nationwide report revealing that Virginia, more than any other state, had the steepest drop in the number of abortions between 2011 and 2017."
Although Guttmacher Institute in New York is pro-abortion rights, it's statistical research has been widely reported and cited as authoritative  by activists on both sides of the abortion debate. We wondered whether Guttmacher indeed found that Virginia had the biggest drop in abortion between 2011 and 2017.
Guttmacher periodically publishes reports on the number of abortions performed in each state. The Foundation's blog refers to Guttmacher's latest report on states, released last September, that has data from 2014 to 2017. We accessed an earlier Guttmacher report to get statistics from 2011.
The reports show the number of Virginia abortions from 2011 through 2017 fell from 27,110 to 17,210. That's a 37% drop - twice the 18.5% national decline.
But contrary to the Family Foundation, Virginia wasn't No. 1 in reducing abortions. Delaware led the way with a 63% decrease, followed by Hawaii and West Virginia.
In raw numbers, Virginia saw a 9,900 drop in abortions during the span. That was fifth highest, trailing the large states of California, New York, Texas and Florida.
Guttmacher also compiles each state's abortion rate - the number of abortions per 1,000 women aged 15-44. Virgina had 16.3 abortions per 1,000 women in 2011, and dropped to 9.5 per thousand in 2017. That's a 42 percent decrease and it ranked third, behind Delaware and Hawaii.
Although Guttmacher found that 32 states toughened their abortion laws bewteen 2011 and 2017, it questions whether those restrictions were the main force behind the national drop in abortions. Guttmacher says other factors may be more important, such as fewer pregnancies and greater access to contraception.  
The Family Foundation, however, says the restrictions were the "major factor" in Virginia's drop. It points to laws passed early last decade when Republican Bob McDonnell was governor, the GOP held two-thirds of the seats in the House, and the Senate had an anti-abortion majority of Republicans and a couple of Democrats.
In 2011, Virginia enacted a law requiring abortion clinics to comply with hospital building codes - forcing centers to make expensive renovations or close. The number of Virginia clinics over the next six years dropped from 21 to 15. 
In 2012, a new law required women to have an ultrasound at least 24 hours before an abortion and be offered a look at the image of the fetus. The law required many women to visit a clinic twice to get an abortion - some making lengthy trips.
In November 2019, Democrats won majorities in the House and Senate for the first time in 24 years. Working with Democratic Gov. Ralph Northam, they repealed both abortion restrictions.
Our ruling
The Family Foundation says "Virginia, more than any other state, had the steepest drop in the number of abortions between 2011 and 2017." It attributes its information to the Guttmacher Institute.
According to Guttmacher, there were 27,110 abortions in Virginia in 2011, and 17,210 in 2017. That's a huge 37 percent decrease - double the national average.
But it wasn't the largest drop among states. It ranked fourth.
So we rate the Family Foundation's statement Mostly True.
The Family Foundation, "The Numbers Don't Lie: Deregulation of the Abortion Industry Means More Abortions," July 9, 2020.
Guttmacher Institute, "Abortion Incidence and Service Availability in the United States, 2017."
Guttmacher, "Abortion Incidence and Service Availability In the United States, 2011."
The Washington Post, "The U.S. abortion rate falls to its lowest level since Roe v. Wade," Sept. 18, 2019.
Virginia Department of Health, Statistical Reports and Tables, accessed Aug. 3, 2020.
Email from Maria Reppas, director of communications, Virginia Department of Health, Aug. 3, 2020.
Legislative Information System, SB 924, 2011 session.
LIS, HB 462, 2012 session.
Browse the Truth-O-Meter
More by Warren Fiske
Support independent fact-checking.
Become a member!
In a world of wild talk and fake news, help us stand up for the facts.