Get PolitiFact in your inbox.
"3.8% of Wisconsin's coronavirus funding has been spent."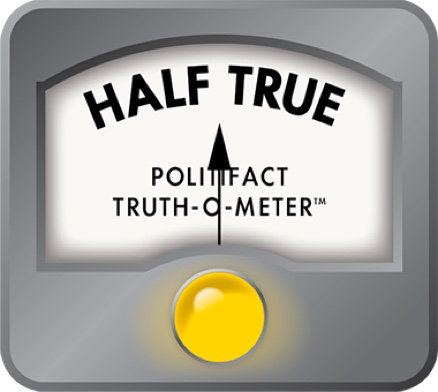 GOP lawmaker only tells part of story in claim that Wisconsin spent 3.8% of federal coronavirus aid
If Your Time is short
Steil cited a report from the U.S. Department of Treasury, which said Wisconsin spent or transferred 3.8% of its CARES Act funds from March 1 to June 30.

But that figure doesn't include expenses already incurred or funds already committed to programs and response efforts
Wisconsin's congressional delegation is embroiled in a debate over whether to send more aid to state and local governments squeezed by the economic fallout from the coronavirus pandemic.
The Democratic-controlled House of Representatives in May passed the so-called HEROES Act, which would allocate nearly $1 trillion to state, local and tribal governments, among other provisions. However, Republican lawmakers and President Donald Trump balked at that plan. The Senate has not passed its own version of a new COVID-relief bill, but White House officials are negotiating with Democrats in hopes of reaching an agreement on various issues.
In the midst of the debate, one Wisconsin Republican suggested Wisconsin may not need another round of federal funding.
"According to the Treasury Department, 3.8% of Wisconsin's coronavirus funding has been spent," U.S. Rep. Bryan Steil tweeted on July 30, 2020. "The rest is unaccounted for. I've asked Gov. (Tony) Evers to explain."
Steil, who represents the state's 1st Congressional District, hinged his argument on data from the U.S. Department of Treasury that points to the same figure. 
But the Treasury's report is only part of the story.
Breaking down the numbers
Wisconsin received about $2.26 billion through the CARES Act to help the state manage costs stemming from the pandemic. Around $260 million of that went to Dane County, Milwaukee County and the city of Milwaukee, which were eligible for direct payments because their populations are over 500,000.
That left the state with roughly $2 billion. Evers can direct the spending. He does not need approval from the Legislature.
When asked for evidence to support Steil's claim, a spokeswoman pointed to the report from the U.S. Department of the Treasury, which shows Wisconsin has spent or transferred around $75.6 million, or 3.8%, of its $2 billion in CARES Act funds. Recipients were required to report their spending to the department's Office of Inspector General from March 1 to June 30.
On July 29, Steil wrote a letter to Evers seeking "greater clarity on Wisconsin's use of existing federal resources." In the letter — but not the tweet — he notes that some funds have been spent while others were only obligated.
The letter cited a June 18 memo from the Legislative Fiscal Bureau, which outlined $1.72 billion in COVID-19 initiatives that would be covered through the CARES Act. That leaves $280 million in federal dollars remaining.
Among the plans: $200 million in aid for local and tribal governments, $260 million for a COVID-19 testing program and $110 million to provide assistance to health care providers. Another $445 million was set aside for "hospital and community preparedness" in the event cases surge before the end of the year.
The state Department of Administration detailed those funding commitments in a July 17 letter to the U.S. Treasury Department. According to the letter, provided by Evers' office, the documented amount does not include at least $67.2 million in costs incurred before June 30 that will be covered by federal funding.
Those funds will also cover $108.3 million already obligated for the state's coronavirus response, the letter states.
"Because of the difference in timing between purchase orders, invoices, and payments, however, as well as the reimbursement model used for several of these programs, today's interim report will capture only a portion (of) the reach of Wisconsin's CRF funded commitments at the present moment," wrote Joanna Beilman-Dulin of the DOA. 
Translation: The spending reported by the U.S. Department of Treasury tracks just that — spending. It doesn't include previous expenses or allocated relief funds, such as orders that have yet to be invoiced and grant programs with applications under review.
What's more, Evers announced on July 27 — before Steil contacted the governor — that $41.6 million in federal funds had been distributed to farmers. That amount wasn't included in the Treasury data because it was still under review when the state submitted its report.
That means the number Steil cited doesn't show the complete picture. 
Our ruling
As Congress debates what the next federal relief package should look like, Steil claimed that "3.8% of Wisconsin's coronavirus funding has been spent."
A report from the U.S. Department of Treasury said Wisconsin spent or transferred 3.8% of its CARES Act funds from March 1 to June 30. But that figure doesn't account for expenses the state already incurred or funds it has committed to other programs and response efforts.
A statement is Half True when it's partially accurate but leaves out important details or takes things out of context. 
That fits here.
Congress, H.R. 6800: The Heroes Act, accessed Aug. 5, 2020.

USA TODAY, Many Americans might not get another stimulus check. Here's where things stand on another COVID-19 bill, July 15, 2020.

U.S. Department of the Treasury, Interim Report of Costs Incurred by State and Local Recipients through June 30, accessed Aug. 4, 2020.

U.S. Department of the Treasury, Memorandum for coronavirus relief fund recipients, July, 2, 2020.

U.S. Rep. Bryan Steil letter to Gov. Tony Evers, July 29, 2020.

Legislative Fiscal Bureau, Coronavirus Relief Fund Monies Under the Federal CARES Act, June 18, 2020.

Department of Administration, Interim Quarterly Report for Coronavirus Relief Fund - Wisconsin, July 17, 2020.

Office of Governor Tony Evers, Gov. Evers Announces $41.6 Million Distributed Through Wisconsin Farm Support Program, July 27, 2020.
Browse the Truth-O-Meter
More by Haley BeMiller
Support independent fact-checking.
Become a member!
In a world of wild talk and fake news, help us stand up for the facts.