Stand up for the facts!
Our only agenda is to publish the truth so you can be an informed participant in democracy.
We need your help.
I would like to contribute
Says series of 11 photos are "from the 1918 flu pandemic."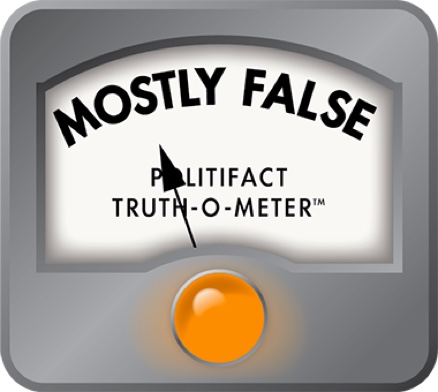 No, not all of these photos are from the 1918 flu pandemic
If Your Time is short
• Five of the 11 photos are from the 1918 flu pandemic. Six are not.
Women in gas masks, others with bags on their heads and stay at home posters. If posts on social media are to be believed, these images and more come from the 1918 flu pandemic.
"Photos from the 1918 flu pandemic," proclaimed one such recent Facebook post that contained 11 photos. The post was flagged as part of Facebook's efforts to combat false news and misinformation on its News Feed. (Read more about our partnership with Facebook.)
PolitiFact conducted reverse image searches to determine the origins of the photos. Of the 11 photos, six bear no connection to the 1918 flu pandemic. Let's take a look at those first.
What is on their heads?
The first photo features two women with what look like bags over their heads. According to the Associated Press, it was captured in November 1953.
"War surplus gas capes are used by Meriel Bush, left, and Ruth Neuer, in an attempt to dodge the eye-stinging effects of a low-hanging smog and smoke which enveloped Philadelphia for the second straight day," reads the AP's caption.
Well-dressed ladies on street
A reverse image search located the image of masked women walking arm in arm on a stock photo website. On the site, the photo is described as, "Ladies' fashion from 1913. New veil fashions, based on Turkish nose veils."
When debunking claims that the photo was of the 1918 flu pandemic, AFP Fact Check's bureau in Thailand contacted the German photo agency, Süddeutsche Zeitung Photo, which was listed as the photographer.
 "The original picture description says that the nose veils were the fashion for ladies after the Balkan war," Süddeutsche Zeitung's spokesperson told AFP in an email.
The Balkan Wars unfolded from 1912 to 1913.
Gas masks and a stroller 
A photo of women in gas masks tending to a stroller is from a June 1941 gas test during World War II, according to Getty Images.
"9th June 1941: A gas masked young mother attends to her child's pram gas mask during a surprise gas test in Kingston," reads the Getty Images photo description.
Quarantine telephone service
One of the images from the post is an advertisement for a Bell Telephone Co. "People who are in quarantine are not isolated if they have a Bell Telephone," the ad reads.
Back in May, Snopes.com debunked the claim that this ad was connected to the 1918 pandemic. 
Versions of this ad existed as early as November 1910. The St. Louis Post-Dispatch ran an ad that was nearly identical, but with a different tag, "The Bell Telephone Company of Missouri." 
The ad mentions "quarantine" and "the sick," but there is no indication it is a direct reference to any particular illness.
'Stay at Home' ad
An image of an ad that encouraged people to stay home was created not in 1918, but in 2020.
"Stay At Home," the ad says. "It has never been easier to save lives."
Though the graphic illustration may appear vintage, it was made in March in response to the current COVID-19 pandemic. A French illustrator named Mathieu Persan made versions of the poster in various languages and posted them on Twitter. If you look closely, you can see his signature on the right side of the illustration.
Masked ladies chatting 
A photo of two women who appear to be visiting over a car window while wearing masks was taken in 1929, during a separate flu epidemic. 
"Two women wearing flu masks during a flu epidemic in 1929," reads Getty Images' photo description.
The 1928-29 flu epidemic was studied by health professionals using data from the 1918 pandemic.
Photos linked to the 1918 flu pandemic
Here's what we can tell you about the five photos that are actually from the 1918 influenza pandemic time period.
Our ruling
A Facebook post claims 11 photos are "photos from the 1918 flu pandemic." 
This is not the case. Five of the 11 photos are from the 1918 influenza pandemic time period; six are not. We rate this claim Mostly False.
AFP Fact Check, "Not all of the images are related to the global influenza outbreak a century ago," June 19, 2020
Reuters, "Fact check: Post wrongly identifies five photos as showing 1918 Spanish flu pandemic," June 16, 2020
AP Images, "AIR POLLUTION 1953," Nov. 20, 1953
AFP Fact Check, "This photo has circulated in reports about women's fashion in 1913," June 16, 2020
Alamy Stock Photo, "Ladies' fashion from 1913," accessed Aug. 10, 2020
Snopes.com, "Does This Photograph Show Women Wearing 'Flu Masks'?" April 9, 2020
Encyclopaedia Britannica, "Balkan Wars," accessed Aug. 10, 2020
Getty Images, "Flu Mask," accessed Aug. 10, 2020
New York Times, "The Killer Flu of 1918: A Philadelphia Story," April 4, 2020
History.com, "'Mask Slackers' and 'Deadly' Spit: The 1918 Flu Campaigns to Shame People Into Following New Rules," July 16, 2020
Wired, "The Shared Visual Language of the 1918 and 2020 Pandemics," April 26, 2020
Getty Images, "Warehouses that were converted to keep the infected people quarantined," accessed Aug. 10, 2020
Business Insider, "Photos show how the 1918 flu pandemic brought the world to its knees," Feb. 20, 2020
Getty Images, "Gas Test," accessed Aug. 10, 2020
Snopes.com, "Is This a 1918 Quarantine Ad for the Bell Telephone?" May 15, 2020
Newspapers.com, "Flu Tech - Telephone ad 1910," accessed Aug. 10, 2020
CNN Business Newsletter, "Reliable Sources with Brian Stelter," accessed Aug. 11, 2020
The Seattle Times' Pacific NW Magazine, "There's no covering up the message of this masked boy," July 9, 2020
Forbes, "Is Coronavirus Forcing Humans To Face Themselves?" March 19, 2020
Centers for Disease Control and Prevention, "1918 Pandemic (H1N1 virus)," accessed Aug. 11, 2020
National Center for Biotechnology Information, "1918 Influenza: the Mother of All Pandemics," Jan. 12, 2006
American Journal of Public Health, "The Influenza Epidemic of 1928-1929 with Comparative Data for 1918-1919*," accessed Aug. 11, 2020
The Washington Post, "Power Up: Mask mandates are coming to more states. They were controversial in 1918, too," July 23, 2020
The Guardian, "I fled New York with my wife, kids and dog – just as my ancestors fled the 1918 pandemic," April 2, 2020
National Library of Medicine's Circulating Now, "Influenza precautions, then and now," Jan. 15, 2015
Browse the Truth-O-Meter
More by Madison Czopek
Support independent fact-checking.
Become a member!
In a world of wild talk and fake news, help us stand up for the facts.