Stand up for the facts!
Our only agenda is to publish the truth so you can be an informed participant in democracy.
We need your help.
I would like to contribute
Says Democratic presidential nominee Joe Biden backs a fracking ban that would cost 100,000 Wisconsin jobs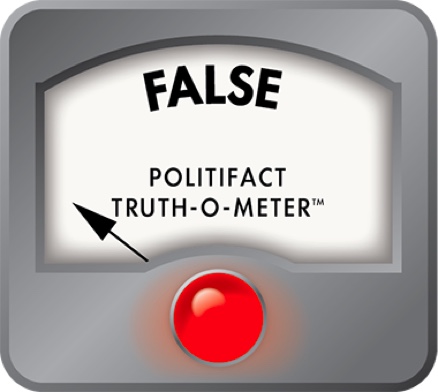 No, Joe Biden doesn't want to ban fracking and kill the Wisconsin jobs the industry supports
If Your Time is short
Though Joe Biden said in a March 2020 debate that he would support banning fracking in the U.S., his official platform says different.

Biden wants a ban only on new fracking activities on federal lands and waters.

The claim also overstates the number of jobs at stake in Wisconsin.
In a tight race for president, both Republicans and Democrats are pursuing every angle -- and every issue -- in their quest to win. 
Fracking is one of the issues that has been picked up by Donald Trump's reelection campaign and used against presumptive Democratic nominee Joe Biden and his running mate, U.S. Sen. Kamala Harris of California. 
In an Aug. 12, 2020 email, Wisconsin Trump Victory claimed that by choosing Harris as his running mate, Biden is "putting Wisconsin's energy workers on notice." 
Trump Victory is a political group led jointly by the Trump campaign and the Republican National Committee. 
The email claims that Biden's selection of Harris is "a shot across the bow to 100,000 Wisconsinites facing unemployment due to their proposal to eliminate fracking." 
Fracking is a common -- but highly controversial -- technique used to access hard-to-reach oil and gas in rock formations. 
Does Biden really support eliminating fracking entirely? And would the elimination of fracking impact 100,000 Wisconsin jobs? 
What is fracking, and how is Wisconsin involved? 
Fracking is short for hydraulic fracturing, a type of drilling that's used to access oil and natural gas trapped inside rock formations. 
Using drills, several wells can be created a mile or more beneath the surface of the earth, and then a mixture of water, sand and other additives are pumped in at high pressure, creating fissures that are held open by the sand. Those small fissures are what allows the trapped gas or oil to flow out of the rock they were trapped in. 
The practice, which is used to access resources in the eastern, western and southwestern areas of the country, is the reason that America is able to tap into oil reserves beneath the soil,  according to the American Petroleum Institute. 
Although Wisconsin isn't home to the oil or natural gas that is accessed by fracking, it is home to several sand mines, which produce the specific type of sand needed during the fracking process. Those mines generate jobs of all types, from the industrial workers to truck drivers to even those running the grocery stores in the towns near the mines. 
Does Joe Biden want to ban fracking? 
In its email, Trump Victory points multiple times to the March 15, 2020 Democratic debate, in which Biden faced off against U.S. Sen. Bernie Sanders, then the lone remaining challenger.
While talking about climate change, Sanders said that he wants to completely eliminate fracking in America to help with the climate change crisis, to which Biden responded that he does, too. 
"Well, I'm not sure your proposal does that," Sanders said. 
"No more, no new fracking," Biden said. 
That statement was a deviation from Biden's official position, in which he stated he did not want to outright ban the practice. 
Following the debate, a Biden campaign representative clarified the position, saying Biden wants a ban only on new fracking activities on federal lands and waters, according to a PolitiFact item from June 2020, and another from July 2020. 
For that reason, PolitiFact has rated claims that Biden wants to halt fracking Mostly False. 
Thus, the Trump Victory email gets off to a bad start.
So what about those jobs? 
The number of actual jobs related to the sand mining industry is actually much smaller than the 100,000 figure listed in the email. 
According to the Job Center of Wisconsin, part of the state Department of Workforce Development, the number of all jobs in the mining, quarrying and oil and gas extraction industry was 3,480 in 2019. Even that is a broader figure than just those tied to fracking specifically.
But that number doesn't include related jobs, like those in transportation, manufacturing, finance, healthcare and various other local businesses that are tied to mining. 
To support that claim, the Trump Victory email links to a 2011 study by the American Petroleum Institute, which cites 103,300 as the number of direct, indirect and induced jobs provided by the oil and gas industry in Wisconsin. 
But a more recent study -- from 2017 -- was available, showing an estimated 98,200 total jobs fueled by the gas and oil industry in the state. 
The study breaks down the number this way: 
35,000 in natural gas and oil

29,700 in services

10,000 in manufacturing

7,900 in wholesale and retail

3,300 in transportation and warehousing

900 in construction

11,400 in other jobs 
Still, those figures are for all oil and gas-related jobs in the state. The number tied to fracking would be smaller, though it's hard to pinpoint how much smaller. In any case, it's a vast overstatement to say some 100,000 would face unemployment.
So, on this point, Trump Victory uses an outdated report that is offpoint and overshoots the mark.
 
Our ruling
Trump Victory said that by backing a ban on fracking, Biden would cost 100,000 Wisconsinites their jobs. 
Biden does not support an outright fracking ban, though he did speak inaccurately about his stance on the issue in a March 2020 debate. 
As far as the 100,000 jobs, that figure includes a far larger range of jobs than just those related to the fracking industry, taking into account other oil and gas figures. 
We rate this claim False.
Trump Victory, email, Aug. 12, 2020
American Petroleum Institute, "Energy Works," Aug. 13, 2020
Twitter, RNC Research, July 31, 2020
Twitter, RNC Research, March 15, 2020
CNN, "Watch the full CNN-Univision Democratic debate from Washington, DC", March 15, 2020
American Petroleum Institute, "Introduction - What is hydraulic fracturing?" Aug. 13, 2020
Job Center of Wisconsin, Employment data, Aug. 13, 2020
PolitiFact, "Joe Biden called for limits on fracking, not a ban," June 19, 2020
PolitiFact, "No, Joe Biden doesn't want to ban fracking or kill the Pennsylvania jobs it supports," July 21, 2020
Email conversation with Alex Rosenberg, legislative research analyst, Wisconsin Legislative Research Reference Bureau, Aug. 13, 2020
Browse the Truth-O-Meter
More by Laura Schulte
Support independent fact-checking.
Become a member!
In a world of wild talk and fake news, help us stand up for the facts.