Stand up for the facts!
Our only agenda is to publish the truth so you can be an informed participant in democracy.
We need your help.
I would like to contribute
"This whole COVID thing? It's a SIMULATION."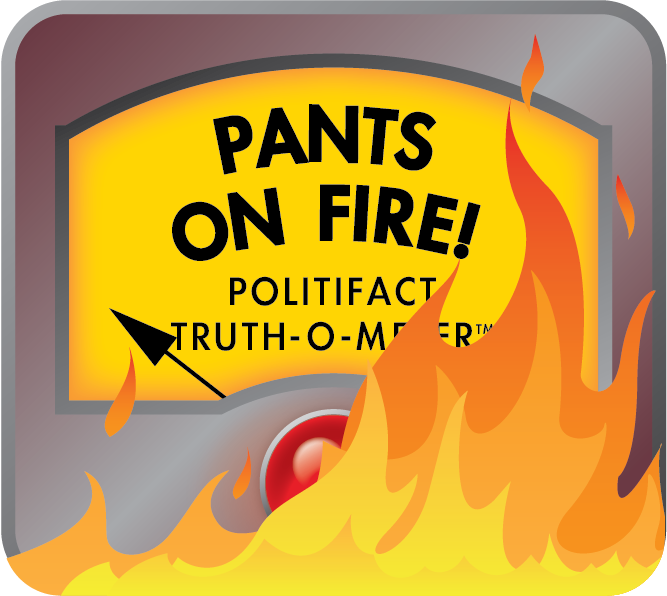 No, COVID-19 is not a simulation
If Your Time is short
The COVID-19 pandemic is not a simulation. The virus has infected more than 74 million people around the world and caused more than 1.65 million deaths.
PolitiFact recently named its Lie of the Year, a dishonor that in 2020 was awarded to the downplay and denial of the coronavirus. We've debunked dozens and dozens of inaccurate claims about COVID-19 since the first case was reported in China in December 2019. That misinformation has included social media posts about how the coronavirus was man-made, engineered in a lab, or just a hoax. 
Another allegation that is also wrong: that the pandemic is a simulation. 
"This whole COVID thing?" one Facebook post said. "It's a SIMULATION. In September 2019 - the WHO put out a paper that all countries AGREED to do. That's how they got the ENTIRE world to lock down at the SAME TIME. We're now in the 2nd testing 'deliberately released airborne AGENT.' You'll notice they didn't say BIOLOGICAL. It's the SECOND SIMULATION all nations agreed to in September 2019 in the WHO report." 
This post was flagged as part of Facebook's efforts to combat false news and misinformation on its News Feed. (Read more about our partnership with Facebook.)
The post links to two documents: "A World at Risk: Annual report on global preparedness for health emergencies" by the Global Preparedness Monitoring Board, which is co-convened by the World Health Organization and the World Bank, and Food and Drug Administration instructions on how to use a "real-time RT-PCR diagnostic panel" — a COVID-19 test — from the Centers for Disease Control and Prevention. 
The post highlights pages from both documents. Let's take them one by one.
From the "World at Risk" report: "The United Nations (including WHO) conducts at least two system-wide training and simulation exercises, including one for covering the deliberate release of a lethal respiratory pathogen." 
This is not a nefarious secret tucked away deep in a bureaucratic report. 
The World Health Organization helps organize simulation exercises of public health emergencies to test how prepared communities and systems are to handle such crises. 
In 2018, for example, WHO's Global Emergency Operations Center and a global network of health emergency operation centers coordinated a simulation for a global pandemic response that involved participants from more than 40 countries. It was the first global pandemic response training exercise and the third in a series of simulations that year, according to WHO. 
The scenario revolved around an influenza outbreak with the potential to turn into a pandemic in a made-up country called Mizzou off the coast of North America. 
But there was no actual virus; the simulation exercise took place online and within the offices of WHO emergency operation centers. The point of the exercise was to test plans and procedures, and identify problems that could occur in an actual pandemic — like the one we're experiencing now.
WHO has also developed a simulation exercise for COVID-19 "to support countries' preparedness effort" during the outbreak, according to the organization. It's tabletop exercise that includes PowerPoint presentations and guides to help countries "develop and update their national deployment and vaccination plan" and "conceptualize and manage ongoing (local) COVID-19 outbreaks in the country."
Now, let's look at the FDA instructions on how to use a COVID-19 test. The post includes an image of a highlighted section from a highly technical portion of the FDA document and concludes that the passage proves the tests were faked. "On Dec 1st 2020," the posts says, "the CDC released a report, and part of it includes how THE VIRUS WAS NOT ISOLATED - meaning the tests were completely faked. They were all spiked with 'positive' virus samples to show a positive - straight from the laboratory samples, in order to produce something tangible for the simulation."
We reached out to the CDC about the claim. 
Kristen Nordlund, a spokesperson with the agency, told us that the FDA instructions featured in the Facebook post reflect a COVID-19 test that was developed before the CDC had a live virus. The instructions are not evidence that the pandemic is a simulation.  
CDC developed the test using genomic sequencing information because it didn't yet have a live virus or samples from confirmed COVID-19 patients, Nordlund said. By Jan. 18 it was using this test on samples from people with suspected cases of COVID-19. 
A few days later, the CDC used a sample from the first confirmed COVID-19 case in the United States to start growing the virus. By Jan. 31, there were six confirmed cases in the United States and the CDC asked the FDA for emergency use authorization to distribute its test to other public health laboratories. The FDA granted that request on Feb. 4.
For many, news that COVID-19 vaccines have been approved in the United States and elsewhere in the world came as a relief. As of Dec. 17, more than 74.5 million cases had been confirmed globally, according to Johns Hopkins University. More than 1.6 million people have died. 
In the United States, where some cities are seeing cases skyrocket, more than 17 million people have gotten sick from the coronavirus and more than 308,000 have died. 
We rate this Facebook post Pants on Fire!
Facebook post, Dec. 11, 2020
PolitiFact, Lie of the Year: Coronavirus downplay and denial, Dec. 16, 2020
PolitiFact, No, the novel coronavirus was not 'man-made,' May 21, 2020
PolitiFact, Health misinformation site promotes conspiracy about coronavirus, Feb. 10, 2020
PolitiFact, No, this photo doesn't prove coronavirus is a hoax, June 5, 2020
"A World At Risk," Global Preparedness Monitoring Board, September 2019
Centers for Disease Control and Prevention, SARS-CoV-2 Viral Culturing at CDC, updated Oct. 27, 2020
Food and Drug Administration, CDC 2019-Novel Coronavirus (2019-nCoV) Real-Time RT-PCR Diagnostic Panel, effective Dec. 1, 2020
World Health Organization, A practical guide for developing and conducting simulation exercise, September 2018
World Health Organization, Simulation exercise puts global pandemic readiness to the test, Dec. 3, 2018
World Health Organization, Coronavirus disease (COVID-19) training: Simulation exercise, visited Dec. 17, 2020
Johns Hopkins University & Medicine, COVID-19 dashboard, visited Dec. 17, 2020
Newsweek, U.S. COVID deaths skyrocket in New York, Los Angeles, Chicago, Dec. 17, 2020
Email interview with Kristen Nordlund, CDC public affairs, Dec. 16, 2020
Browse the Truth-O-Meter
More by Ciara O'Rourke
Support independent fact-checking.
Become a member!
In a world of wild talk and fake news, help us stand up for the facts.