Stand up for the facts!
Misinformation isn't going away just because it's a new year. Support trusted, factual information with a tax deductible contribution to PolitiFact.
I would like to contribute
Says if you take the oath of office on the Koran, "then you have committed treason."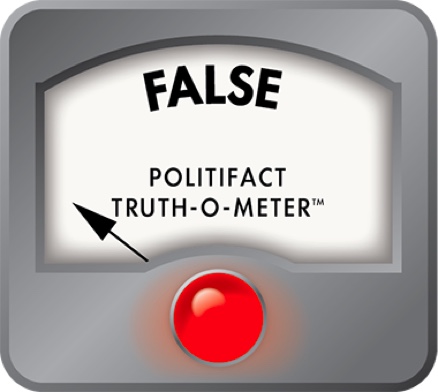 Ilhan Omar didn't break the law when she used a Quran to take the oath of office
If Your Time is short
Ilhan Omar used a Koran for her ceremonial swearing-in to Congress. It wasn't illegal.
U.S. Rep. Ilhan Omar, a Muslim American Democrat from Minnesota, was sworn into the House of Representatives on Jan. 3, 2019, using the Quran that belonged to her grandfather. A couple weeks later, a Facebook post claimed that she and Rep. Rashida Tlaib, D.-Mich. — who also used a Koran during her swearing-in ceremony — broke the law by doing so. 
"Let me say about the QURAN, if you take the Oath of Office on a book recognizing Sharia Law swearing to defend honor and uphold the United States Constitution, then you have committed treason," reads the text accompanying a photo of Omar during her swearing-in. "For Sharia Law is a direct violation and conflict of the United States Constitutional Law." 
This post was flagged as part of Facebook's efforts to combat false news and misinformation on its News Feed. (Read more about our partnership with Facebook.) 
That's because the Facebook post is wrong. 
Article VI of the U.S. Constitution says that U.S. senators and representatives, among others, "shall be bound by Oath or Affirmation, to support this Constitution; but no religious Test shall ever be required as a Qualification to any Office or public Trust under the United States."
Representatives usually take an oath — swearing to support and defend the Constitution — on the first day of a new Congress. First, they take the oath as a group together. Around the 2:50 mark here you can watch House Speaker Nancy Pelosi invited the new members of the 116th Congress rise and raise their right hands. She reads the oath, asking if they swear to support and defend the Constitution, and after they all together say "I do," she congratulates them.
Ceremonial swearing-ins follow, during which members can take the oath with their hand on a religious text and be photographed with the speaker.   
Historically, most members of Congress have sworn the oath on a copy of the Bible, but the Constitution doesn't require it and, as the since-shuttered magazine Pacific Standard reported, the 116th Congress in 2019 was the most diverse Congress ever. More than 12 religious and non-religious texts were used during swearing-in ceremonies.
"Though oaths are indeed religious in origin," the Pacific Standard story says, "the Constitution makes clear that the oath can be replaced with an 'Affirmation,' which substitutes the religious language (the 'I swear' and 'So help me God') with secular affirmation (for example: 'I affirm to tell the truth, the whole truth, and nothing but the truth')." 
In 2007, then-Rep.-elect Keith Ellison used former President Thomas Jefferson's copy of the Koran for his swearing-in ceremony, drawing complaints from conservative Christians who claimed only a Bible could be used for the oath of office. But back in 1825, former President John Quincy Adams swore his oath on a law book. In 2013, U.S. Rep. Tulsi Gabbard, a Hindu, swore on a copy of the Bhagavad Gita.
The photos showing Ellison, Tlaib and Omar with their hands on Qurans are from ceremonial events, re-enacting their swearing-in. 
"That's when you'll see a hand on a religious text," Fred Beuttler, then the deputy historian of the House, told ABC in 2006. "But that's an informal ceremony for the members or the members' own purposes. It's not the official swearing-in ceremony of the House, when no religious text is used."
We rate this Facebook post False.
Browse the Truth-O-Meter
More by Ciara O'Rourke
Support independent fact-checking.
Become a member!
In a world of wild talk and fake news, help us stand up for the facts.