Stand up for the facts!
Our only agenda is to publish the truth so you can be an informed participant in democracy.
We need your help.
I would like to contribute
"When Fidel Castro came into office, you know what he did? He had a massive literacy program."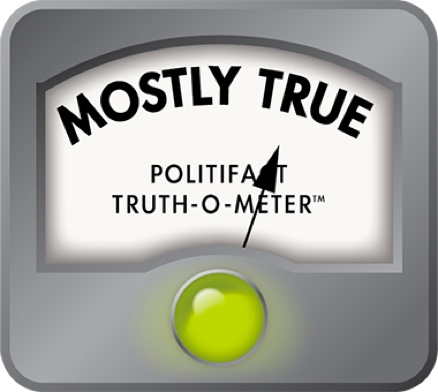 Fact-checking Bernie Sanders' claim on Cuba literacy under Castro
If Your Time is short
In 1959, 23.6% of the Cuban population couldn't read or write.

By 1961, about a quarter of million teachers reached over 700,000 people, who then passed a basic literacy test, driving the rate down to 3.9%.

The teaching texts were full of ideological messaging.
Bernie Sanders' past praise for the welfare policies of countries such as Cuba and Nicaragua is front and center as he has moved into the lead in the Democratic primary. In an interview on CBS News' "60 Minutes," Sanders described what he saw as two sides to the regime of Cuba's Fidel Castro.
"We're very opposed to the authoritarian nature of Cuba but you know, it's unfair to simply say everything is bad," Sanders said Feb. 23. "When Fidel Castro came into office, you know what he did? He had a massive literacy program. Is that a bad thing? Even though Fidel Castro did it?"
Interviewer Anderson Cooper pressed Sanders on the dissidents sent to Cuban jails.
"That's right," Sanders said. "And we condemn that."
Sanders' critique of Cuba fell well short for many opponents of the regime. Sen. Ted Cruz, R-Texas, tweeted, "It really makes a difference when those you murder at the firing squad can read and write." U.S. Rep. Donna Shalala, D-Fla., said, "I'm hoping that in the future, Sen. Sanders will take time to speak to some of my constituents before he decides to sing the praises of a murderous tyrant like Fidel Castro." 
Sanders' focus on the teaching side of Castro's campaign downplayed its substantial political overtones. But Castro did significantly expand literacy rates after seizing power.
"The academic consensus seems to be that Fidel Castro's government did increase the literacy rate of the island's population, at the same time that it clearly used the literacy campaign for propaganda purposes," said Jorge Duany, director of the Cuban Research Institute at Florida International University.
A 1984 United Nations Educational, Scientific and Cultural Organization (UNESCO) report found that in 1959, 23.6% of the population above the age of 10 were illiterate. By 1961, the number had fallen to 3.9%. While health care statistics on Cuba have been questioned, experts we interviewed told us they were not aware of issues with this data. 
Bringing literacy to Cuba's peasants was a long-standing policy in Castro's broader agenda. In his 1957 manifesto, he included: "Immediate initiation of an intensive campaign against illiteracy, and civic education emphasizing the duties and rights of each citizen to his society and fatherland." 
In 1961, about a quarter of a million teachers fanned out across the island nation. Their ranks included formally trained teachers and members of such groups as the National   Federation of Sugar Workers, the Rebel Youth Association and the Ministry of the Revolutionary Armed Forces.
They identified nearly 1 million illiterate people, and by the end of the year over 700,000 passed a basic literacy test.
The teaching materials came with a blunt political message. They were built on 15 lessons with titles that included "Fidel is Our Leader," "The Land is Ours," "Racial Discrimination" and "Housing." The final literacy exam was based on the lesson "The Cuban Fishermen."
Education researchers Carolyn Davidson Abel and Charles Frederick Abel at Stephen F. Austin State University looked at whether the Cubans set the literacy bar too low, and found that they used a reasonable benchmark.
"We did see evidence of basic literacy development, typical of what we might like to see in first graders here in America," Abel said.
Today, the World Bank puts the adult literacy rate in Cuba at 99.8%, about 8 points higher than the average for the Caribbean region.
Sanders' comments about Cuba mirror those of President Barack Obama in 2016, soon after he had moved to open diplomatic relations with Cuba. Obama spoke to a group of up-and-coming leaders of the Americas, and said their generation had the chance to get beyond old political labels and explore practical solutions.
"I said (to Castro), look, you've made great progress in educating young people. Every child in Cuba gets a basic education — that's a huge improvement from where it was."
But Obama continued on to describe the benefits of private enterprise and the failures of the Cuban economy. Above all, he urged his audience to be "practical."
Our ruling
Sanders said that when Fidel Castro "came into office" in Cuba, he "had a massive literacy program." Multiple reports confirm that. Using large scale mobilization, within two years of the revolution, over 700,000 Cubans were taught to read and write for the first time.
Castro did not simply take office. He won a drawn-out military campaign and toppled the government in power. As for the literacy effort, in Castro's own words, the goal wasn't simply to teach, but to instill political beliefs. That's important context to capture the nature of the literacy campaign.
We rate the claim Mostly True.
CBS News, Bernie Sanders on being the Democratic front-runner and taking on Donald Trump, Feb. 23, 2020
UNESCO, Campaigning for literacy: eight national experiences of the twentieth century, with a memorandum to decision-makers, 1984
Cuban Research Institute, Cuba: Country profile, accessed Fab. 24, 2020
Fidel Castro, Sierra Maestra Manifesto, July 12, 1957
Texas Journal of Literacy Education, EARLY LITERACY IN CUBA: LESSONS FOR AMERICA, Summer 2017
Arkansas State University, Perspectives on the Cuban National Literacy Campaign, Sept. 24, 1998
World Bank, Education statistics, accessed Feb. 24, 2020
White House, Remarks by President Obama in Young Leaders of the Americas Initiative Town Hall, March 23, 2016
Email exchange, Jorge Duany, director, Cuban Research Institute, Florida International University, Feb. 24. 2020
Email exchange, Carolyn Davidson Abel, professor, Department of Elementary Education, Stephen F. Austin State University, Feb. 24, 2020
Browse the Truth-O-Meter
More by Jon Greenberg
Support independent fact-checking.
Become a member!
In a world of wild talk and fake news, help us stand up for the facts.