Stand up for the facts!
Our only agenda is to publish the truth so you can be an informed participant in democracy.
We need your help.
I would like to contribute
Says Democratic opponents Cal Cunningham and Erica Smith support sanctuary policies.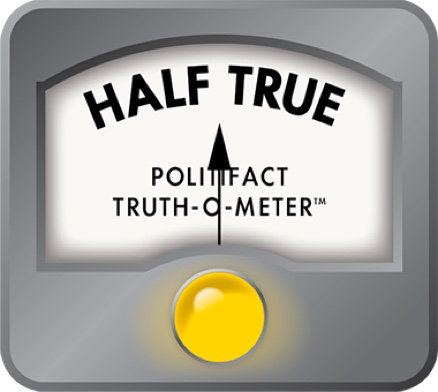 Thom Tillis says Cunningham and Smith support sanctuary policies. Not quite.
Like many Republicans up for election, U.S. Sen. Thom Tillis is putting immigration at the forefront of his campaign.
And to contrast himself with his Democratic opponents, he's pointing to state-level policies.
In a Jan. 10 email newsletter, the Tillis campaign said Democrats Cal Cunningham and NC Sen. Erica Smith support "sanctuary policies."
The headline says: "Sanctuary policies result in gruesome violence, do Cunningham and Smith still support them?"
The email goes on to talk about an "illegal immigrant" who was released from jail in Mecklenburg County "despite the objections" of the U.S. Immigration and Customs Enforcement (also known as ICE).
Is it true that Cunningham and Smith support sanctuary policies?
Not quite. Cunningham and Smith opposed a bill that would require North Carolina sheriffs to detain people on behalf of ICE. But neither has flat-out endorsed sanctuary policies. Each Democrat has said they believe local governments should have the flexibility to comply or not. 
About HB 370
There's no single definition of what constitutes a "sanctuary city." The term is loosely applied to cities or states that limit cooperation with federal immigration authorities. 
In some states, a city can ban its law enforcement from cooperating with ICE (thus earning the term "sanctuary city.") But in North Carolina, sanctuary cities are banned. Former Gov. Pat McCrory signed a law prohibiting municipalities from blocking ICE cooperation.
However, sheriffs still had (and still have) some wiggle room. Sheriffs can decide independently whether they want to comply with ICE.
As PolitiFact NC has reported, ICE detainers aren't valid warrants. So a handful of Democratic sheriffs declined to honor detainers. They said they didn't want to use local resources for federal business, and they feared that cooperating with ICE would harm relationships with their Hispanic constituents.
That brings us to the Tillis campaign's argument. 
North Carolina lawmakers last year considered a bill that would've required sheriffs to comply with ICE. More specifically, the bill -- labeled House Bill 370 --  would've required North Carolina sheriffs to hold inmates for up to 48 hours beyond the terms of their jail sentence if requested to do so by ICE.  
Contacted by PolitiFact, Tillis spokesman Andrew Romero said the campaign's claim is based on Cunningham and Smith opposing House Bill 370. (PolitiFact has written about HB 370 previously, when President Trump made a Mostly False claim about Democratic congressional candidate Dan McCready.)
The GOP-controlled state legislature passed HB 370. But Democratic Gov. Roy Cooper vetoed it, so it never became law.
What Cunningham said
The Tillis campaign cited an interview Cunningham conducted with WFAE in Charlotte. Reporter Steve Harrison asked Cunningham if he agreed with the Mecklenburg County Sheriff's decision to ignore ICE detainer requests.
Cunningham said: "I tend to trust law enforcement to discharge its duty," adding that Mecklenburg voters elected the sheriff and have the power to hold him accountable.
"I trust the voters in Mecklenburg County to weigh in on exactly that," he said. "Here's what I know. That law enforcement makes difficult decisions every day. And as a United States senator, it's not my job to second guess, it's my job to make sure they have the resources they need to keep their communities safe."
The Tillis campaign also noted Cunningham's opposition to a federal bill Tillis introduced. The bill that would compel local law enforcement officials to comply with federal detainer requests or face possible civil action by victims and the loss of federal grants.
Asked about the bill, Cunningham campaign spokesman Aaron Simpson accused Tillis of "threatening funding for North Carolina to score cheap political points," the Charlotte Observer reported.
What Smith said
As for Smith, she voted against HB 370 when it was before the state Senate. She also talked about the bill during a couple interviews.
Speaking with WFAE, Smith cited some of the same arguments as Cunningham. But she also said she would be OK with local law enforcement honoring ICE detainer requests so long as the federal government paid for the costs.
"I'm fine (with sheriffs) detaining them if the federal government is going to foot the bill and do their jobs. Certainly, we do not want the release of people who are a threat to public safety," she said. "But if ICE and Department of Homeland really wants us to close their detention, then they should pay for it. They're getting taxpayer dollars to do just that."
Speaking with Tim Boyum on Spectrum News, Smith made the same argument.
"If you want the sheriffs to enforce and detain illegal immigrants, then send them the appropriations and the funding. That is the US Senate's responsibility."
Our ruling
Tillis said Cunningham and Smith support "sanctuary policies." 
Both candidates oppose a bill that would require sheriffs to comply with ICE. But that's not the same as endorsing sanctuary cities. In fact, Smith said she would support a sheriff's decision to comply with ICE if ICE offered financial assistance.
His statement is partially accurate but leaves out important details or takes things out of context. We rate it Half True.
An email newsletter sent Jan. 10, 2020 by the Thom Tillis campaign.
Email correspondence with Thom Tillis spokesman Andrew Romeo.
Email correspondence with Cal Cunningham spokeswoman Rachel Petri.
Digital copy of House Bill 370 on the NC legislature's website.
Video of Erica Smith on Spectrum News' Capital Tonight show, posted online on Dec. 6, 2019.
Story by the Charlotte Observer, "Tillis blasts 'sanctuary' policies of Mecklenburg sheriff, pushes new legislation," posted Oct. 25, 2019.
Story by WRAL, "McCrory signs bill outlawing sanctuary cities in NC," posted Oct. 28, 2015.
PolitiFact stories, "NC sheriff right: ICE detainers are not valid warrants," posted March 28, 2019; "Trump misleads NC about Dan McCready's immigration stances," posted Aug. 30, 2019.
Interview transcripts on WFAE, "A conversation with Cal Cunningham" and "A conversation with Erica Smith."
Browse the Truth-O-Meter
More by Paul Specht
Support independent fact-checking.
Become a member!
In a world of wild talk and fake news, help us stand up for the facts.