Get PolitiFact in your inbox.
"Marquette University threatened to rescind student's admission over pro-Trump TikTok video."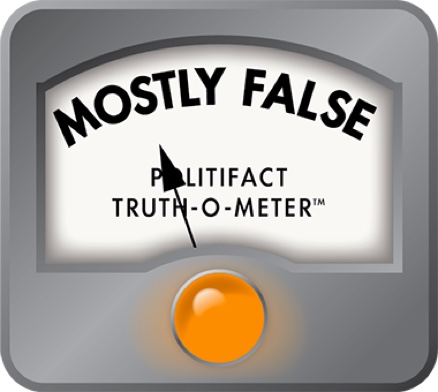 Claim that Marquette threatened admission over pro-Trump views is greatly exaggerated
If Your Time is short
The pro-Trump post was not at issue. Marquette and the people complaining to the university were examining comments on topics like sexuality and immigration in other social media posts.

The "threat" element is tricky to pin down, since that claim stems from a private conversation between the student and Marquette admissions staffers.

The student clearly felt her status was in doubt, but she has stopped short of calling it a threat. The school says no threat was made.
Marquette University has drawn widespread criticism after an array of online sources picked up on claims of political bias made by an incoming freshman.
The controversy dates back to June 7, 2020, when Samantha Pfefferle — an incoming freshman who had been accepted to the school — posted a video on the social media platform TikTok about how people "try to hate on me" for supporting President Donald Trump. It also featured a handwritten sign saying, "Marquette University 2024."
That launched a series of events that has grown to include international news coverage, strong criticism from a leading state lawmaker and a tweet from Donald Trump Jr., the president's son and confidante.
"Defund academic leftist indoctrination! It's truly sad what's going on in college campuses," Trump Jr. wrote in a July 8, 2020, tweet. "Marquette University threatened to rescind student's admission over pro-Trump TikTok video."
The tweet linked to an account of Pfefferle's situation from thecollegefix.com, which used the same wording about Marquette threatening to rescind admission over the video.
That same language was picked up in coverage by the New York Post, The Sun and The Daily Mail, among other news outlets.
And it was the foundation of a July 15, 2020, letter from state Rep. Dave Murphy, chairman of the Assembly Committee on Colleges and Universities, condemning Marquette's actions. Murphy, R-Greenville, asked Marquette to defend its actions, asked if the school was going to fire the admissions dean who spoke with Pfefferle and said he was considering holding a committee hearing on "political bias and intimidation utilized in the admissions processes of our public and private universities."
So it's time to clarify what happened here.
Did Marquette really threaten to rescind admission based on a student's support of Trump, as Trump Jr. claimed in his tweet?
The background
We'll start with the background, since it's a bit of a tangled tale.
After Pfefferle's TikTok video was posted — under the username conservativegirl0 — she told various media outlets she received a barrage of negative comments and even threats of injury and death. One Instagram user launched a campaign to get Pfefferle's Marquette admission revoked by creating a form letter for people to send to the university's admission office. That campaign stemmed from another social media post Pfefferle made about not believing a biological man can claim to be a woman, Pfefferle said.
Responding to these reports, Marquette University Dean of Admissions Brian Troyer and another official had a Zoom meeting with the New London High School graduate. What happened on that call is a matter of dispute that we'll get into shortly.
In the wake of that call, Pfefferle began telling her story to various conservative media outlets in late June and early July. Many of their reports implied in headlines and social media posts that Pfefferle's admission was in doubt because of her politics, leading to criticism of the Catholic, Jesuit university in conservative circles.
Pro-Trump post wasn't the issue
There are two elements to the claim Trump Jr. repeated in his tweet: 1) Pfefferle's admission was threatened, and 2) that happened as a result of her pro-Trump video. We'll examine those one by one.
The connection to the video is the simpler claim to address. And it's simply wrong.
The TikTok video — with 600,000 views and counting — is what attracted the most attention, but the complaints to Marquette that prompted the school's involvement were about other posts by Pfefferle.
"Marquette received hundreds of emails, social media messages and formal bias-incident reports from current students, alumni and others regarding the incoming student's social media posts and her comments on social media, which some deemed to be 'transphobic and racist' language," university spokeswoman Lynn Griffith told PolitiFact Wisconsin in an email. "The concerns brought to us by hundreds of students and non-students were not specific to that (pro-Trump) TikTok. Rather, the messages and formal bias incident reports referenced other posts on the student's social channels."
We didn't find any allegation from Pfefferle in her various interviews that the video or her support of Trump were brought up in discussions with Marquette admissions staffers.
So the controversy didn't stem merely from her conservative ideology or this specific video supporting Trump.
Conflicting viewpoints on "threat" to rescind admission
It's less clear what impact, if any, this all had on Pfeffele's admission.
She remains enrolled and slated to attend classes this fall. And the university said in a statement released July 8, 2020, that it "has not rescinded, nor did it threaten to rescind, her admission."
At issue are multiple interpretations of what happened on that Zoom call between Pfefferle and admissions officials.
Griffith said Marquette officials had a conversation with Pfefferle based on the numerous "bias" complaints filed against her, and because her safety had been threatened by online posters.
"This particular incoming student was not treated any differently than any other incoming student where there are either concerns from members of our community and/or threats to safety," Griffith said. "The objective of the conversation was to have a dialogue on how to live and interact with students and community members with different political views within our diverse community."
Griffith said admissions decisions "are made based on academic achievements and student involvement, not political views."
Pfefferle — who did not respond to a request for comment — interpreted that exchange differently.
She told Empower Wisconsin for a July 2, 2020, story that Troyer told her she wasn't considered a student yet, although she had been accepted, paid for housing and been assigned roommates. She told radio host Todd Starnes on a June 30, 2020, podcast that she was put through a series of "morality tests," asking her how she would interact with students with views different from hers. She said Marquette brought up social media posts going back to when she was 15 years old (she's now 18). 
Pfefferle told Laura Ingraham on Fox News on July 13, 2020, that she didn't hear back for a week and a half after that meeting, during which time she assumed her admission status was in jeopardy. Pfefferle told The College Fix website for a July 7, 2020, story, "This means that my classification is still in limbo."
Griffith said the week-plus delay was because the university was closed the week of June 29, as part of an annual closure around the Fourth of July.
The account on thecollegefix.com — written by a freshman creative-writing student at the University of Wisconsin — summarized the situation as involving a threat to rescind Pfefferle's admission over her pro-Trump TikTok video. And that's the narrative that took hold, repeated by numerous media outlets and retweeted by Trump Jr.
Murphy, the chair of the Assembly higher education committee, simply stated the reported threat as fact in a news release July 15, 2020. In a followup email to PolitiFact Wisconsin he said that was based on "reporting I've seen" and statements Pfefferle made in interviews.
But Pfefferle never attributed the admissions concerns to the pro-Trump video. And we didn't find any interviews where Pfefferle herself described it as a threat.
On Fox News she was explicitly asked if Marquette told her they could rescind her admission.
"No, they told me I wasn't a student, and then that I would hear back from them in a couple days, and then it took them a week and a half," Pfefferle said.
Our ruling
A widespread claim repeated by Trump Jr. said Marquette University threatened to rescind a student's admission over a pro-Trump TikTok video.
The "threat" claim and connection to the video largely boil down to a student writer's oversimplified description of a complex situation that was assumed as truth as it increasingly made the rounds online.
That video attribution element is wrong. The issue that got Marquette — and the hundreds of people who contacted it in a campaign orchestrated online — involved related to comments on topics like sexuality and immigration in other posts.
The allegation that Pfefferle's admission status was threatened in some form is trickier, and gets into he-said, she-said territory. Pfefferle clearly felt her admission could be in doubt, but  the university said no threat was made. And Pfefferle herself hasn't described the situation quite that way either.
Putting that all together, we are left with a statement that contains an element of truth but ignores critical facts that would give a different impression. That's our definition of Mostly False.
Donald Trump Jr., tweet, July 8, 2020
Samantha Pfefferle, TikTok video, June 7, 2020
The College Fix, Marquette University threatened to rescind student's admission over pro-Trump TikTok video, July 7, 2020
Dave Murphy, letter to Marquette University regarding admissions, July 15, 2020
Marquette University, statement, July 8, 2020
Email exchange with Lynn Griffith, Marquette spokeswoman, July 13-15, 2020
Empower Wisconsin, Marquette admits, interrogates and leaves freshman student hanging, July 2, 2020
Fox News, Young conservative women stand up to liberal mob, July 14, 2020
Todd Starnes, podcast, June 30, 2020
Browse the Truth-O-Meter
More by Eric Litke
Support independent fact-checking.
Become a member!
In a world of wild talk and fake news, help us stand up for the facts.