Stand up for the facts!
Our only agenda is to publish the truth so you can be an informed participant in democracy.
We need your help.
I would like to contribute
The 2020 election is in "recount territory" and "I've seen elections change as a result of" recounts.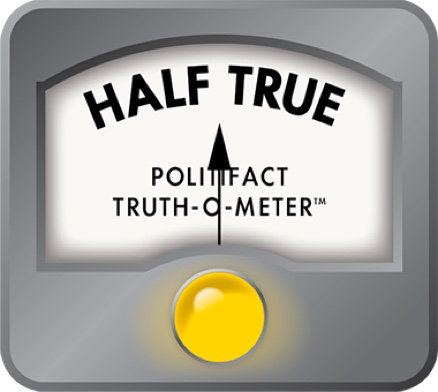 Recounts have swung elections in Wisconsin, but nowhere near the 2020 margin
If Your Time is short
Yes, some local races have flipped after recounts, but no race in the U.S. flipped with a margin near the 20,000-vote lead Biden has in Wisconsin.
But no statewide race has flipped in Wisconsin as the result of a recount.
A study going back to 2000 found three statewide races nationwide had flipped as a result of recounts, but all had an initial margin of less than 300 votes.
Recounts are the topic de jour in Wisconsin, where the official canvass shows President Donald Trump lost the state by a more than 20,000-vote margin out of more than 3.2 million ballots. 
We learned Nov. 18, 2020 that Trump will seek a partial recount, focused on the state's two largest (and Democrat-leaning) counties, though the chances of flipping the outcome is considered a longshot at best.
A recount in the 2016 presidential race in which Trump defeated Democrat Hillary Clinton by about 22,000 votes added just 131 votes to Trump's margin. And a statewide recount in the 2011 Wisconsin Supreme Court race changed the margin by just 310 votes, retaining a 7,000-vote win for David Prosser.
Even former Republican Gov. Scott Walker has noted on Twitter that Trump is unlikely to see a recount change the outcome. 
Meanwhile, Meagan Wolfe, director of the Wisconsin Elections Commission, has said her agency had "not received any report of any irregularities" — despite repeated claims to the contrary from Trump and his team, made without evidence.
Nevertheless, some Republicans have pushed forward on the idea of a statewide recount, including U.S. House Representative-elect Scott Fitzgerald, R-Juneau. 
Speaking before the completion of the statewide canvass that confirmed the 20,000-vote margin, Fitzgerald said Nov. 8, 2020, on WISN-TV's UpFront program it appeared the state was in "recount territory." Then he said this about recounts:
"That is a very back-and-forth type of process in which arguments are made as to whether or not to keep a ballot, or throw a ballot out, and I've seen elections change as a result of those. I know some say that's a high margin to really change but, you know, it can happen." 
Have recounts really flipped Wisconsin elections?
Yes. But not any statewide races or ones with the margin of difference seen here.
Election recounts have not flipped statewide elections here
Fitzgerald, the current state Senate majority leader, did not respond to repeated requests from PolitiFact Wisconsin to provide evidence for his claim. So we checked with experts and news archives to see what we could find.
Reid Magney, spokesman for the Wisconsin Elections Commission, said to his knowledge no statewide race in Wisconsin has ever flipped due to a recount. 
Since 2000, only three statewide races have flipped anywhere in the United States, according to a 2020 Survey and Analysis of Statewide Election Recount from FairVote, which advocates for ranked choice voting. They were a 2004 governor's race in Washington, a 2006 auditor's race in Vermont and a 2008 U.S. Senate seat race in Minnesota. All had initial margins of less than 300 votes.
The FairVote study found the average statewide recount shifted results by 430 votes between the frontrunners, representing 0.024% of the vote in those elections. 
But results have shifted in local races on multiple occasions in Wisconsin given the smaller vote totals involved. A few we came across in our research:
In a 1996 race for Appleton mayor, a recount flipped the race from an eight-vote loss to a 14-vote win for the challenger. 

In an April 2009 race for chairman in the Town of Wausau, a challenger had defeated an incumbent by a card draw after a tied vote, but a recount yielded one extra vote in favor of the incumbent. 

In 1997, the former town chair of the Town of Fayette in Lafayette County ran as a write-in and won by a single vote in the initial count, but after a recount he lost by two.
Other recounts have broken or created ties, including a 2004 mayoral election in South Milwaukee that initially ended in a tie, but showed a one-vote margin upon a recount. 
And an April 2011 Oshkosh Common Council election showed a 14-vote victory, but a recount ended in a tie, forcing the candidates to draw cards to determine the victor. 
How recounts work
Recounts are conducted by the County Board of Canvassers, made up of a county clerk and two other electors appointed by the clerk, one from each party.
A candidate who lost a race but was within 1% of the winner's total can request a recount. For races with at least 4,000 votes, the candidate must pay for the recount unless the margin is less than 0.25%. In those tightest races the municipality bears the cost.
The board of canvassers decides whether to hand-count votes or use a machine tabulator.
Magney said there can be a "back and forth" at a recount, in line with Fitzgerald's claim.
"If there is an objection to the counting of a particular ballot, there could be a situation where arguments are made on both sides that the recount board of canvassers hears, it is documented in the minutes, the board of canvassers makes a determination, the decision is noted, and they move on," Magney wrote in an email. "The issue is preserved for any potential legal challenge to a decision made by the recount board of canvassers."
Under state law, board members might discuss votes if a petitioner for a recount believes an error has been made (9.01(1)(b)9), if they need to determine voter intent (9.01(1)(b)8s), or if the person demanding a recount object to the counting of a ballot in a recount (9.01(1)(b)11).
Our ruling 
Amid discussions of a potential presidential recount in Wisconsin, Fitzgerald said Wisocnsin appeared to be in "recount territory" and "I've seen elections change as a result of" recounts.
Some local races have indeed flipped, which lines up with Fitzgerald's claim. 
But he made this comment in the context of a potential recount affecting the presidential race, and no races of that magnitude or vote-gap have flipped in Wisconsin. Nationwide, a total of three statewide races flipped in a recount between 2000 and 2020, but none had margins anywhere near the 20,000 we see in Wisconsin.
So races have flipped, but not races like this.
We define Half True as a statement that is partially accurate but leaves out important details or takes things out of context. That fits here.
WISN-TV, UPFRONT recap: Wisconsin Democrats boosted voter turnout, Nov. 8, 2020.
Appleton Post-Crescent, Fox Cities has seen some strange elections, Nov. 7, 2016.
Email and phone exchange with Reid Magney, public information officer for the Wisconsin Elections Commission, Nov. 12, 2020.
Email from Barry Burden, professor at the University of Wisconsin-Madison, Nov. 12, 2020.
Email exchange with Kevin Kennedy, former head of the nonpartisan Government Accountability Board (predecessor to Wisconsin Elections Commission), Nov. 17,l 2020
FairVote, A Survey and Analysis of Statewide Election Recounts, 2000-2019, Nov. 4, 2020.
Wisconsin Elections Commission, ELECTION RECOUNT PROCEDURES, August 2018.
Wisconsin Elections Commission, SUGGESTED PROCEDURES FOR COUNTY BOARDS OF CANVASSERS, January 2018.
Milwaukee Journal Sentinel, Trump campaign moves to seek partial recount of Wisconsin, hoping to overturn results, Nov. 18, 2020
Milwaukee Journal Sentinel, Recount confirms Trump's victory in Wisconsin, Dec. 12, 2016
Wisconsin State Journal, Recount ends, gives Prosser the win in Supreme Court race, May 21, 2011
Browse the Truth-O-Meter
More by Eric Litke
Support independent fact-checking.
Become a member!
In a world of wild talk and fake news, help us stand up for the facts.