Facts are under assault in 2020.
We can't fight back misinformation about the election and COVID-19 without you. Support trusted, factual information with a tax deductible contribution to PolitiFact
I would like to contribute
"If Biden becomes president and cannot complete his term, Harris will become president, and Pelosi will become vice president."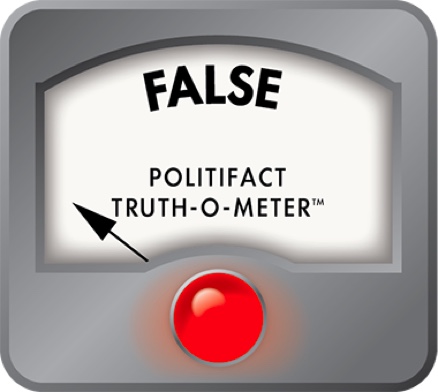 If a President Biden left office, Nancy Pelosi would not become vice president
If Your Time is short
• If the president leaves office, the vice president becomes the president. That person nominates a new vice president.
• So if Joe Biden becomes president and leaves office early, Kamala Harris will become president and nominate a vice president. Nancy Pelosi will not become vice president.
Even though the 2020 presidential election has yet to occur, people are already thinking about what would happen if the newly elected president left office.
"If Democratic presidential nominee Joe Biden wins the election but cannot serve his full term, vice presidential nominee Kamala Harris would assume the role of president and House Speaker Nancy Pelosi would become vice president," reads a popular Facebook post. "LET THAT SINK IN!"
This post was flagged as part of Facebook's efforts to combat false news and misinformation on its News Feed. (Read more about our partnership with Facebook.)  This isn't how vice presidential succession works.
The post got the first piece right: If the president is impeached, resigns, or is otherwise incapacitated, the vice president becomes president.
"In case of the removal of the President from office or of his death or resignation, the Vice President shall become President," reads the U.S. Constitution.
This has happened throughout American history. When President Abraham Lincoln died, his vice president, Andrew Johnson, became president. When President William McKinley died, Theodore Roosevelt took his place.
But if the vice president becomes president, then what happens to the empty vice presidential slot? It's not surprising people would be confused by this question. For much of American history, the government didn't have much of an answer. The vice president simply wasn't replaced because a process wasn't codified in the Constitution.
"Our Constitution's framers created the vice presidency almost as an afterthought," explains the U.S. Senate website. "The 20th century began without a vice president. Vice President Garret Hobart had died in November 1899, leaving the office vacant, as it had been on 10 previous occasions for periods ranging from a few months to nearly four years. The nation had gotten along just fine. No one much noticed Hobart's absence."
But that changed as time went on.
"The absence of any provision for filling a vice-presidential vacancy had become intolerable in the modern era," continues the U.S. Senate website.
So after President John F. Kennedy was assassinated in 1963, Congress passed the 25th Amendment to the Constitution. According to the new amendment, if a vice presidential vacancy opens up, the president can nominate a replacement. 
"Whenever there is a vacancy in the office of the Vice President, the President shall nominate a Vice President who shall take office upon confirmation by a majority vote of both Houses of Congress," reads the 25th Amendment. 
This rule was first put into practice in 1973, when Vice President Spiro Agnew resigned. Richard Nixon was president at the time, and he nominated Gerald R. Ford to take over the role. The House and Senate confirmed the nomination, and Ford took office. When Nixon resigned the next year, Ford became president and nominated Nelson A. Rockefeller as vice president.
So if Biden became president and left office early, Kamala Harris would indeed become the new president. 
But Nancy Pelosi, the speaker of the House, wouldn't become vice president. Instead, Harris would choose the new vice president, and the House and Senate would vote on her choice. 
The poster may be confused by the Presidential Succession Act, which says that if both the president and vice president die or are incapacitated, the speaker of the House is next in line to become president. Some people believe the Presidential Succession Act is unconstitutional, but that's for another day.
This post rates False.
Support independent fact-checking.
Become a member!
In a world of wild talk and fake news, help us stand up for the facts.