Get PolitiFact in your inbox.
Black Lives Matter protest at Iowa Capitol was an "insurrection" like that on Jan. 6 at the U.S. Capitol.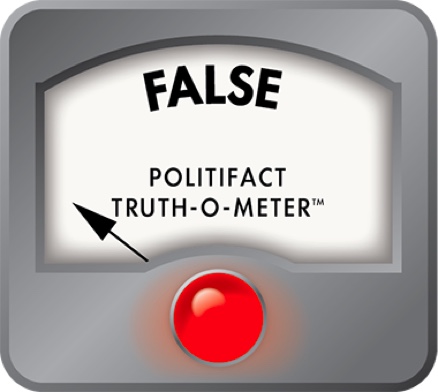 No, an Iowa BLM protest was not like the Jan. 6 US Capitol riot
If Your Time is short
Organizers of a Black Lives Matter-related rally in Iowa on April 8 obtained a permit, entered the Iowa Capitol in an orderly way and protested bills. One arrest was made.

Many of the rioters in Washington on Jan. 6 were seeking to overturn the results of the presidential election, stormed into the U.S. Capitol and committed extensive damage. Five people died after the insurrection and hundreds have been arrested or charged.
Social media posts and a number of conservative blogs shared claims that likened a Black Lives Matter-related protest at the Iowa State Capitol that resulted in one arrest to the insurrection at the U.S. Capitol that left five people dead, including a U.S. Capitol Police officer.
We found this claim in a Gateway Pundit story headlined "INSURRECTION? Black Lives Matter Goons Take Over Iowa Capitol," a DJHJ Media blog and post, and a number of widely shared Instagram posts with the words "Insurrection at the Iowa State Capitol" underneath video from the protest. 
The posts were flagged as part of Facebook's efforts to combat false news and misinformation on its News Feed. (Read more about our partnership with Facebook.)
The event in Iowa, where speakers included Cortez Rice of Minneapolis, nephew of George Floyd, was held as former Minneapolis police officer Derek Chauvin was on trial for murder in Floyd's death. 
According to news reports, it was much different from the Jan. 6 attack on the U.S. Capitol in at least two significant ways.
Protesting bills vs insurrection
In Iowa a "Kill the Racist Bills" demonstration, billed in social media posts promoting the event as a Black Lives Matter protest, was organized by Advocates for Social Justice, which says its mission "is to create social, political and environmental change within the Cedar Rapids (Iowa) community, prioritizing the objectives of the #BLM movement." 
The group protested four bills introduced in the Iowa Legislature that it said would "go against the Black Lives Matter movement's progress and will negatively affect lower-income communities and communities of color." 
Rally organizers showed reporters a copy of a state permit they obtained to hold the rally outside the Capitol and in the building's Rotunda, the Des Moines Register reported. The few dozen protesters waited in line to go through a metal detector and get a temperature check from security guards before entering the Capitol, according to Iowa Public Radio. They did not disrupt any legislative proceedings.
The Washington attack came after President Donald Trump repeatedly said he wanted his supporters to fight Congress on accepting the Electoral College results that showed Joe Biden won the 2020 presidential election. 
On Jan. 6, thousands of Trump supporters attended a Trump speech near the White House, in which he invited the crowd to walk to the Capitol, before protesters charged into the Capitol, causing Vice President Mike Pence and members of Congress to flee to safety. Many in the crowd, some of whom scaled walls and broke through windows, said their intent was to stop the vote confirmation and keep Trump in office despite the election results. That's an insurrection.
One arrest vs hundreds
In Iowa, a state trooper told the Register that as the group protested inside the Iowa Capitol, an 18-year-old protester asked him and another trooper for their badge numbers. The trooper said the teen was arrested after grabbing his arm, though other protesters told the newspaper said she did not grab him. 
The protest, witnessed by Register staff, was peaceful before the woman was arrested. Some protesters started scuffling with troopers, but that ended quickly, and protesters left the building, Iowa Public Radio reported. Participants had just finished lying on the ground for what is called a "die-in" to honor Floyd, who was killed after Chauvin had his knee on Floyd's neck for a little over 9 minutes. 
For the Washington riot, at least 368 people have been arrested or charged, USA Today reported April 9. The list includes individuals arrested on charges filed by federal prosecutors and those arrested by Capitol Police and D.C. Metro Police for entering the Capitol or for crimes related to weapons or violence. 
In its latest announcement, the Justice Department said April 5 that a member of the far-right group Proud Boys and his brother were ordered to be held without bond on charges including conspiracy, obstruction of an official proceeding of law enforcement and destruction of government property. The FBI has a Most Wanted List of people suspected of entering the Capitol unlawfully, assaulting officers or destroying property. 
Our ruling
Social media posts likened a BLM protest at the Iowa Capitol to the Jan. 6 insurrection on the U.S. Capitol.
The Iowa demonstrators, protesting four bills, obtained a permit for their rally and entered the state Capitol peacefully and were screened by security; they did not storm the building or disrupt legislative proceedings. One protester was arrested.
The U.S. Capitol insurrection was largely aimed at overturning the results of the presidential election by disrupting the counting of electoral votes. It left five people dead and has resulted in at least 368 people being arrested or charged.
Statements that liken the two events ignore evidence showing  the Iowa protest was not an insurrection, did not involve breaking into a government building and no damage or injuries were reported. We rate these claims False.
Gateway Pundit, "INSURRECTION? Black Lives Matter Goons Take Over Iowa Capitol," April 8, 2021
Instagram, Gateway Pundit post, April 8, 2021
Instagram, post, April 8, 2021
DJHJ Media, "ARREST: [VIDEO)] BLM-New Black Panthers, Activists Storm Iowa Capitol With Intent To Harm, In Planned Organized Uprising," April 8, 2021
DavidHarrisJr.com, "BLM Protestors, Including George Floyd's Nephew, Storm Iowa State Capitol…Insurrection?", accessed April 11, 2021
National File, "BREAKING: BLM Protestors, Including George Floyd's Nephew, Storm Iowa State Capitol," April 8, 2021
Des Moines Register, "One arrested at Iowa Capitol as group rallies against bills increasing protest-related penalties," April 8, 2021
Des Moines Register, "Photos: One arrested during protest at Capitol," April 8, 2021
Iowa Public Radio, "BLM Activists Protest Policing Legislation At Iowa Capitol; Troopers Arrest One Protester," April 8, 2021
PolitiFact, "Yes, Jan. 6 Capitol assault was an 'armed insurrection,'" Feb. 15, 2021
PolitiFact, "A timeline of what Trump said before Jan. 6 Capitol riot," Jan. 11, 2021
USA Today, "Capitol riot arrests: See who's been charged across the U.S.," April 9, 2021
FBI, "Most Wanted — U.S. Capitol Violence," accessed April 11, 2021
Browse the Truth-O-Meter
More by Tom Kertscher
Support independent fact-checking.
Become a member!
In a world of wild talk and fake news, help us stand up for the facts.