Stand up for the facts!
Our only agenda is to publish the truth so you can be an informed participant in democracy.
We need your help.
I would like to contribute
"Those 30-, 40-year mortgages" prove that banks know climate change "is not going to happen."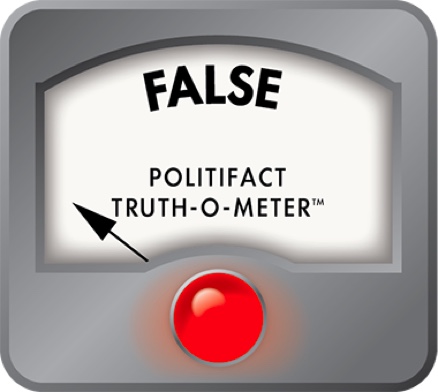 No, home mortgages don't prove climate change is a scam.
If Your Time is short
A former oil executive claimed in 2017 climate change can't be a real threat because banks and financial institutions continue to offer long-term mortgages.

Scientists concluded long ago that climate change is real and is a threat to humans.

Many banks have publicly identified climate change as a business risk that they need to mitigate or plan for.
For Earth Day 2021, an Instagram account resurfaced a video of former oil executive Dan Peña claiming global climate change is the "greatest fraud that's been perpetrated on mankind this century."
The video was from an event in 2017 that Peña hosted with London Real, an online platform that's been accused in the past of sharing COVID-19 misinformation. The Instagram post includes the video with the headline "Global warming is the biggest scam of this century" in large, white letters. 
Peña's bio from his official website identifies him as founder and former CEO of Great Western Resources Inc.
In the video, Peña claims climate change isn't real, and the proof is that financial institutions don't allude to it in any of their investment and lending documents. He said banks wouldn't offer multi-decade mortgages in places like Florida knowing the sea level would rise and destroy a home. 
"Because the financial institutions, the banks of this world, know it's not going to happen," Peña said. "You know those 30-, 40-year mortgages? The world will be over by then."
Instagram is owned by Facebook, and the post was flagged as part of the company's efforts to combat false news and misinformation on its News Feed. (Read more about our partnership with Facebook.)
Scientists and governments around the world have concluded that climate change is a real threat and that halting it will require immediate mitigation steps to reduce carbon emissions. 
Scientists say there is a more than 95% chance that changes to the climate stem from more than a half century of human activity, according to NASA.
Industrialization and the use of fossil fuels in vehicles and power plants have released large amounts of carbon dioxide and other heat-trapping greenhouse gases into the atmosphere more than 250 times faster than from natural sources.
Changes to the Earth's climate have resulted in warmer temperatures, a rising sea level and more extreme weather events like flooding and wildfires.
Financial intuitions have also acknowledged this risk, contrary to Peña's claim.
As far back as 2016, Sean Becketti, who was the president and chief economist of federally chartered mortgage buyer Freddie Mac, warned that the potential damage that climate change and rising sea levels will have on the housing market is "likely to be greater in total than those experienced in the housing crisis and Great Recession."
Climate change would increase the likelihood certain homes would be located in a flood-risk area, making lending more risky, he wrote, and lenders would have to weigh the financial risks and benefits of providing a 30-year mortgage to a home at risk of flooding if the chances of it happening continue to increase over time.
"In the housing crisis, a significant share of borrowers continued to make their mortgage payments even though the values of their homes were less than the balances of their mortgages," he wrote. "It is less likely that borrowers will continue to make mortgage payments if their homes are literally underwater."
The New York Times has also reported local banks are starting to face the reality of providing mortgages for homes in flood-prone areas, since climate change has made severe weather events more likely. In coastal areas, some banks are requiring buyers to pay a 40% down payment for a home rather than the traditional 20%. 
Local lenders have also begun offloading mortgages onto government-sponsored financial institutions like Fannie Mae to avoid losing money if a home is destroyed because of climate change, The New York Times reported. 
Homes in high flood risk areas with mortgages from government-backed lenders are required to have flood insurance, according to the Federal Emergency Management Administration.
To combat climate change, and protect their investments, several major banks including Citi, Wells Fargo and Bank of America have made net-zero carbon emissions pledges. Each bank has committed to making its supply chain, operations and financing activities carbon neutral by 2050. 
To achieve this, the banks have said they will transition to low-carbon and renewable energy sources for their buildings and finance more environmentally sustainable projects.
"Climate change is one of the most urgent environmental and social issues of our time," Wells Fargo CEO Charlie Scharf said in a statement in March. "The risks of not taking action are too great to ignore, and collective action is needed to avoid the significant impact on our most vulnerable communities."
JPMorgan Chase, which environmentalists have labeled one of the  the largest investors in fossil fuels, called climate change a "global challenge" that will take a collaborative effort between the private and public sectors to combat. 
"Research shows that climate impacts are occurring much sooner than anticipated and with increasing frequency," CEO Jamie Dimon said in a statement in 2019. "The private sector has the opportunity to play a role in creating solutions that grow the economy, thereby supporting governments in their efforts to minimize long-term impacts to the planet and enable a more sustainable future for all people."
Our ruling
An Instagram post shows a video of Peña in which he claims that climate change is not real, and cites as evidence the fact that lenders still offer 30-year mortgages in flood-risk areas like Florida.
An overwhelming majority of the world's scientists have concluded climate change is real and puts humans at risk. Financial institutions like Freddie Mac have also acknowledged climate change's existence and the impact it will have on mortgage lending. Major banks have publicly acknowledged the threat and pledged to help mitigate it.
We rate this False.
Browse the Truth-O-Meter
More by Andy Nguyen
Support independent fact-checking.
Become a member!
In a world of wild talk and fake news, help us stand up for the facts.