Get PolitiFact in your inbox.
"It would cost $20 billion to end homelessness in the U.S." and "halting global warming would cost $300 billion."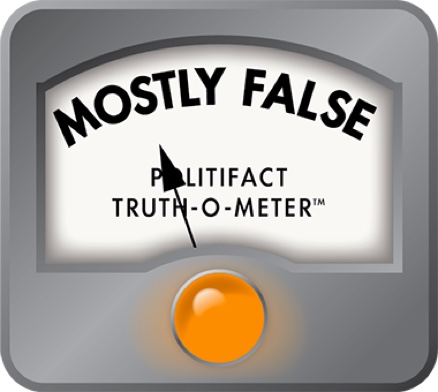 No consensus on the cost of ending homelessness in the US or halting global warming
If Your Time is short
It would likely cost significantly more than $20 billion to house America's homeless population, after factoring in the expansion of the federal housing voucher program and affordable housing development.

Since models to predict the cost of fighting climate change rely on many different assumptions, estimates vary widely. However, $300 billion is on the very low end of the spectrum. ​
Some people on social media questioned why the world's richest people aren't sharing some of their wealth to help solve pressing global problems. 
One Facebook post singled out climate change and homelessness, saying billionaires such as former New York Mayor Michael Bloomberg could do more to end both.
"It would cost $20 billion to end homelessness in the U.S. Mike Bloomberg could do that tomorrow and still have $28 billion to his name," the post said. "Halting global warming would cost $300 billion. The world's 10 richest people could each throw in $30 billion and still have $386 billion themselves." 
The post was flagged as part of Facebook's efforts to combat false news and misinformation on its News Feed. (Read more about our partnership with Facebook.)
For this fact-check, we wanted to look into the post's claims about the cost of ending homelessness and halting global warming. 
There's no single number experts agree on that can capture the cost of ending homelessness or climate change. Both issues are complex. But our reporting found that the $20 billion to end homelessness and $300 billion to halt global warming would be far from sufficient. 
Homelessness 
The $20 billion figure to end homelessness has circulated for years. That number traces back to reporting about an outdated estimate from the U.S. Department of Housing and Urban Development in 2012. It  was a rough estimate of the annual cost.
The number has to do with housing choice vouchers, which are the primary component of federal spending on housing assistance. They are seen by advocates as one of the primary ways the government can address the homelessness crisis. 
Under the housing choice voucher program, renters contribute 30% of their monthly income in rent and the federal government pays the rest, said Jason Ward, an economist and associate director for the RAND Center for Housing and Homelessness in Los Angeles.
Not everyone who is eligible for housing assistance receives it. Ward estimated that around 7.4 million eligible households are not receiving this aid.
Expanding the voucher program to cover all those who are eligible would cost well over $20 billion.
The average subsidy per voucher holder is around $8,000 a year. Multiply that by 7.4 million, and it would cost at least $59 billion per year to fully fund the voucher program.
The government would still need to substantially increase the supply of affordable housing so that the use of vouchers would not reduce the housing supply and raise rents. 
Current estimates of the costs of building affordable housing in major metropolitan areas range from around $150,000 per unit in Atlanta to a high of $550,000 per unit in Southern California. Constructing more than 3.5 million new units — Ward's estimate for the affordable housing units needed to fill the voucher shortfall — could cost $1.3 trillion, Ward said. 
"These estimates still also ignore the costs of providing the significant service needs of many individuals currently experiencing chronic homelessness, which include intensive mental health services and health care treatment/management for a variety of chronic health conditions, as well as substance abuse treatment for the large portion of the chronically homeless population struggling with addiction," Ward said.
Climate change 
The claim that $300 billion can halt global warming appears to be rooted in a 2019 Bloomberg column. The piece says that $300 billion is enough to lock millions of tons of carbon emissions back into the soil. 
That article's authors cite René Castro Salazar, an assistant director general at the United Nations Food and Agriculture Organization. Salazar told Bloomberg that almost 5 billion acres of degraded land could be restored to pasture, in effect reversing desertification trends and converting enough carbon into biomass to stabilize carbon emissions for 15 to 20 years — giving the world a chance to adopt longer-term sustainable technologies. 
Capturing carbon by restoring lands that have been degraded by misuse, deforestation or overgrazing is one of the strategies scientists have identified to mitigate environmental distress and disaster. 
The Bloomberg column focused on this one strategy. A 2019 Slate column pointed out that while a hypothetical soil restoration strategy might be technically sound, addressing climate change comes with major political roadblocks, making actual costs much higher. 
Experts themselves disagree on how much it would cost the world to halt the catastrophic consequences of global warming — but $300 billion falls well short of most estimates. 
The wide range of cost estimates puzzles lawmakers and researchers, said a group of MIT scientists working on the issue. For one thing, it's hard to accurately gauge the price of various technologies that have not yet been fully developed. Models for estimating cost often do not account for possible public resistance, limited resources and lack of international cooperation. 
Our ruling 
A Facebook post claimed that it would cost $20 billion to end homelessness in the U.S. and $300 billion to halt global warming. 
These issues are complex, and there are no firm estimates of the cost of addressing them. That said, expert analysis suggests that $20 billion falls short of the actual cost to end homelessness in the U.S. Similarly, while cost models for meeting climate change targets differ widely, $300 billion is much lower — sometimes by a hundredfold— than other estimates posited by experts. 
We rate this claim Mostly False.
Facebook post, July 29
Email interview, Jason Ward, associate director for the RAND Center for Housing and Homelessness in Los Angeles
Verify This, "No, $20 billion is not enough money to eradicate homelessness in the US," May 27, 2021
MIT Technology Review, "Sucking Up CO2 Will Cost Hundreds of Trillions," July 19, 2017
Nature, "The costs of achieving climate targets and the sources of uncertainty," March 23, 2020
Yale Climate Connections, "Fighting climate change: Cheaper than 'business as usual' and better for the economy," November 30, 2020
Bloomberg, "How to Halt Global Warming for $300 Billion," October 23, 2019
MIT Joint Program on the Science and Policy of Climate Change, "Costs of Climate Mitigation Policies," March 2016
Grantham Research Institute on Climate Change and the Environment, "How much will it cost to cut global greenhouse gas emissions?,"May 8, 2016
Slate, "Spending $300 Billion Is Not Going to Solve Climate Change," October 24, 2019
Forest Industries EU, "Fighting climate change might cost 300 billion USD a year from 2020"
International Energy Agency, Energy Technology Perspectives
Project Drawdown,The 2020 Drawdown Review
IPCC, 2018 Special Report: Global Warming of 1.5 ºC
New York Times, America's Cities Could House Everyone if They Chose To, May 15, 2020
Browse the Truth-O-Meter
More by Emily Tian
Support independent fact-checking.
Become a member!
In a world of wild talk and fake news, help us stand up for the facts.