Stand up for the facts!
Our only agenda is to publish the truth so you can be an informed participant in democracy.
We need your help.
I would like to contribute
Athletes are collapsing with heart-related issues due to the COVID-19 vaccines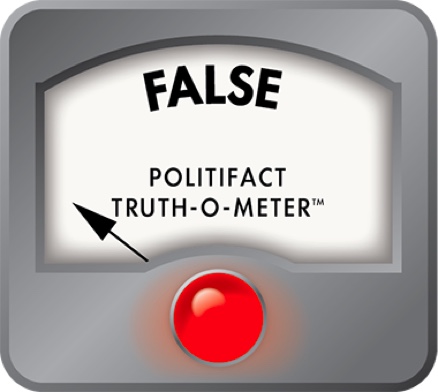 There's no proof athletes collapsed with heart issues because of COVID-19 vaccination
If Your Time is short
The video shows news clips of athletes who suffered heart problems and suggests that COVID-19 vaccines caused them.

People close to some of the athletes in the video have said that the athletes did not have heart problems from COVID-19 or the vaccines. And sports cardiologists said there is no evidence that professional athletes are facing heart issues after getting vaccinated for COVID-19.
A video shared widely on social media flashes through dozens of news clips of athletes who reportedly collapsed and, in some cases, died of heart problems.
Set to ominous music, it implies that the incidents were linked to COVID-19 vaccines. "24-year-old hockey player dies after collapsing on ice in cardiac arrest — 80% of league is vaccinated," read one headline, which we found had been pulled from a website called Team Tucker Carlson.

The video was flagged as part of Facebook's efforts to combat false news and misinformation on its News Feed. (Read more about our partnership with Facebook.)
It was posted on a website called The HighWire, which is associated with the anti-vaccination group Informed Consent Action Network. The video's caption further ties the incidents to the vaccines with a question and a series of leading hashtags: "They are at the peak of health, and the top of their profession. So, why are dozens of amatuer and professional athletes around the world inexplicably collapsing on the field, with heart-related issues, in just the past few months? #CollapsingAthletes #Covidvaccine #Myocarditis #TheHighWire."
But there is no evidence COVID-19 vaccines led the athletes in the video to collapse. We reviewed the news reports mentioned in the video and spoke with a number of sports cardiologists, and we found the claim connecting the two is unfounded.
"To date, I am not aware of a single COVID vaccine-related cardiac complication in the professional sports," said Matthew Martinez, a sports cardiologist who works with the National Football League, National Basketball Association, National Hockey League and Major League Soccer and who is the director of sports cardiology at Morristown Medical Center in New Jersey.
The same goes for Jonathan Kim, an associate professor of medicine and chief of sports cardiology at Emory University in Atlanta. "I am not aware of any reports that vaccines in athletes are causing cardiac issues," he said. He called the HighWire video "a classic example of disinformation."
The video mentions Danish soccer player Christian Eriksen, 29, who, according to his team director, wasn't vaccinated for COVID-19 when he collapsed June 12. So the vaccine couldn't have been the reason he collapsed.
It also includes a clip about Keyontae Johnson, 22, a college basketball player who collapsed on Dec. 12, 2020, days before the COVID-19 vaccine was given to people in the U.S. His collapse also wasn't related to the COVID-19 illness, according to a Feb. 3, 2021, statement from his family.
Dutch speed skater Kjeld Nuis, 32, who is also included, did have a heart problem in July 2021 a week after he received the COVID-19 vaccine, according to news coverage at the time. Nuis posted on Instagram later that month saying that he was fine and that he was at training camp. He did not say whether his COVID-19 vaccination contributed to his heart problem or whether it was linked to his athletic activity. Nuis had tested positive for COVID-19 in October 2020. 
A young athlete experiencing cardiac arrest is not common, but it's also not unprecedented. And there are different reasons an athlete might collapse.
Michael Emery, co-director of the Cleveland Clinic Sports Cardiology Center, said that dehydration, heat stroke and genetic heart conditions, among other factors, can lead to collapse.
The COVID-19 disease and vaccine have, very rarely, led to heart problems. The virus or the vaccine can inflame the heart muscle, called the myocardium, or the heart muscle sac, called the pericardium, Martinez explained. That can lead to chest pressure, breathlessness and, in some cases, long-term damage to the myocardium or pericardium. Myocarditis and pericarditis in general are rare, but when they do occur, they're often caused by viral infections, according to the Myocarditis Foundation and the Cleveland Clinic.
Among athletes, heart problems are rare even after having COVID-19 itself. In a study that Martinez co-published in March in the American Medical Association's journal JAMA, fewer than 1% of athletes who had COVID-19 were found to have inflammatory heart disease. Martinez said he hasn't identified any athletes who had the COVID-19 disease and a heart-related complication and then died.
Having a heart problem from the COVID-19 disease or vaccine is "super rare," according to Emery. And it is "way more rare from a vaccine than it is from a native infection from COVID-19."
The video's caption asks why dozens of athletes are collapsing "in just the past few months." But sports cardiologists aren't seeing a sudden rise in athletes collapsing. "We have no data to suggest that the frequency of sudden cardiac arrest or sudden cardiac death in athletes is higher now than it was in the past," said Emery.
Our ruling
A video shows news clips of athletes collapsing to suggest that COVID-19 vaccines cause heart problems in otherwise healthy athletes. The video makes an assumption and offers no proof. Athletes in the video did not all collapse from COVID-19 vaccines, and leading sports cardiologists we reached out to said they haven't seen athletes collapse after getting vaccinated for COVID-19.
We rate this claim False.
The HighWire, WHY ARE HEALTHY ATHLETES COLLAPSING? (archived), Nov. 16, 2021
JAMA, Prevalence of Inflammatory Heart Disease Among Professional Athletes With Prior COVID-19 Infection Who Received Systematic Return-to-Play Cardiac Screening, March 4, 2021
Zoom interview with Matthew Martinez, director of sports cardiology at Morristown Medical Center, Nov. 22, 2021
Zoom interview with Michael Emery, Co-Director of the Cleveland Clinic Sports Cardiology Center, Nov. 23, 2021
Phone interview with Jonathan Kim, Associate Professor of Medicine and Chief of Sports Cardiology at Emory University, Nov. 29, 2021
CDC, Selected Adverse Events Reported after COVID-19 Vaccination, Nov. 24, 2021
United States Department of Health and Human Services, COVID-19 Vaccine Distribution: The Process, accessed Dec. 1, 2021
NBC Sports, Kjeld Nuis, Olympic speed skating champion, tests positive for coronavirus, Oct. 8, 2020
Netherlands News Live, Kjeld Nuis recovered well from inflamed pericardium after vaccination | Ice skating, July 21, 2021
Kjeld Nuis, Instagram post, July 21, 2021
Florida Gators Men's Basketball, Tweet, Feb. 3, 2021
Myocarditis Foundation, Causes of Myocarditis, accessed Dec. 1, 2021
Cleveland Clinic, Pericarditis, accessed Dec. 1, 2021
USA TODAY, Fact check: Christian Eriksen didn't receive COVID-19 vaccine before collapsing, June 20, 2021
PolitiFact, Christian Eriksen, Danish soccer player who collapsed, didn't receive the Pfizer vaccine, June 14, 2021
PolitiFact, Dozens of prominent athletes did not die of heart attacks after COVID-19 vaccination, Nov. 19, 2021
Team Tucker Carlson, 24-Year-Old Hockey Player Dies After Collapsing On Ice In Cardiac Arrest – 80% Of League Is Vaccinated (archived), Nov. 5, 2021
Support independent fact-checking.
Become a member!
In a world of wild talk and fake news, help us stand up for the facts.