Get PolitiFact in your inbox.
Society is "choosing blood clots and heart problems over cold and flu symptoms, or even no symptoms at all."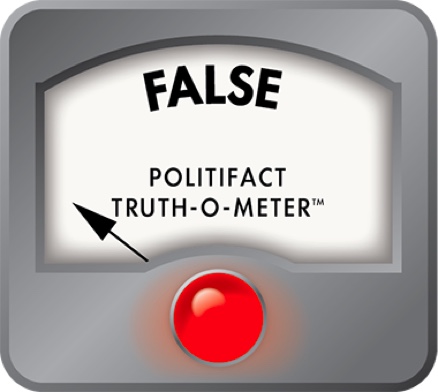 Clots, heart problems from COVID-19 vaccines rare; deaths from the virus persist
If Your Time is short
Blood clots and heart problems linked to the COVID-19 vaccines are rare, but the virus itself continues to cause deaths and hospitalizations.
A Facebook user with 50,000 followers claimed that people who are vaccinated against COVID-19 face serious health risks, while the unvaccinated face only minor ones.
"When you have society choosing Blood Clots and Heart Problems over Cold and Flu Symptoms, or even NO symptoms at all," the post read, "you know Critical Thinking is in short supply." 
The post was flagged as part of Facebook's efforts to combat false news and misinformation on its News Feed. (Read more about our partnership with Facebook.)
Some people, particularly those who are vaccinated, experience no symptoms or only mild ones with COVID-19. 
But the virus has caused hundreds of thousands of deaths and continues to cause tens of thousands of hospitalizations, just in the United States. The more serious symptoms of COVID-19 include breathing problems, chest pain and confusion. 
Blood clots and heart problems linked to the COVID-19 vaccines, meanwhile, are rare.
COVID-19 deaths and hospitalization
Death and hospitalization figures from Our World in Data show that the toll of COVID-19 as of Dec. 8, the day before the post, is much greater than cold and flu symptoms.
There have been 5.28 million confirmed COVID-19 deaths worldwide, including 791,514 in the United States. 
The organization characterizes the tallies as an undercount, saying "we know — based on reports and estimates of excess deaths — that these figures underestimate the total impact of the pandemic on mortality globally."
There were 58,456 COVID-19 patients in a hospital in the United States on Dec. 8. That figure was as high as 133,268 on Jan. 14.
PolitiFact fact-checks have found that unvaccinated people are several times more likely than vaccinated people to catch COVID-19, and to be hospitalized or die from it. We've also found that vaccination does more than help prevent infection among the vaccinated — it reduces the chances of COVID-19 spread among the general public.
Clots, heart problems rare
As for the COVID-19 vaccines, they have been associated with certain heart problems, but these are rare. 
Cases of heart inflammation (myocarditis and pericarditis) have been reported after vaccination with the Moderna and Pfizer vaccines, according to the U.S. Centers for Disease Control and Prevention. 
The Vaccine Adverse Event Reporting System, run by the CDC and the Food and Drug Administration, received 1,949 reports of myocarditis or pericarditis among people ages 30 and younger who received COVID-19 vaccines, as of Nov. 24, according to the CDC. 
Most cases have been reported after mRNA COVID-19 vaccination (Pfizer-BioNTech or Moderna), particularly in male adolescents and young adults. More than 437 million doses of mRNA COVID-19 vaccines have been administered in the United States. The CDC and FDA confirmed 1,071 reports of myocarditis or pericarditis, and the CDC is investigating whether there is a relationship to COVID-19 vaccination. 
The CDC says most patients who received care for these conditions "responded well to medicine and rest and felt better quickly."
A study published Dec. 6 in an American Heart Association journal found that most cases of suspected COVID-19 vaccine-related myocarditis occurring in people under age 21 "have a mild clinical course with rapid resolution of symptoms."
Experts say that COVID-19 itself presents much more danger to the heart than vaccines do.
Blood clots associated with the vaccines also are extremely rare.
A serious syndrome involving blood clots known as TTS is associated with one of the three COVID-19 vaccines — Johnson & Johnson — that are administered in the United States.
As of Nov. 24, 2021, more than 16.4 million doses of the Johnson & Johnson COVID-19 vaccine have been given in the United States, and the CDC and Food and Drug Administration identified 54 confirmed reports of people who got the vaccine and later developed TTS.
We rate this Facebook post False.
Browse the Truth-O-Meter
More by Tom Kertscher
Support independent fact-checking.
Become a member!
In a world of wild talk and fake news, help us stand up for the facts.