Stand up for the facts!
Our only agenda is to publish the truth so you can be an informed participant in democracy.
We need your help.
I would like to contribute
The shutdown of the Keystone Pipeline project will mean "nearly 2,000 (union jobs lost) with Wisconsin companies"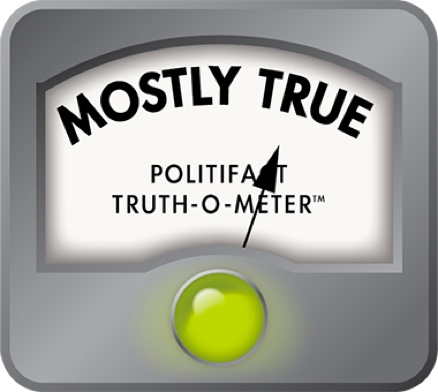 Johnson on target with Keystone Pipeline job loss claim
If Your Time is short
Two Wisconsin companies -- Michels Corporation and Precision Pipeline -- have contracts that were expected to mean a combined 1,950 jobs.

However, these jobs would have been temporary and the number would have fluctuated during construction
On his first day in office, President Joe Biden signed an executive order revoking the March 2019 permit for the Keystone XL Pipeline.
The pipeline was to carry crude oil from Alberta, Canada, to Steele City, Neb., where it would connect with another leg stretching to Gulf Coast refineries. The pipeline is opposed by environmental groups, but had won federal approval under then-President Donald Trump.
Construction began in 2020, but only a mile or so of the pipeline had been completed before Biden's action. His order cited a 2015 review by the Department of State and then-President Barack Obama, which found the pipeline would not serve the U.S. national interest. 
In the wake of the order, several Wisconsin politicians criticized the move as a job-killer for, yes, Wisconsin. That's because two state-based companies had a contract to work on the project. (House Republicans introduced a bill to bring back the pipeline on Feb. 2, 2021).
In a Jan. 21, 2021 post on Facebook, U.S. Sen. Ron Johnson, R-Wisconsin, listed a series of things that would be lost with the end of the project, including "10,000 union jobs (nearly 2,000 with Wisconsin companies)."
Let's zero in on the last part.
Would ending the pipeline cost nearly 2,000 union jobs with Wisconsin companies?
Where the numbers come from
In its November 2015 report, the State Department wrote that only 50 jobs would be required to maintain the pipeline after construction – 35 full-time jobs and 15 contractors. So the majority of the jobs for the Keystone pipeline would be short-term and construction-related.
At the time, the report noted the pipeline would lead to 3,900 direct construction jobs. Of course, that number may have risen in the intervening five years, and in claims about the economic impact of projects, secondary-jobs are often considered.
When asked for backup, Johnson's office pointed to two online posts.
One post, from Sept. 3, 2020, was by Michels Corporation, based in Brownsville, Wisconsin. The other, dated Jan. 5, 2021, was on the website for the Keystone XL Pipeline, run by TransCanada PipeLines Ltd. (TransCanada is an affiliate of Canada-based TC Energy Corporation, which was to own the pipeline with the Alberta government.)
The Michels Corp. post said the company would employ more than 350 people on facilities projects during peak construction. The career page on the company's web site says Michels offers both union and non-union jobs.
The TransCanada/Keystone page includes a quote from Bobby Poteete, president of Precision Pipeline, an Eau Claire-based subsidiary of Florida-based MasTec, Inc.:
"We are extremely proud to put PPL employees and more than 1,600 American union members to work on completing this important infrastructure project…"
Later, that post includes, "PPL will be responsible for hiring an estimated 1,600 union workers over the two-year construction period."
So over the course of construction, that will be a total of 1,950 jobs – or "nearly" 2,000 jobs– provided by Wisconsin companies.
We reached out to Michels and Precision Pipeline, but neither responded.
The Wisconsin companies were chosen alongside three Texas companies and a Montana company in October 2020 by TC Energy.
Johnson's claim could lead readers to believe the jobs would be permanent, or that 2,000 are already at risk. 
But the jobs involved are temporary, construction ones. And the total number would fluctuate over the course of the project. For instance, Michaels said it would be employing the 350 workers only when they reached peak construction. 
What's more, the jobs would also likely be outside of Wisconsin, because the pipeline's path is through Montana, South Dakota and Nebraska. So, that would lessen the impact on the state of any lost jobs -- and related spending power -- due to Biden's action.
Our ruling
Johnson said in a Facebook post that shutting down the construction of the Keystone pipeline would result in "nearly 2,000 (union jobs lost) with Wisconsin companies"
Based on the information we could find, the number checks out. Two Wisconsin companies were among the six that have been awarded construction contracts, and roughly 2,000 jobs are involved. That said, readers could have easily understood Johnson to mean permanent jobs, when they would be only temporary. And the total represents a peak, not current jobs.
We rate his claim Mostly True. 
Browse the Truth-O-Meter
More by Nusaiba Mizan
Support independent fact-checking.
Become a member!
In a world of wild talk and fake news, help us stand up for the facts.