Stand up for the facts!
Our only agenda is to publish the truth so you can be an informed participant in democracy.
We need your help.
I would like to contribute
"President Trump's net gain while in office $0, Nancy Pelosi's net gain while in office $191 million."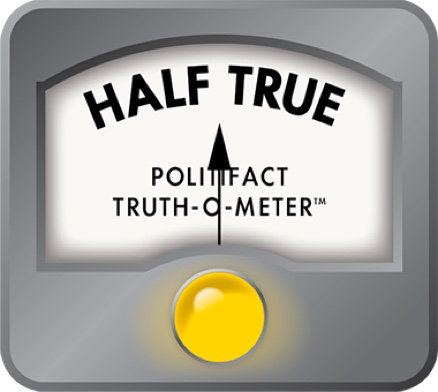 A post about Pelosi's and Trump's wealth gains while in office makes flawed comparison
If Your Time is short
Media estimates show Trump's net worth — assets minus liabilities — shrank by as much as $1.1 billion during his four years as president.

Pelosi has been in office for 34 years, compared with four for Trump.
During their time in public office, did House Speaker Nancy Pelosi pile up massive wealth while former President Donald Trump added none?
That's the claim of an Instagram post that compares the California Democrat to her one-time political nemesis. It states:
"President Trump's net gain while in office $0, Nancy Pelosi's net gain while in office $191 million." The implication is that Pelosi has enriched herself as a public servant.
The post was flagged as part of Facebook's efforts to combat false news and misinformation on its News Feed. (Read more about our partnership with Facebook.)
The post isn't specific about what it means by "net gain." We took it to mean gain in net worth, which is a measure of a person's assets minus liabilities. In that sense, Pelosi and her husband have gained considerably more than Trump, even though Trump's wealth is estimated to be much larger than Pelosi's.
It's accurate to say Trump had no gain in net worth during his time in office. In fact, estimates are that his net worth dropped by as much as $1.1 billion. 
Pelosi is one Congress' richest members, and her financial disclosures show household assets between $57 million and $271 million, mostly her husband's holdings. But the claim about her wealth gain isn't supported. There's not enough information in her public disclosures to show what her net worth is or how much it grew during her time in the House. By one way of estimating it, the gain would be closer to $100 million than $191 million.
The comparison also leaves out an important element of context: Time.
Trump spent four years in office, a period that saw a pandemic-related crash in the hospitality and commercial real-estate industries, the source of much of his wealth. Pelosi has been a member of Congress for 34 years, a period during which the size of the U.S. economy more than doubled, the stock market grew more than 1,500%, and property values around Pelosi's hometown of San Francisco skyrocketed in tandem with the rise of Silicon Valley and the Internet.
Trump's net worth
Trump's wealth is enough that it is estimated by major financial publications.
As of July 7, Forbes put Trump's net worth at $2.4 billion, ranking him No. 1,299 on its list of billionaires, mainly from New York City real estate. That was down $1.1 billion from the magazine's estimate of $3.5 billion when he took office in January 2017. 
Among the reasons for the decline, Forbes cited a $217 million decrease in the value of a commercial building in midtown Manhattan that briefly went vacant.
Bloomberg's estimates are smaller, but similar. It estimated that as Trump left office, his net worth was $2.3 billion, down from $3 billion. Bloomberg cited, among other factors, COVID-19's impact on office buildings, and on the hotels and resorts that bear Trump's name.
Trump's January 2021 financial disclosure showed the Trump Organization's 2020 revenue was down nearly 38% from a year earlier.
Pelosi's net worth
Pelosi joined the House of Representatives, representing a San Francisco district, in 1987. Most of her fortune stems from the investments of her husband, Paul Pelosi, a prominent businessman active in real estate and venture capital for decades. 
The estimates of her wealth come from financial disclosure forms that all members of Congress must file. But only a range of values, rather than specific dollar amounts, must be reported.
Pelosi's latest annual financial disclosure report, for 2020, was due on May 15, 2021. But she requested an extension, so it's due Aug. 13. The latest available disclosure is Pelosi's 2019 report. 
The assets listed in the report include a home and checking accounts jointly owned by the couple, plus Paul Pelosi's investments including commercial real estate and shares of blue-chip stocks such as Apple, Facebook, Visa and Walt Disney Co. 
The listed assets totaled between $57 million and $271 million, and their liabilities were between $20 million and $97 million.
So, Pelosi's net worth as of 2019 could have been as high as $251 million — using the maximum possible value of her assets and the minimum possible amount of her liabilities. Or, doing the reverse, it could be as low as negative $40 million. 
Taking the midpoints — $164 million in assets minus $58.5 million in liabilities — would put Pelosi's 2019 net worth at $105.5 million.
Pelosi's 1987 disclosure form shows her assets were at least $3.64 million. Her liabilities were at least $965,000, but because of the way reporting was done then, the top end of the range is not clear.
As a result, there isn't evidence in these filings to establish that her gain was $191 million.
Our ruling
An Instagram post claimed that Trump's "net gain while in office" was zero, while Pelosi's net gain while in office has been $191 million, suggesting that Pelosi enriched herself as a public servant
The comparison leaves out key context on several fronts. One is the two leaders' length of service. Pelosi's tenure in office is more than three decades longer than Trump's was. Also, much of her wealth is from her husband's investments.
Estimates show Trump's net worth shrank by as much as $1.1 billion during his four years as president. Financial disclosures don't provide enough information to show how much Pelosi's net worth is, or how much it has grown since she took office in 1987. One way of estimating it puts the gain at about $100 million. 
The post is partly accurate but leaves out important context and lacks evidence for part of its claim.
We rate it Half True.
Instagram, post, June 22, 2021
House of Representatives, Nancy Pelosi 2019 financial disclosure report, Aug. 13, 2020
House of Representatives, Nancy Pelosi 1987 financial disclosure report, May 13, 1988
PolitiFact, "No, Nancy Pelosi's net worth is not $196 million," Feb. 3, 2020
USA Today, "Fact check: No, House Speaker Nancy Pelosi isn't worth $196 million," March 17, 2021
Forbes, "#1299 Donald Trump," July 1, 2021
Bloomberg, "Trump's ailing empire," accessed July 1, 2021
YouTube, Forbes — "Why Donald Trump's Net Worth Fell $1.1 Billion Since The Day He Became President," April 12, 2021
Email, Alex Baumgart, Center for Responsive Politics researcher, July 1, 2021
Browse the Truth-O-Meter
More by Tom Kertscher
Support independent fact-checking.
Become a member!
In a world of wild talk and fake news, help us stand up for the facts.