Get PolitiFact in your inbox.
An email from Dr. Anthony Fauci shows "everyone was lied to" about wearing masks to prevent the spread of COVID-19.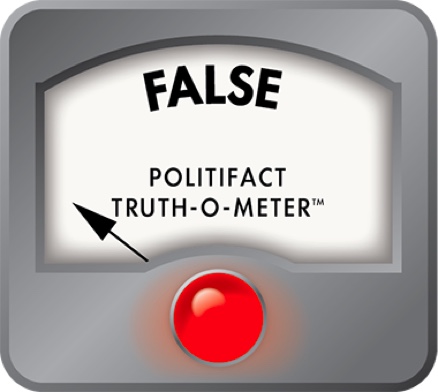 A social media post using old Fauci email falsely claims that Fauci 'lied' about mask wearing
If Your Time is short
The email from Fauci is from February 2020, when masks weren't widely recommended to fight COVID-19. By April 2020, Fauci and other leading public health authorities recommended mask wearing.
A release of emails that Dr. Anthony Fauci sent during the early stages of the coronavirus outbreak has triggered a new round of misleading posts on social media.
A widely shared Instagram post from June 2 reads "Everyone was lied to." It accompanies an image of a tweet that shows a Feb. 5, 2020, email authored by Fauci, the director of the National Institute of Allergy and Infectious Diseases, along with this assessment by the author of the tweet:
"#Fauci says masks aren't needed unless you're sick and notes the #SARS_CoV_2 virus is so small it passes easily between #mask fibers. #Fauciemails"
The post was flagged as part of Facebook's efforts to combat false news and misinformation on its News Feed. (Read more about our partnership with Facebook.)
The email cited in the post was from early in the outbreak, before it was declared a pandemic, when the expert consensus on mask wearing was much different than it is today. Within two months, Fauci and other public health authorities were recommending mask wearing.
The emails
The Washington Post on June 1 published a news article based on 866 pages of Fauci's emails from March and April 2020 that the newspaper said it obtained as part of a Freedom of Information Act request. The same day, BuzzFeed News published a news story it said was based on 3,200 pages of Fauci's emails from January to June 2020 that it obtained through a Freedom of Information Act lawsuit.
The Instagram post included a screenshot of an email posted by BuzzFeed News that Fauci sent Feb. 5, 2020, in response to questions from Sylvia Burwell. Newsweek reported that Burwell is the same woman who was health and human services secretary under President Barack Obama.
Fauci wrote: "Masks are really for infected people to prevent them from spreading infection to people who are not infected rather than protecting uninfected people from acquiring infection. The typical mask you buy in the drug store is not really effective in keeping out virus, which is small enough to pass through material. It might, however, provide some slight benefit in keep out gross droplets if someone coughs or sneezes on you. I do not recommend that you wear a mask, particularly since you are going to a very low risk location. Your instincts are correct, money is best spent on medical countermeasures such as diagnostics and vaccines."
What was happening then
It's important to remember the time frame around when Fauci sent the email. It was two weeks after the first U.S. coronavirus case was announced in Washington state, on Jan. 21, 2020, and five weeks after China confirmed the existence of a new virus. The World Health Organization didn't declare COVID-19 a pandemic until March 11.
It's also important to acknowledge that guidance on mask wearing changed over time.
Early in the coronavirus outbreak, guidance from the federal Centers for Disease Control and Prevention said people shouldn't wear face masks unless they had COVID-19 and were showing symptoms. "This is to protect others from the risk of getting infected," the guidance stated. Mask-wearing was discouraged because officials said masks had little value in preventing the general public from contracting the disease.
That changed on April 3, 2020, when the CDC recommended wearing masks in public places where social distancing can be difficult. Officials at the time cited clearer findings that showed the virus could be transmitted by people who showed no symptoms.
Fauci also changed his guidance, and began recommending masks be worn. On the day the CDC announced its change, he said of mask wearing: "If everybody does that, we're each protecting each other." 
Masks' effectiveness
By mid-March 2021, with masks a part of daily life, PolitiFact found that the research was clear that masks work. They are most effective as "source control," which means preventing infected people from spreading the virus to other people. While masks cannot block some very tiny coronavirus particles that are in the air, multiple systematic reviews, ecological studies and laboratory studies have shown that masks reduce the spread of COVID-19.
The advice to wear masks remained in force, even for people who were vaccinated, until mid-May 2021. Amid widespread use of vaccines and falling case counts, federal health officials revised the guidance again, saying that "fully vaccinated people can resume activities without wearing a mask or physically distancing," except in places such as airports where required by government regulations.
Our ruling
A widely shared Instagram post said that an email from Dr. Anthony Fauci shows "everyone was lied to" about wearing masks to prevent the spread of COVID-19. 
The post cites an email Fauci sent Feb. 5, 2020, when the consensus among public health experts was for people generally not to wear masks unless they had symptoms of illness. At the time, researchers did not know that people without symptoms were spreading the virus. The guidance from Fauci and other experts changed in April 2020, as more evidence about the virus and its transmission emerged, and mask wearing was widely recommended.
We rate the post False.
Browse the Truth-O-Meter
More by Tom Kertscher
Support independent fact-checking.
Become a member!
In a world of wild talk and fake news, help us stand up for the facts.