Get PolitiFact in your inbox.
Says the CDC's new tracking policy is covering up cases of "breakthrough" COVID-19 infections among vaccinated people.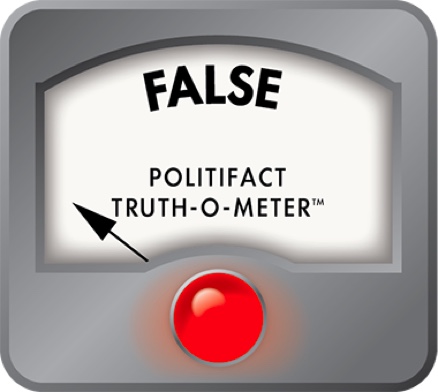 CDC is not manipulating its COVID-19 breakthrough data — it's changing how it collects it
If Your Time is short
The Centers for Disease Control and Prevention confirmed it is no longer scrutinizing "breakthrough" COVID-19 cases among vaccinated people unless the patient is admitted to a hospital or dies.

The agency said the policy will help researchers zero in on the severe cases that concern them most.
A change in the way federal health officials are tracking "breakthrough" COVID-19 cases among vaccinated people has prompted claims on social media that the government is maneuvering to manipulate or hide negative information about the vaccines. 
According to the Centers for Disease Control and Prevention, a breakthrough case occurs when a person who has been fully vaccinated still contracts the disease. 
While the three COVID-19 vaccines currently available in the United States drastically reduce the chances of infection, health officials caution that no vaccine is 100% effective, so some breakthrough cases are expected to occur, and the CDC has been tracking them to monitor the effectiveness of the vaccines.
As of May 14, though, the CDC is monitoring only the more severe breakthrough cases that result in hospitalization or death. It previously tracked all reported breakthrough cases, including those that were largely mild or asymptomatic.
The change alarmed some on social media who are skeptical of the vaccines' effectiveness.
"CDC says it will no longer update the number of vaccinated people who test positive for COVID unless they are hospitalized or die," one May 10 tweet read. "But they'll still update the number of COVID cases for normal people who test positive. So you want to scare us with cases but not vaccinated cases?"
"When The V8ccinated Still Get the Virus, V8ccines Fail, and How The CDC Are Attempting to Hide It All," said the start of a Facebook post published May 16. 
That post goes on to state: "Such a drastic change in official reporting is inherently disingenuous, and serves to conceal the true number of those who will test positive despite being v8ccinated. This will not 'maximise the quality of data,' but has been purposely implemented to ensure the very concealment of data that might reflect the majority of actual 'breakthrough' cases."
The latter post was flagged as part of Facebook's efforts to combat false news and misinformation on its News Feed. (Read more about our partnership with Facebook.) 
Misspelling the word "vaccine" is a common technique used on social media to circumvent the tools used by fact checkers.
As for the claims of a CDC cover-up?
"Completely false," CDC spokesperson Kristen Nordlund said in a phone interview with PolitiFact.
Nordlund told PolitiFact in an email that zeroing in on severe breakthrough cases is meant to provide vaccine researchers with more complete and reliable data on the cases they're most concerned about, since not all people with breakthrough infections can be identified, particularly those with asymptomatic or mild illness who do not get tested.
The CDC uses a passive surveillance system to collect data on breakthrough cases, Nordlund said. This means that the agency relies on state health departments to voluntarily report such cases. 
"The surveillance system was set up to get a snapshot and help identify any unusual patterns or concerning signals among vaccine breakthrough cases," she added. "To date, no unexpected patterns have been identified in the case demographics or vaccine characteristics among people with reported vaccine breakthrough infections."
The latest publicly available CDC data showed that out of 95 million people who were fully vaccinated as of April 26, there were at least 9,245 recorded breakthrough COVID-19 cases. Among them, there were 832 hospitalizations and 132 deaths, though not all of them were related to COVID-19.
The CDC acknowledges that its breakthrough case numbers are incomplete and an undercount, since they rely on passive surveillance. But there is no evidence to support the claim that the federal agency is attempting to hide or manipulate the data to misrepresent the effectiveness of the vaccine.
State health agencies report their data to the CDC, which is then published to its REDCap database, an internal data-management platform that can be accessed by public health officials.
"CDC has many surveillance systems in place to look at complications of COVID-19," Nordlund said in the email. "This is not the only system that gives CDC an opportunity to look at the performance of the vaccines in different populations, settings, and the impact of variants."
Nordlund told PolitiFact that states can continue reporting any kind of breakthrough infection to the federal government, regardless of severity. But the agency's priority will be on learning more about how vaccinated individuals develop serious illness from COVID-19.
As of May 18, CDC data indicates that about 48% (nearly 160 million people) of the U.S. population has received at least one dose of a COVID-19 vaccine, while about 38% are fully vaccinated as of May 17.
Our ruling
A Facebook post says a new CDC tracking policy is meant to cover up cases of breakthrough COVID-19 infections among vaccinated people.
Under the new policy, the CDC is monitoring only the breakthrough COVID-19 cases that involve hospitalization or death. The agency says the change is meant to provide more researchers more meaningful data about the cases it's most concerned about.
There is no evidence the agency is attempting to hide or misrepresent its own data about the effectiveness of the vaccines.
We rate this claim False.
RELATED: No, the death rate for vaccinated people is not higher than that of unvaccinated people
Twitter post, May 10, 2021
Facebook post, May 16, 2021
Email interview with CDC spokesperson Kristen Nordlund, May 17, 2021
Phone interview with Nordlund, May 19, 2021
Centers for Disease Control and Prevention, COVID-19 Breakthrough Case Investigations and Reporting, accessed May 13, 2021
CDC, What You Should Know About the Possibility of COVID-19 Illness After Vaccination, updated April 21, 2021 and accessed May 13, 2021
Browse the Truth-O-Meter
More by Michael Majchrowicz
Support independent fact-checking.
Become a member!
In a world of wild talk and fake news, help us stand up for the facts.