Stand up for the facts!
Our only agenda is to publish the truth so you can be an informed participant in democracy.
We need your help.
I would like to contribute
Product shortages are manufactured; goods are stuck in warehouses.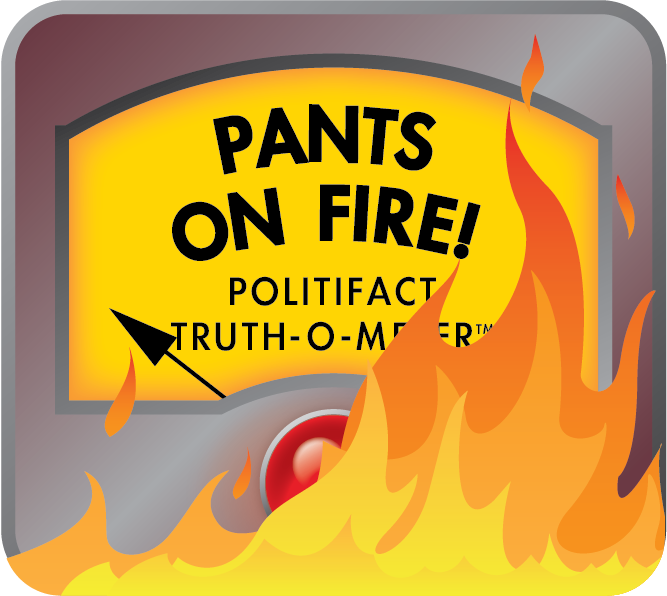 Supply chain problems are real, not manufactured
If Your Time is short
Many problems are contributing to product shortages, including fewer workers throughout the supply chain and a shortage of raw materials. These challenges are faced by businesses around the world.

Other factors affecting the supply chain include the COVID-19 pandemic, cyber attacks, and dramatic weather events.
A TikTok video that has been viewed nearly a half-million times claims that there is no supply shortage, and that problems getting goods to American consumers are manufactured. 
In a clip from "The Stew Peters Show," a conservative internet broadcast, a man claiming to work in the Port of Los Angeles says that the port workers have broken productivity records, and there is no shortage of goods. 
"The goods are in the warehouses," said the man, whose identity was concealed. "There is no shortage."
Host Stew Peters asks him if the shortage is manufactured. 
"It has to be," the man says. "There's no explanation. Because when we're working this hard getting that much tonnage out, that means it's going somewhere. But if it's not getting to the people it's stopping somewhere. I think it's stopping at the ... supply warehouses, that's the only place it could be."
TikTok identified this video, which was posted on Oct. 24, as part of its efforts to counter inauthentic, misleading or false content. (Read more about PolitiFact's partnership with TikTok.)
The supply chain problems are real, resulting in empty store shelves and predictions that holiday shoppers will have trouble finding every gift on their list. There's no evidence that the crisis is fabricated.
And despite what the man in the video claims, there are explanations for these problems that go beyond what may be happening at one seaport.
The problems getting goods to consumers have been the subject of congressional hearings and presidential announcements. The causes are complex and multifaceted, according to reports from the ground at these ports, explanations from people who work along the supply chain and information from experts. 
In a widely shared Medium essay, union truck driver Ryan Johnson explains several problems in the supply chain, based on his experience. He describes how long wait times for truck drivers at the ports to pick up freight discourage independent drivers, who are not paid by the hour, from going to the ports at all, because it is not cost-effective. A shortage of warehouse workers means that it takes longer to make pickups at warehouses — three or four hours instead of 20 or 30 minutes. 
"It means that as a freight driver, I cannot pick up as much freight in a day as I used to, and since I can't get as much freight on my truck, the whole supply chain is backed up," wrote Johnson, who lives in Washington state and has been a truck driver for 20 years. "Freight simply isn't moving." 
Debra Glassman, a professor at the University of Washington who teaches finance and business economics, said that the cargo unloading at the port described in the video is just one link in the supply chain. 
"It is entirely possible that some goods have moved into warehouses and are stuck there waiting for transportation to retailers or customers," Glassman said. "There is a shortage of truckers that has slowed transportation and delivery. This is a real problem, not a 'manufactured' one. There are a lot of reasons for the trucker shortage, including an aging workforce, difficult working conditions, and relatively low pay. So my conclusion is that goods could be stuck in warehouses for genuine supply chain reasons."
According to an executive at a Minnesota candy manufacturer, a shortage of trained and available workers is the biggest disruption to her supply chain, but not the only one. Christine Lantinen, owner of Maud Borup Inc., told federal lawmakers in October that the cost to ship a standard 40-foot shipping container rose from about $4,300 to $30,000 between August 2020 and August 2021.
Patrick Penfield, professor of supply chain practice at Syracuse University, said the supply chain became more complex and strained as companies tried to cut costs. Now, we have what Penfield considers a "global supply chain in crisis."  
In an interview on C-SPAN, Penfield said there is a shortage of base materials, such as chemicals and semiconductor chips, and lead times are getting longer. For example, shipping goods from China used to take 30 or 35 days, and now takes 73 days. Those delays are compounded by congestion at the ports, ships waiting to be unloaded, a lack of warehouse space, and a worker shortage. 
There were problems before the pandemic, Penfield said, but the pandemic has been the big contributor to the current problems, along with weather events and cyber attacks. 
The problems are not confined to the United States. Daniel Maffei, chairman of the Federal Maritime Commission, told a congressional panel in June that congestion, reliability and cost issues are problems worldwide for ports, businesses and transportation networks linked to oceans.   
Maffei also said that while shipping containers stacked high at ports make for dramatic photos, there are problems throughout the supply chain. "Outdated infrastructure, equipment and labor shortages, railroad issues, and limited warehousing all diminish our capacity to move containers," he said. 
PolitiFact looked at several claims that aim to assign blame for the supply shortages, and found that many interconnecting factors affect the supply chain. The coronavirus is restricting capacity at Asian factories, major weather events like hurricanes are disrupting shipping, and shipping containers and raw materials are in short supply. Retirements have also led to a shortage of truck drivers.   
We reached out to "The Stew Peters Show," and a representative declined to provide evidence for this claim. 
Our ruling
A TikTok video claims that workers at ports efficiently getting goods off of container ships shows that the shortages of goods are manufactured. 
Experts and people who work in industry said that there are real problems throughout the supply chain, worldwide. While some goods may be sitting in warehouses because they are not being processed quickly, the issues disrupting the flow of goods to consumers go beyond that to include labor shortages at various points in the supply chain, as well as a shortage of raw materials and rising transportation prices. 
This is not a manufactured crisis. 
We rate this claim Pants on Fire! 
TikTok video, clip of "The Stew Peters Show," Oct. 24, 2021.
PBS, video, "Biden delivers remarks on deal to make LA port a 24-hour operation," Oct. 13, 2021. Accessed Nov. 2, 2021.
Emailed statement, Debra Glassman, teaching professor of finance and business economics, Foster School of Business, University of Washington, Nov. 3, 2021.
New York Times, article, "'It's Not Sustainable': What America's Port Crisis Looks Like Up Close," Oct. 10, 2021. Accessed Nov. 2, 2021.
Medium, essay, "I'm A Twenty Year Truck Driver, I Will Tell You Why America's "Shipping Crisis" Will Not End," Ryan Johnson, Oct. 27, 2021. Accessed Nov. 2, 2021.
Testimony for House Small Business Subcommittee on Oversight, Investigations, and Regulations, Hearing on "Global Supply Chains and Small Business Trade Challenges," Christine Lantinen, president/owner, Maud Borup Inc., Oct. 20, 2021. Accessed Nov. 2, 2021.
C-SPAN, Washington Journal interview with Patrick Penfield, professor of supply chain practice at Whitman School of Management, Syracuse University, Oct. 18, 2021. Accessed Nov. 3, 2021.
Testimony of Daniel B. Maffei, chairman of the Federal Maritime Commission, for the House Committee on Transportation and Infrastructure Subcommittee on Coast Guard and Maritime Transportation, June 15, 2021. Accessed Nov. 3, 2021.
Email interview, Ray Dietrich, co-founder and CEO, Red Voice Media, "The Stew Peters Show," Nov. 3, 2021.
PolitiFact, "High prices and depleted shelves: Here's why the supply chain is a mess — and will be for a while," Oct. 15, 2021. Accessed Nov. 2, 2021.
Email, Jason Call, friend of Medium essay author Ryan Johnson, Nov. 3, 2021.
Browse the Truth-O-Meter
More by Jill Terreri Ramos
Support independent fact-checking.
Become a member!
In a world of wild talk and fake news, help us stand up for the facts.