Get PolitiFact in your inbox.
"Within two years, there were two 500-year (storm) events" in Wisconsin.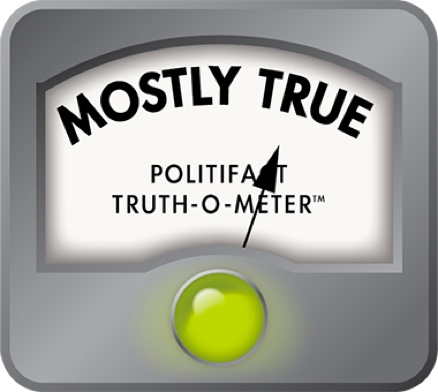 Wisconsin has seen more than two 500-year storm events within the last several years
If Your Time is short
Wisconsin's northern most counties were pummeled by storms that rose to the level of 500-year events in 2016 and 2018

But those storms weren't the only events to rise to that level within the same period of time.
In July 2016, northern Wisconsin was battered by severe storms that devastated the area. 
The storms led to flash flooding, which overwhelmed small creeks and rivers and washed out roads. Culverts overflowed along rural roads, with the water damage leaving them no longer drivable. 
More than 80 boats were damaged or destroyed in Saxon Harbor, where the heavy rainfall caused flooding that almost washed away boat slips and trees, and pipes and cement culverts up from the ground, according to a July 2016 report from the Milwaukee Journal Sentinel. 
Rainfall totals reached 14 inches in some parts of the Northwoods. A broad swath of destruction lingered for years in its path, according to a July 2021 report from the Wausau Daily Herald. 
In June 2018, heavy rains pummeled the Northwoods again, dropping 10 or more inches of rain in some areas, according to the National Weather Service. 
U.S. Sen. Tammy Baldwin, D-Wisconsin, cited the two storms in a Nov. 6, 2021 panel discussion at the United Nations Climate Change conference, highlighting how unusually  strong the storms have gotten in Wisconsin since she took office. 
"Within two years, there were two 500-year events," she said. 
But were the storms really that strong? 
500-year storms have nothing to do with history 
First, let's take a look at what a 500-year storm is. It has nothing to do with five centuries of history.
A 500-year storm is an event with a 1-in-500 chance of occurring, according to the United States Geological Survey, or an annual probability of occurrence of around .2%. 
That is, it's just a way of defining the statistical probability of a severe storm. For instance, just because there were 11 inches of rain in one day in one year, doesn't mean that Wisconsin won't see 11 inches of rain in one day again for another 500 years. 
In theory, these types of events with such low statistical probabilities are rare, meaning that it might not make sense for cities, engineers and others to plan around the possibility of them happening -- though that is being rethought, as 500-year storms and floods are happening more often due to climate change, according to an August 2017 report from Vox. 
When we asked Baldwin's team about her claim that the storms were both 500-year events, they sent a host of links from the National Weather Service with data from both events. 
According to the data, the 2016 storm did indeed reach the threshold for a 500-year storm in some places, including the community of Saxon Harbor. In other places, the storm reached even higher thresholds. 
The storms that pummelled the area in 2018 also reached similar thresholds, with some areas sustaining 500-year rainfalls or higher, according to the NWS. 
But the Northwoods aren't the only area where severe storms have risen to the same 500-year level. Storms in southern parts of the state around the same time also met that definition. 
So, Baldwin is a bit off -- though in a way that actually reinforces the point she was making.
Daniel Vimont, a professor of atmospheric and oceanic science at the University of Wisconsin-Madison, said Madison received more than 11 inches of rain on August 21 2018. The threshold for a 500-year rainfall within 24 hours is 9.5 inches.  
Then on Aug. 28, 2018, Cashton received over 10 inches of rain within 24 hours, which again rose to the level of a 500-year storm. 
Our ruling 
Baldwin claimed that since she took office, two "500-year" storm events occurred in northern Wisconsin. 
Data from the National Weather Service shows that 500-year storms did indeed strike the northernmost counties in Wisconsin in 2016 and 2018, overwhelming creeks and rivers. 
But storms in Cashton and Madison in 2018 lso rose to the same level, meaning that there have been more than two such storms within two years in the state. 
So Baldwin actually undershot the number of high-impact storms within the state between 2016 and 2018.
We rate this claim Mostly True.
Milwaukee Journal Sentinel, "Torrential rains wash out Northwoods roads and bridges, swamp harbor," July 12, 2016
National Weather Service, "Major June Flooding in the Northland," Nov. 16, 2021
Tammy Baldwin, Twitter, Nov. 6, 2021
Wausau Daily Herald, "A devastating flood and storm destroyed Saxon Harbor on Lake Superior. Supporters banded together to rebuild it," July 20, 2021
United States Geological Service, "The 100-year flood," Nov. 16, 2021
Vox, "The '500-year' flood, explained," August 28, 2017
National Weather Service, "Northern Wisconsin, 11-12 July 2016," Nov. 16, 2021
National Weather Service, "Northern Wisconsin, 14-18 June 2018," Nov. 16, 2021
Email conversation with Daniel Vimont, Nov. 15, 2021
Browse the Truth-O-Meter
More by Laura Schulte
Support independent fact-checking.
Become a member!
In a world of wild talk and fake news, help us stand up for the facts.