Stand up for the facts!
Our only agenda is to publish the truth so you can be an informed participant in democracy.
We need your help.
I would like to contribute
Dave McCormick is "liberal, pro-Biden, pro-China."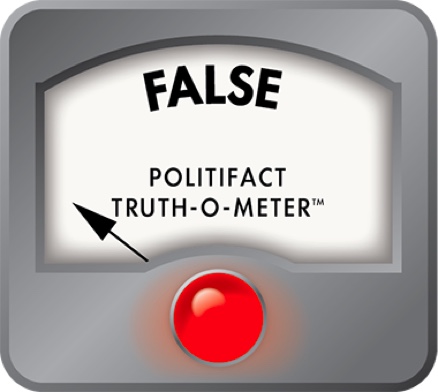 Dr. Oz misses the facts in calling GOP Senate rival McCormick liberal and supportive of Biden, China
If Your Time is short
McCormick served in the Bush administration and has staked out conservative positions.

McCormick has been highly critical of Biden.

The hedge fund McCormick led until January has invested heavily in China; McCormick in the late 2000s praised China's economic growth and touted the benefits of U.S. access to the Chinese market, but also raised concerns.

McCormick has campaigned attacking China.
Dr. Mehmet Oz wants voters to know that he is the genuine conservative in the race for Pennsylvania's U.S. Senate.
In a recent TV ad, Oz touted his endorsement from former President Donald Trump as proof of his GOP credentials and then attacked his rival, Dave McCormick, as being on the opposite end of the political scale.
Trump endorsed Oz, says the narrator in the 30-second spot, "because Trump knows who the real conservative is who's going to shake up Washington. It's not David McCormick, the liberal, pro-Biden, pro-China Wall Street insider."
Leaving aside questions about Oz's own credentials as a conservative, the physician and TV personality misfired in his attempt to brand the former hedge fund CEO as liberal and pro-Biden. McCormick's history with China is more nuanced, but his campaign rhetoric is not friendly to China.
'Liberal' tag belies conservative policies, backers
McCormick is not running as a liberal and has worked for a Republican president.
McCormick served in senior posts in the Bush administration at the Commerce Department, the Treasury Department and the White House. He is married to Dina Powell, who was Trump's deputy national security adviser.
McCormick's core policies include encouraging coal mining and natural gas; toughening immigration enforcement, including building Trump's border wall; opposing vaccine mandates; and enacting voter ID requirements. 
McCormick has a roster of conservative key backers. They include Sen. Ted Cruz, R-Texas, former Trump Secretary of State Mike Pompeo, and Sarah Huckabee Sanders, the former Trump White House press secretary and current GOP candidate for Arkansas governor. McCormick's campaign has hired former Trump White House aides Stephen Miller and Hope Hicks.
McCormick not 'pro-Biden'
McCormick on his campaign website blasts Biden for the highest inflation in 40 years, for "open border policies" and "foreign policy blunders," including the U.S. withdrawal from Afghanistan. On COVID-19 mandates, McCormick says that unlike Biden, he "trusts the American people and stands for personal freedom."
On the campaign trail, McCormick claimed, in reference to the Afghanistan withdrawal, that "the Biden administration's bureaucracy and incompetence led to one of the most calamitous blunders on the world stage in history."
In a broader attack, McCormick praised Trump and claimed that Biden "managed to squander" low gas prices, an economic recovery and more "inherited" from Trump. McCormick also criticized Biden after he delivered his State of the Union address in March. 
On April 15, McCormick told Fox Business that Biden has a "socialist agenda" and a "war on energy."  
McCormick and China
Oz's campaign did not reply to our requests for information to back the ad's claim that McCormick is "pro-China." But a January Oz ad attacking McCormick on China cited a November Wall Street Journal report that said Bridgewater Associates, where McCormick was CEO, had "raised the equivalent of $1.25 billion for its third investment fund in China."
The New York Times reported in January that when McCormick announced he would step down as CEO to run for the Senate, his company's fund managed roughly $1.5 billion on behalf of Chinese investors.
In a review of his speeches, comments and essays, as both a public official and private citizen, the Philadelphia Inquirer reported that McCormick in the late 2000s praised China's economic growth and touted the benefits of U.S. access to a vast, rising market.
For example, in a speech at Peking University in Beijing in 2007, McCormick spoke about "the huge interest each of our countries has in the continued growth and prosperity of the other. When China succeeds, the United States succeeds."
But McCormick has also raised concerns about the nation's influence, writing in 2006 that "China's emergence as a major economic power is one of the most significant developments of the 21st century, requiring a thorough review of U.S. policy." He called for "targeted controls" on U.S. exports to China to prevent helping China expand its military in ways that threaten U.S. interests.
And as far as McCormick's campaign rhetoric goes, it has not been "pro-China."
In January, on the day he entered the Senate race, McCormick wrote an opinion column saying "it is past time for America's leaders to confront head-on the Chinese Communist Party (CCP), which poses the greatest economic and national security threat to the United States….I will do everything in my power to end our dependence on China, protect our communities and our jobs, counter their attempts to reshape the world in their authoritarian image, and ensure America remains the world's unrivaled military and economic superpower."
On his campaign website, McCormick advocates for "moving critical supply chains out of China and bringing manufacturing jobs back home; protecting American jobs and intellectual property; sanctioning China for its crimes, including trafficking fentanyl into the U.S"; and "seeking reparations" for COVID-19.
McCormick's campaign also referred us to another website paid for by the campaign that refutes what it calls lies about McCormick and China. 
One section says that during the 2008 financial crisis, McCormick said that because both the U.S. and Chinese economies had major financial interests in avoiding a global economic collapse, China was behaving like "a responsible participant and ally" in dealing with the financial crisis. But McCormick did not say China was an ally of the United States generally in other broader matters.
McCormick also ran a campaign ad falsely claiming that China created COVID-19. "It's time to make them pay for it," his ad said. 
Contest could help decide Senate control
The Pennsylvania race is for the seat held by Republican Pat Toomey, who was first elected in 2010 and decided not to seek re-election. 
Besides McCormick and Oz, the major Republican candidates are commentator Kathy Barnette, real estate developer Jeff Bartos, Philadelphia attorney George Bochetto and Carla Sands, who served as Trump's ambassador to Denmark. 
The Real Clear Politics polling average shows McCormick in the lead by 4.2 percentage points over Oz. 
The leading Democratic candidates are Lt. Gov. John Fetterman, state Rep. Malcolm Kenyatta and U.S. Rep.  Conor Lamb.
The primaries are May 17.
Overall, the Nov. 8 general election race is rated as a toss-up and as "tilts Republican." The outcome could help determine which party controls the Senate, now split 50-50.
Our ruling
Oz said in an ad that McCormick is "liberal, pro-Biden, pro-China."
McCormick touts a conservative agenda and has been harshly critical of Biden. McCormick has had some more conciliatory things to say about China in the past, but even that was tempered with comments of concern. He is campaigning on standing up to China, including launching his race with a promise to end U.S. dependence on China.
We rate this claim False.
RELATED: Dr. Oz claimed that GOP Senate rival McCormick 'bragged' about offshoring jobs. That lacks evidence
RELATED: No proof for Dr. Oz's claim that Pa. GOP Senate rival Dave McCormick 'paid for attacks' on Trump
RELATED: No evidence for Senate hopeful McCormick's claim that China created COVID-19
RELATED: In Pa. Senate run, Dr. Oz casts self as pro-Second Amendment, but he has backed gun-control measures
RELATED: The race for the Pennsylvania U.S. Senate seat: A guide
RELATED: 2022 candidates use ads vowing to be tough on China, or attacking rivals as too soft on China
YouTube, Mehmet Oz "President Trump endorses Dr. Oz" ad, April 12, 2022
Email, Dave McCormick campaign spokesperson Jess Szymanski, April 18, 2022
Financial Times, "Don't use exports to China to develop military," June 8, 2006
PolitiFact, "The race for the Pennsylvania U.S. Senate seat: A guide," April 1, 2022
PolitiFact, "No evidence for Senate hopeful McCormick's claim that China created COVID-19," Feb. 11, 2022
PolitiFact, "2022 candidates use ads vowing to be tough on China, or attacking rivals as too soft on China," March 3, 2022
Fox Business, "David McCormick on GOP Pennsylvania Senate battle: 'I am running as an America-first conservative,'" April 15, 2022
Fox Business, "Time for America's leaders to confront China's Communist Party head on," Jan. 13, 2022
FactCheck.org, "Ads Attacking Dave McCormick," March 17, 2022
U.S. Treasury Department, "Remarks Prepared for Delivery by Under Secretary McCormick Peking University on Rebalancing the U.S.-China Economic Relationship," Sept. 20, 2007
Wall Street Journal, "Ray Dalio's Bridgewater Raises $1.25 Billion for Its Largest China Fund Yet," Nov. 24, 2021
Wall Street Journal, "U.S. Official Calls China an 'Ally' in Financial Crisis," Oct. 22, 2008
New York Times, "Bridgewater, World's Largest Hedge Fund, Names New Chief Executives," Jan. 3, 2022
DaveMcCormickPA.com, "On the issues," accessed April 18, 2022
DaveMcCormickPA.com, news release, Feb. 2, 2022
DaveMcCormickPA.com, news release, Jan. 28, 2022
DaveMcCormickPA.com, news release, March 1, 2022
PaSenateFacts.com, accessed April 18, 2022
Philadelphia Inquirer, "David McCormick's longtime praise for China and trade could bite his Pa. Senate run," Feb. 8, 2022
YouTube, Mehmet Oz's "David McCormick China's Friend Not Ours" ad, Jan 31, 2022
Browse the Truth-O-Meter
More by Tom Kertscher
Support independent fact-checking.
Become a member!
In a world of wild talk and fake news, help us stand up for the facts.