Get PolitiFact in your inbox.
Fires at food processing plants are an "attempt to starve us."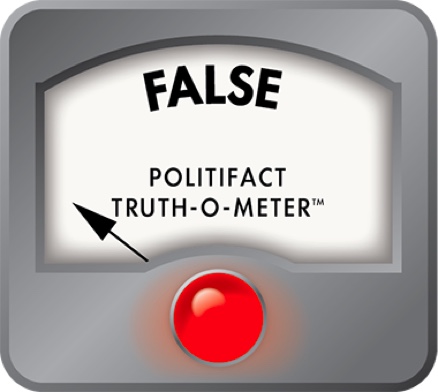 No, food-plant fires aren't attempt to create food shortages
If Your Time is short
There's no evidence that a string of fires at food processing plants is intentional.

The U.S. Department of Agriculture said there is currently no food shortage or disruption of the food supply in the country.
Recent fires at food processing plants across the United States have sparked several conspiracy theories that someone is setting them intentionally in order to hasten a food shortage.
"None of the other scams worked, so now they'll attempt to starve us," read an April 21 Facebook post. It shared a screenshot of a tweet that notes an "odd coincidence" that "18 U.S. food processing facilities burned down in the last six months."
The post was flagged as part of Facebook's efforts to combat false news and misinformation on its News Feed. (Read more about our partnership with Facebook.) 
Knowing the facts has never been more important. Please consider donating to PolitiFact today.
Here's what we know about the fires
• A fire destroyed the headquarters of Azure Standard, a distributor of organic food in Dufur, Oregon. The cause of the fire is still under investigation, the company said in a press release on April 19. It said a few product lines may be affected, but the impact on operations should be "limited and temporary."
• A fire destroyed a Taylor Farms Processing Facility in Salinas, California, on April 13. The company produces and distributes wholesale salad products and will now shift production to its Arizona facility. The company's CEO told KSBW Action News that it plans to rebuild the facility and that the fire was likely the result of a welding accident. 
• An April 12 fire destroyed the East Conway Beef & Pork butcher shop and slaughterhouse in Conway, New Hampshire. The cause of the blaze is still under investigation as of April 22, according to the New Hampshire State Fire Marshal's office.
• A fire that destroyed the Penobscot McCrum potato processing plant in Belfast, Maine, on March 24 was accidental, the Associated Press reported. Officials believe it started in a large deep-frying machine, according to the Portland Press-Herald.
• A March 16 fire caused extensive damage to a new production line dedicated to Hot Pockets at a Nestle plant in Jonesboro, Arkansas. But that fire was not the result of foul play or anything suspicious, but rather a welding accident, Jonesboro Fire Chief Kevin Miller said.
• A propane boiler explosion caused a fire that destroyed the Shearer's Foods potato chip plant in northeast Oregon on Feb. 22. It's not clear if the company will rebuild there, but its website said that it has 12 production plants.
• A fire destroyed a building that used to be the home of the Bonanza Meat Co. in El Paso, Texas, on Feb. 15. The building had been vacant for several years, according to a local CBS affiliate.
• A fire destroyed part of the Wisconsin River Meats site in Mauston on Feb. 3. The business serves as a meat processor for farmers, livestock producers and hunters in the region, and also has a retail shop. The cause of that blaze was construction-related, David Mauer, the company's vice president and owner, told PolitiFact. The company was fulfilling pickup orders at its warehouse three days later and opened a new storefront on April 21.
• An explosion and fire damaged the Cargill-Nutrena plant in Lecompte, Louisiana, on Jan. 13. Cargill-Nutrena did not return a request for comment and it's not clear if the site, which produces animal feed, had to halt production.
• A fire did extensive damage to a poultry processing plant in Hamilton, Ontario, on Jan. 6, according to CHCH-TV. The cause of the blaze wasn't clear from news reports. We reached out to Hamilton fire officials for comment but have not heard back.
• A food processing plant in San Antonio, Texas, suffered about $100,000 in smoke damage, mostly to food, after a cooler was found on fire on Dec. 13, 2021, according to KSAT-12 news.
• A Nov. 29, 2021, fire at the Maid-Rite Steak Company meat processing plant in Scott Township, Lackawanna County, Pennsylvania, was determined by fire officials to be an accident, according to Fox56 News. The plant was left inoperable and some products that were only produced there are no longer available, the company, which has other plants, said on its website.
• A fire at the JVS USA beef processing plant in Grand Island, Nebraska, on Sept, 12, 2021, only halted production for one day. The cause of the fire was determined to be from a heater near the roof in the rendering area of the plant, according to Drovers, a beef industry trade publication.
• A fire temporarily closed Patak Meat Products in Cobb County, Georgia, on Aug. 23, 2021. No foul play was suspected, officials said. The company said on Facebook in March that it is still rebuilding, but is open for business.
• A fire broke out at Tyson's River Valley Ingredients rendering plant, which produces animal feed, in Hanceville, Alabama, on July 31, 2021. That blaze appeared to start with grease and animal by-products, the town's mayor told the Cullman Tribune. Tyson announced on April 18, 2022, that it is building a new $208 million plant near the one lost in the blaze.
• A fire that damaged a Kellogg's plant in Memphis, Tennessee, on July 25, 2021, was accidentally sparked when a malfunctioning conveyer belt sparked a blaze in a rice drying machine, fire officials said. We reached out to Kellogg's to find the effect on production at the plant, but did not receive a response.
• A fire at the Smithfield Foods pork processing plant in Monmouth, Illinois, on April 30, 2021, caused "not a lot of damage" to the building, according to a local news report. A spokesperson for the Illinois State Fire Marshal said the fire was accidental and no foul play was suspected. He also said the office has not noticed any trends in fires at meat packing sites in the state.
• A Jan. 11, 2021, fire destroyed the Deli Star meat processing plant in Fayetteville, Illinois. No foul play was suspected in that fire, according to the St. Louis Post-Dispatch. A replacement facility is set to open in 2022.
Our ruling
A Facebook post alleges that fires at 18 food processing plants in the past six months are the result of an intentional attempt to "starve" Americans.
But of the 18 fires listed, 12 were ruled accidental, two are still officially under investigation, and no official cause has been announced on three others. One was in Canada. One was at a vacant building. And 12 happened in the past six months.
There is no evidence that any of the fires were intentional. There also is no evidence that these fires have resulted in a food shortage crisis in the U.S. that could lead to starvation. We rate this claim False.
UPDATE, April 28, 2022: This story has been updated with additional information on the Smithfield Foods fire, which was determined to be accidental. The rating is unchanged. 
Facebook post (archived), April 21, 2022
Wall Street Silver, tweet, April 20, 2022
Email exchange with Jonesboro Fire Department Chief Kevin Miller, April 21, 2022
Email exchange with Brian Allard, assistant director of New Hampshire State Fire Marshal's Office, April 22, 2022
Email exchange with David Mauer, vice president and CEO of Wisconsin River Meats, April 21, 2022
Email exchange with Tom Super, senior vice president of communications at the National Chicken Council, April 25, 2022
Emailed statement from the American Association of Meat Processors, April 25, 2022
East Idaho News, "Pilot killed in plane crash was 'adventurous, beautiful' woman who 'brightened the room with her smile,'" April 14, 2022
USA Today, "Two killed after plane crashes near Georgia General Mills factory," April 22, 2022
PolitiFact, "Looming food shortages? Probably not in the US," April 18, 2022
Reuters, "JBS plans to reopen Nebraska beef plant damaged in fire," Sept. 13, 2021
Drovers, "Cause of JBS Fire Determined," Sept. 20, 2021
Food Manufacturing, "Fire Shutters Arkansas Nestle Frozen Foods Plant," March 22, 2022
KNOE-8 (CBS), "Nestle fire under investigation, 'malicious intent' not suspected," March 18, 2022
Atlanta Journal Constitution, "Fire severely damages family-owned Cobb meat company," Aug.24, 2021
Patak Meats, Facebook post, Dec. 15, 2021
Patak Meats, Facebook post, March 4, 2022
Cobb County Fire & Emergency Services, Facebook post, Aug. 24, 2021
Azure Standard, press release, April 19, 2022
North American Meat Institute, "Facts on Common Beef Market Myths"
University of Nebraska Lincoln, "A Historical Perspective on the Holcomb Fire: Differences and Similarities to the COVID-19 Situation and Other Significant Market Events," Sept. 11, 2020
Fox-56 Wolf, "Multiple crews work to extinguish accidental fire at meat processing plant," Nov. 29, 2021
Maid-Rite Speciality Foods, letter to customers, Jan. 25, 2022
KSBW Action News, "Taylor Farms CEO plans to rebuild, claims no ammonia leak," April 15, 2022
The Conway Daily Sun, "Fire Destroys East Conway butcher shop," April 12, 2022
Wisconsin River Meats, Facebook post, April 21, 2022
Wisconsin River Meats, Facebook post, Feb. 6, 2022
WKOW, "Wisconsin River Meats open for business after a near total loss," Feb. 5, 2022
St. Louis Post-Dispatch, "Fire destroys Deli Star meat plant in St. Clair County," Jan. 12, 202
Deli Star Corporation, Facebook post, Feg. 23, 2022
Oregon Live, "Employees laid off after fire guts Oregon potato chip plant," March 9, 2022
AL.com, "Tyson Foods announces $208 million Hanceville facility," April 18, 2022
WVTM-13 (NBC), "Large fire at Tyson poultry meal plant in Hanceville, Alabama," July 31, 2021
KSAT-12, "West Side food processing plant left with smoke damage after fire, SAFD says," Dec. 13, 2021
Portland Press-Herald, "Fire at Belfast potato processing factory prompts evacuations, school and road closures," March 24, 2022.
Associated Press, "Fire that destroyed Maine potato plant was accidental," March 31, 2022
CHCH-TV, "Crews battle 'stubborn fire' on Hamilton Mountain, damage in the millions," Jan. 7, 2022
ABC-24, "3-alarm fire at Kellogg plant, 170 emergency personnel responded to the call," July 25, 2021
Cullman Tribune, "Building in flames at Tyson/River Valley Ingredients plant near Hanceville," July 31, 2021
Browse the Truth-O-Meter
More by Jeff Cercone
Support independent fact-checking.
Become a member!
In a world of wild talk and fake news, help us stand up for the facts.