Stand up for the facts!
Our only agenda is to publish the truth so you can be an informed participant in democracy.
We need your help.
I would like to contribute
In 2020, "250,000 ballots were manufactured" in Georgia and "Biden was given win" by Secretary of State Brad Raffensperger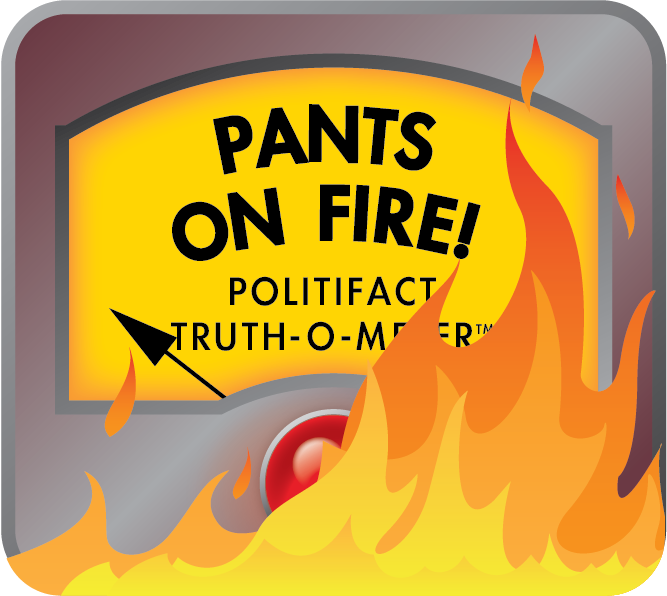 Gateway Pundit distorts unofficial Georgia 2020 results
If Your Time is short
Results the morning after Election Day in Georgia showed that Donald Trump was ahead of Joe Biden. But the state's election results website had a disclaimer that the results were unofficial and may not include all absentee and provisional ballots.

Election experts say that particularly in states where the results are close, the initial winner may not be the final winner and unofficial results are not the final results.

Days after Election Day, as more ballots were counted in Georgia, the results flipped to Biden. This was not a sign of fraud.
The midterms are about 100 days away, but allies of former President Donald Trump continue to promote false theories that election workers in key states shuffled Trump's votes to President Joe Biden in 2020. That did not happen.
Many of the falsehoods zero in on Georgia, where Biden won by about 12,000 votes. Secretary of State Brad Raffensperger, a Republican, has defended the security of the election. 
A July 22 headline on the website Gateway Pundit, which has promoted election misinformation, said: "SHOCKING: On November 4th, 2020, Georgia showed 100% reporting and TRUMP WON – then 250,000 ballots were manufactured and Biden was given win by Raffensperger days later."
The article was flagged as part of Facebook's efforts to combat false news and misinformation on its News Feed. (Read more about our partnership with Facebook.) 
The Gateway Pundit's headline attributed the information to Voter GA, a group led by Garland Favorito, who filed a lawsuit alleging counterfeit ballots were used in Fulton County in 2020. State investigators were unable to substantiate the allegations, and a judge dismissed the lawsuit. 
Trump and his allies have attacked Raffensperger because he refused to go along with Trump's pleas to "find" him more votes. Raffensperger defeated a Trump-backed candidate in the state's May primary and will face Democratic state Rep. Bee Nguyen in November.
Results the morning after election are unofficial, don't include all ballots
The gist of these claims stems from a brief interview Raffensperger gave to "Today" on Nov. 4, 2020, the morning after the election. Raffensperger told the show that his state still had "about two percent" left to count out of 4.7 million votes. "I don't think it will change any of the outcomes," he said, adding that he would leave speculation to people who predict elections. 
As "Today" displayed a graphic showing Trump was ahead in Georgia by about 100,000 votes, MSNBC's Chuck Todd noted that they still had to count some ballots in areas favorable to Democrats.
Later that morning, Raffensperger told reporters that there were 200,000 ballots left to count, including absentee and early votes. 
On the morning of Nov. 4, the state's website for election results showed Trump was ahead. But there results from 13 precincts were still uncounted. A disclaimer at the top of the page stated: "Unofficial results — totals may not include all absentees or provisional ballots." 
That disclaimer is key, particularly in 2020, when voting by mail proved popular because of COVID-19.
Later in the week, the state website showed all precincts had been counted. Even then, the website still had the disclaimer about absentee and provisional ballots. 
Trump's lead shrank as more ballots were counted. By Nov. 6, 2020, the unofficial showed Biden had narrowly pulled ahead.
The Associated Press didn't call Georgia for Biden until about two weeks after Election Day as it waited for the results of another count.
When the final results were certified on Nov. 20, Biden won Georgia by about 12,000 votes. 
The Gateway Pundit article repeatedly and wrongly refers to Raffensperger as "corrupt." If a state election official "manufactured" ballots, that would be a crime. More than 20 months after Election Day, no court, law enforcement agency or election office has found such evidence. It also defies logic that Raffensperger, a Republican, would participate in a felonious scheme to help a Democrat win the presidency.
In leaked audio released by Mother Jones earlier this month, former Trump adviser Steve Bannon is heard telling associates in October 2020 that Trump was aware that the slow counting of mail-in ballots would mean the returns would likely show early Trump leads in key states.
"What Trump's gonna do is just declare victory. Right? He's gonna declare victory. But that doesn't mean he's a winner," Bannon is heard saying. 
Georgia's results were affirmed by three separate counts.
PolitiFact was one of many news outlets before the 2020 election that told voters to be patient while awaiting results and that early winners may not be the final winners. State laws include timelines for officials to count ballots, including by mail, provisionals and overseas ballots. Those same lessons about not leaping to conclusions about partial or unofficial results apply to the midterms. 
Our ruling
The Gateway Pundit wrote that in 2020, "250,000 ballots were manufactured" and the Georgia secretary of state, Raffensperger, improperly awarded the state to Joe Biden. 
The article relies on unofficial results released the morning after Election Day to suggest a criminal intervention on Biden's behalf. What really happened was that the total number of ballots for Biden grew as they were counted, flipping the state's electoral votes from Trump to Biden. This is not a sign of "manufactured" ballots; it is a sign that it takes time for election officials to lawfully count all ballots. Raffensperger followed the law in certifying those final results.
We rate this statement Pants on Fire!
RELATED: Trump's Pants on Fire distortion about Georgia's voter rolls
RELATED: All of our fact-checks about Georgia
RELATED: All of our fact-checks about elections
RELATED: Georgia's David Perdue said elections were stolen from him and Trump. Pants on Fire!
Today Show, Interview with Georgia Secretary of State Brad Raffensperger, Nov. 4, 2020
Gateway Pundit, SHOCKING: On November 4th, 2020, Georgia Showed 100% Reporting and TRUMP WON – Then 250,000 Ballots Were Manufactured and Biden Was Given Win by Raffensperger Days Later – Per VoterGA, July 22, 2022
David Cross, Georgia Election Fraud Report 2020, July 16, 2022
Emerald Robinson, VoterGA uncovers massive election fraud in Georgia, July 20, 2022
Atlanta Journal Constitution, AJC poll: Raffensperger leads Ga. elections race after resisting Trump, July 28, 2022
Mother Jones, Leaked audio: Before Election Day, Bannon said Trump planned to falsely claim victory, July 12, 2022
Georgia Public Radio, Secretary of State Addresses Georgia's Election Results, Nov. 4, 2020
Georgia Secretary of State, Results, Last updated Nov. 20, 2020
Browse the Truth-O-Meter
More by Amy Sherman
Support independent fact-checking.
Become a member!
In a world of wild talk and fake news, help us stand up for the facts.