Get PolitiFact in your inbox.
Says Ron Johnson "is supporting the Republican plan that phases out Social Security and Medicare."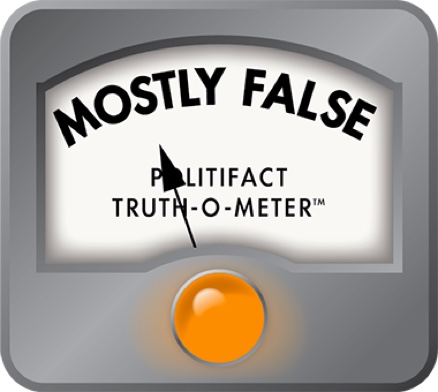 Ron Johnson has not endorsed plan to phase out of Social Security, Medicare
If Your Time is short
Plan proposed by Rick Scott says all federal legislation would sunset after five years – and both programs were created by federal legislation.

But the phasing out Social Security and Medicare are opposed by key Senate leaders

Johnson has voiced general support for Scott's creation of the plan, but says he does not support everything in it.

His staff says Johnson feels these programs should be saved for future generations.
For more than half a century, Social Security and Medicare have been two of the most politically sacrosanct programs in the U.S. 
That means hackles are raised anytime there are any plans, proposals, or allegations that changes are sought for the federal programs. Here in Wisconsin, the issue has come to the fore again, this time in the U.S. Senate race. 
"For over a decade, Ron Johnson has refused to fight for working Wisconsin families," Democratic candidate for U.S. Senate Alex Lasry said in a March 16, 2022 news release. "Now, Ron Johnson is promising that if the GOP takes the majority, they are going to raise taxes on middle class workers and phase out Social Security and Medicare." 
A March 16, 2022 Lasry campaign ad cut to the chase and starkly said: "Ron Johnson supports the new Republican plan that phases out Social Security and Medicare."
Is Johnson "supporting the Republican plan that phases out Social Security and Medicare?" 
The claim falls short from multiple angles.
11-point plan
Lasry, an executive with the Milwaukee Bucks, is among the Democrats hoping to replace Johnson, a Republican seeking a third term in 2022.
We reached out to the Lasry campaign to seek backup information for the claim, but did not receive a response by deadline. However, it's clear the ad is referring to the 11-point "Rescue America" plan released in February 2022 by U.S. Sen. Rick Scott, R-Florida.
Scott is chairman of the Senate GOP's campaign committee. 
Point number six in the plan, covering "Government Reform and Debt," states: "All federal legislation sunsets in 5 years. If a law is worth keeping, Congress can pass it again." 
The proposal does not specifically say Medicare and Social Security would be phased out, but does refer to "federal legislation." And both programs were created generations ago through federal legislation. 
Here is where the claim gets a bit messier.
First, there is dissension among Republicans – notably Senate Majority Leader Mitch McConnell of Kentucky, who opposes key parts of it.
"Let me tell you what would not be a part of our agenda," McConnell said, according to The Associated Press. "We will not have as part of our agenda a bill that raises taxes on half of the American people and sunsets Social Security and Medicare within five years." 
For his part, Johnson in a March 7, 2022 news release said this:
"Senator Rick Scott put forward his proposal that opposes reckless federal spending and intrusive government overreach and supports conservative goals like local control of education, election integrity, religious liberty, and an improved health care system. I think it's important for elected officials to tell their constituents what they are for, and I support Senator Scott for doing so."
But that stopped short of endorsing everything in the package.
"Do I agree with everything on it? No. Most of it. I would have changes in certain things," Johnson said during an interview with the Breitbart Daily News Podcast, according to a March 8, 2022 Milwaukee Journal Sentinel report.
Jake Wilkins, communications director for the Johnson campaign, told PolitiFact Wisconsin that the senator "had repeatedly said we need to save these programs for future generations."
"There is no 'plan' put forward by the Republican Party to eliminate Medicare and Social Security, and Senator Johnson has no idea what Democrats are talking about," Wilkins said.
Johnson's history 
That said, a look at our files shows Johnson has had a mixed history on Social Security and Medicare. 
In 2016, we rated Half True a claim from Americans United for Change that "Ron Johnson calls Social Security a Ponzi scheme and wants to privatize the program." In doing so, we found: "Johnson has expressed support for some form of privatization of Social Security, such as allowing individuals to invest some of their Social Security contributions, but it's not clear that he backs complete privatization." 
Also that year, we rated Mostly True a Democratic Party of Wisconsin claim that "Ron Johnson voted to turn Medicare 'into a voucher program.'" We found that Johnson supported a proposal from then-House Speaker Paul Ryan, R-Janesville. 
Under Ryan's proposal, Medicare would no longer pay fees to health care providers -- instead, Medicare beneficiaries would get a fixed subsidy to use toward their health care.
But neither of those relates directly to the claim at hand.
And on that one, Lasry misses the mark.
Our ruling
Lasry claimed Johnson "is supporting the Republican plan that phases out Social Security and Medicare." 
But the plan is not backed by all Republicans (detractors include the Senate leader), does not directly call for the phase out of either program (it's a generic statement on all laws being sunsetted for review) and Johnson has not endorsed any such phase-out (only the idea of Scott laying out a plan). 
For a statement that contains an element of truth but ignores critical facts that would give a different impression, our rating is Mostly False. 
Email, Jake Wilkins, Ron Johnson campaign, March 17, 2022
News release "LASRY CAMPAIGN GOES BACK ON THE AIR," March 16, 2022
YouTube: Campaign ad Lasry for Wisconsin, March 16, 2022. At 0.10 mark.
Rescue America "An 11-point plan to rescue America"
The Associated Press "Republican 'unforced errors' threaten path to Senate control,"March 7, 2022
U.S. Social Security Administration "Social Security: A Program and Policy History." Nov. 1, 2005.
News release Sen. Ron Johnson, March 7, 2022
National Health Law "1965 – The Medicare and Medicaid Act"
Florida Politics "Rick Scott promotes 11-point plan to 'rescue America' in national TV spot," Feb. 24, 2022.
PolitiFact "Does GOP Wisconsin Sen. Ron Johnson call Social Security a Ponzi scheme and back privatizing it?," Nov. 4, 2016.
PolitiFact "Sen. Ron Johnson voted for Paul Ryan plans to make Medicare a voucher program, Democratic Party says," June 10, 2016.
Federal Elections Commission Wisconsin Senate.
NBC News "McConnell rejects Senate GOP election head Rick Scott's 2022 agenda," March 1, 2022
Milwaukee Journal Sentinel "Ron Johnson signals Republicans should repeal and replace Obamacare if the party retakes control in 2024," March 8, 2022
Browse the Truth-O-Meter
More by D.L. Davis
Support independent fact-checking.
Become a member!
In a world of wild talk and fake news, help us stand up for the facts.