Stand up for the facts!
Our only agenda is to publish the truth so you can be an informed participant in democracy.
We need your help.
I would like to contribute
"Pfizer tries to hide 2.4K full-time hires handling vax injuries."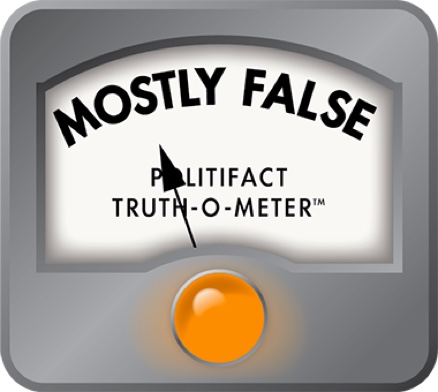 Pfizer did not 'hide' hiring of 2,400 people to handle expected increase of vaccine-related health
If Your Time is short
Pfizer submitted an analysis of adverse events to the FDA, which the FDA released as part of a public records request.
Adverse events are not verified vaccine injuries. Anyone in the general public can submit adverse event reports, which are not vetted until after submission.
While Pfizer did onboard more people to process an increased caseload of adverse event reports, this does not equate to damage control for verified vaccine injuries.
An April 2021 Pfizer COVID-19 vaccine document released by the Food and Drug Administration continues to be taken out of context. This time the focus is on employees the company hired to manage adverse events.
"Pfizer tries to hide 2.4K full-time hires handling vax injuries," says a video from One America News Network, a conservative cable news service. In the clip, Matt Staver, founder of religious legal organization Liberty Counsel, claims that "Pfizer and FDA together hid the true scale of COVID vaccine injuries from the public."
The clip was flagged as part of Facebook's efforts to combat false news and misinformation on its News Feed. (Read more about our partnership with Facebook.)
We have fact-checked false claims that Pfizer hid COVID-19 vaccine safety information from the public. This latest claim says Pfizer hid the number of employees they hired to deal with vaccine injuries.
We'll focus on how and when Pfizer's hiring was reported, but first, the description of vaccine "injuries" is misleading. Pfizer staff had to respond to adverse event reports, which are not the same as verified vaccine injuries. Adverse events can be submitted by anyone without requiring proof that they were caused by the vaccine. While Pfizer did hire more employees to process adverse event reports, this was to meet the demands of processing an influx of unvetted reports expected from administering millions of vaccine doses around the world at roughly the same time.
How the hiring numbers came out
The Pfizer document mentioned in these claims is an April 30, 2021, analysis of adverse event reports related to the COVID-19 vaccine collected from Dec. 1, 2020, to Feb. 28, 2021. In November 2021, the FDA, in response to a Freedom of Information Act (FOIA) request about adverse event reports, released this document with redacted details of Pfizer's activities. Those details included numbers on new hires and expected hires dealing with adverse events and the quantity of shipped doses.
These numbers were originally redacted because they fell under a FOIA exemption for trade secrets and commercial or financial information that are considered privileged or confidential.
The group that made the FOIA request was Public Health and Medical Professionals for Transparency, a collective that says its aim is to "obtain and disseminate the data relied upon by the FDA to license COVID-19 vaccines." Its members include a number of people known to have spread misinformation around COVID-19.
In April 2022, the group posted an unredacted version of Pfizer's activities that included the staffing numbers. When we asked the FDA when and why an unredacted document was later made available, a representative told us that they "cannot comment on potential, pending, or ongoing litigation." The group that shared the documents did not respond to our inquiries.
Just because these documents were released by a FOIA request does not mean that Pfizer or the FDA were nefariously withholding important information from the public. The FDA is legally prohibited from disclosing the existence of new drug applications until approval.
The FDA approved Pfizer's vaccine for people ages 16 and older in August 2021.
When we reached out to OANN for a response, they emailed a since-removed press release from Liberty Counsel titled "Pfizer Tried To Hide the Hiring of 2,400 Employees To Handle Adverse Events." They also forwarded a link to an interview with conspiracy theorist Naomi Wolf reiterating similar claims about the Pfizer document. While OANN noted in their email that Wolf and her team submitted the original FOIA request, she is not listed as a member on the Public Health and Medical Professionals for Transparency website.
Pfizer did not offer on-the-record comment for this fact-check.
Increased volume of adverse event reports
Adverse event case volumes for the pharmaceutical industry as a whole were already increasing prior to the pandemic, driven in part by greater public awareness of adverse event reporting systems like VAERS.
A November 2020 white paper by pharmacovigilance solutions company MyMeds&Me anticipated a significant spike in adverse event report loads across the entire pharmaceutical industry due to COVID-19 vaccine campaigns. It cited increased public interest with the COVID-19 vaccines and the fact that large numbers of people will be vaccinated simultaneously.
As noted by Pfizer's document, adverse event reports are manually reviewed after receipt. The document states that the company "onboarded approximately 600 additional full-time employees" with "an expected total of more than 1,800 additional resources by the end of June 2021" to meet the increased case processing load.
The company had shipped more than 126 million doses of the vaccine worldwide between December 2020 and February 2021. Given that both patients and health care providers are encouraged to submit adverse event reports even if they aren't sure about causality, and that the COVID-19 vaccine had been under intense public scrutiny even before it was authorized for emergency use in adults, it follows that more employees would be needed to ensure that an influx of adverse event reports could be processed expeditiously.
The CDC, American Medical Association, and American Academy of Pediatrics, among other major health care professional organizations, all recommend vaccines as safe and effective ways to protect against COVID-19 infection in both children and adults.
Our ruling
A One America News Network clip claims that Pfizer tried "to hide" the hiring of 2,400 employees to play down the extent of injuries caused by the COVID-19 vaccine.
The clip, however, takes these hiring numbers out of context and misconstrues the adverse event reporting process. Pfizer submitted a document containing hiring information to the FDA. The FDA released the document in response to a public records request. The first version redacted staffing numbers. A later version included the numbers. Staffing numbers can be treated as proprietary information under federal transparency rules.
Onboarding more people to manage an influx of adverse event reports does not equate to an increase in verified injuries caused by the vaccine.
We rate this claim Mostly False.
Browse the Truth-O-Meter
More by Vivian Lam
Support independent fact-checking.
Become a member!
In a world of wild talk and fake news, help us stand up for the facts.