Stand up for the facts!
Our only agenda is to publish the truth so you can be an informed participant in democracy.
We need your help.
I would like to contribute
They passed the flu off as COVID-19, and "they're going to do the same thing with monkeypox and shingles."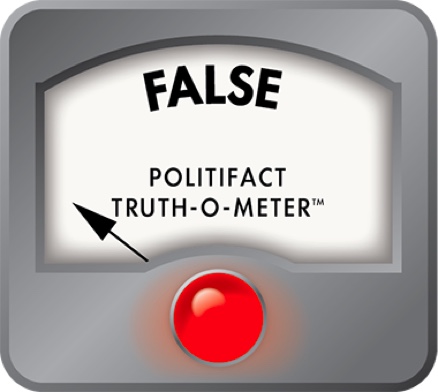 Shingles-monkeypox claim misleads with false flu-COVID-19 theory
If Your Time is short
Flu cases dropped during the pandemic because of lockdowns and masking, the CDC said.

Monkeypox and shingles each result in blistering skin rashes, but they look different on the body.

Testing for each disease is different, with monkeypox confirmation being done at the CDC.
Influenza cases went down dramatically after COVID-19 first began its rampage across the U.S. in 2020. Now some social media users are predicting a similar scenario happening again, this time with shingles and monkeypox.
"You know how with COVID the flu suddenly disappeared, when in reality COVID tests were picking up the flu and saying that it was COVID? They're going to do the same thing with monkeypox and shingles," one woman said in a Facebook video on May 21.
The post was flagged as part of Facebook's efforts to combat false news and misinformation on its news feed. (Read more about PolitiFact's partnership with Facebook.)
The narrator in the Facebook video is wrong on several counts.
First, as PolitiFact has reported before, COVID-19 tests did not pick up flu cases and count them as coronavirus cases.
The initial COVID-19 testing protocol from the Centers for Disease Control and Prevention was specifically designed to only find SARS-CoV-2, not influenza or any other virus. In July 2021, the CDC alerted labs that it was withdrawing its emergency use authorization request for the protocol because newer diagnostic tests, polymerase chain reaction (PCR) tests, had been developed that could detect both COVID-19 and influenza. Authorities preferred those tests because they would save time and resources heading into flu season.
That prompted false claims on social media that the test couldn't differentiate between the viruses, so the CDC issued a clarification soon after, noting that the test "does not confuse influenza with SARS-CoV-2."
It did seem as if influenza disappeared during the pandemic, as the post alleges. But there's a good reason for that.
The CDC said COVID-19 prevention measures, such as lockdowns, mask wearing, social distancing and increased hand-washing, as well as a record number of flu vaccines explain the decrease.
Flu cases dropped dramatically in the 2020-21 flu season. Only 0.2% of tests from U.S. laboratories were positive; that figure ranged between 26.2% and 30.3% in the three seasons before the pandemic, the CDC said.
Influenza cases climbed again recently, however, as COVID-19 mitigation efforts decreased. According to the CDC's preliminary estimates for the 2021-22 flu season (Oct. 21 to May 14) there were 6.7 million to 11 million influenza illnesses and between 4,200 and 13,000 deaths. That is still down from the 2019-20 estimate of 35 million illnesses and 20,000 deaths. The CDC provides estimates, not exact numbers, because states are not required to report influenza cases.
The poster's claim that shingles will now be passed off as monkeypox cases is becoming a common theme on social media, with some falsely saying it's a cover for COVID-19 vaccine side effects, but it has no basis in truth.
To help make her case, the woman in the Facebook video shows another social media post that points out that the same photo was used in different articles depicting monkeypox and shingles. However, PolitiFact reported that the photo, which depicts a shingles rash, was mistakenly used by an Indian health website in an article about monkeypox and has since been removed.
Shingles is caused by the varicella-zoster virus, the same one that causes chickenpox. That virus stays inactive in your body after you've had chickenpox, and can become active many years later as shingles. It's more commonly found in people over 50, but anyone can get shingles. 
About a million people get shingles each year and 1 in 3 Americans will get it in their lifetime, the CDC said. Research has shown an increased risk for shingles, especially among older people, who have had COVID-19. Shingles cannot be spread to another person, but patients can spread chickenpox to others through contact with fluid from blisters.
The monkeypox spread in Europe and North America is unusual because the disease is rarely found outside of Western and Central Africa, where it is endemic. The zoonotic disease is spread by close personal contact with an infected person, through contact with lesions, body fluids, respiratory droplets or contaminated clothing and bedding.
While both shingles and monkeypox result in a skin rash with fluid-filled blisters, the distribution of the rash is different, said Dr. Esther Freeman, director of Global Health Dermatology at Massachusetts General Hospital, Harvard Medical School, and a member of the monkeypox task force at the American Academy of Dermatology.
"(It's) usually just on one side of the body, while monkeypox would be on both sides of the body and would be more generalized on the skin in different parts of the body at the same time," Freeman said. "Monkeypox generally becomes pustular, which means the fluid filled blisters become white a little later in the disease course."

Diagnosis and testing of the two diseases are also different.
For monkeypox, a state laboratory would test a sample of a suspected case to confirm it's an orthopoxvirus, the genus of viruses to which monkeypox belongs. If so, the sample would be sent to the CDC to confirm if it's monkeypox.
That two-step process is because of the U.S. smallpox preparedness plan, said Dr. Jennifer McQuiston, deputy director of the Division of High Consequence Pathogens and Pathology and a captain in the U.S. Public Health Service. It wasn't set up specifically for monkeypox, but is helpful to allow the CDC to get the sequencing data it needs so it can be shared globally, she said. 
In many cases of shingles, doctors can often diagnose the disease simply with a visual exam.
But there are simple, fast laboratory tests for shingles, either a PCR or direct fluorescent antibody test, involving a swab of a skin lesion that can be done, Freeman said.
Our ruling
A Facebook video claimed that authorities are going to pass off shingles cases as monkeypox cases, and that they did that with the flu and COVID-19.
But that's not what happened with the flu and COVID-19. Flu cases did drop during the pandemic, but not because cases were mistaken or passed off as COVID-19. Mitigation measures during the pandemic and a record number of flu vaccines distributed explain the drop, the CDC said.
Shingles and monkeybox both have blistering skin rashes, but they look different. Testing for each virus is different, with monkeypox testing being a two-part process that requires confirmation from the CDC, something shingles tests do not.
We rate this claim False.
Facebook post, May 21, 2022
Email interview with Dr. Esther Freeman, director of Global Health Dermatology at Massachusetts General Hospital, Harvard Medical School, and a member of the monkeypox task force at the American Academy of Dermatology, May 24, 2022
American Academy of Dermatology Association, "Shingles: Diagnosis and treatment"
AARP, "COVID-19 may increase your risk for shingles," May 2, 2022
PolitiFact, "The CDC didn't say its COVID-19 tests can't differentiate between the virus and the flu," Jan. 3, 2022
PolitiFact, "CDC test can't differentiate between COVID and the flu? That's wrong." July 30, 2021
PolitiFact, "A misused shingles photo fuels a conspiracy theory about monkeypox," May 23, 2022
CDC, press briefing, May 23, 2022
CDC, "2020-2021 flu season"
CDC, "2021-2022 U.S. flu season: Preliminary in-season burden estimates"
CDC, "Why CDC estimates the burden of season influenza in the U.S."
CDC, "08/02/2021: Lab Alert"
CDC, "About monkeypox"
CDC, "Shingles (Herpes Zoster)"
National Foundation for Infectious Disease, "Shingles (Herpes Zoster)"
Cleveland Clinic, "Shingles"
World Health Organization, "Monkeypox"
Mayo Clinic, "Shingles"
Browse the Truth-O-Meter
More by Jeff Cercone
Support independent fact-checking.
Become a member!
In a world of wild talk and fake news, help us stand up for the facts.