Stand up for the facts!
Our only agenda is to publish the truth so you can be an informed participant in democracy.
We need your help.
I would like to contribute
"Mandela Barnes…wants to release 50% of the prison population when 68% is classified as 'violent offenders.'"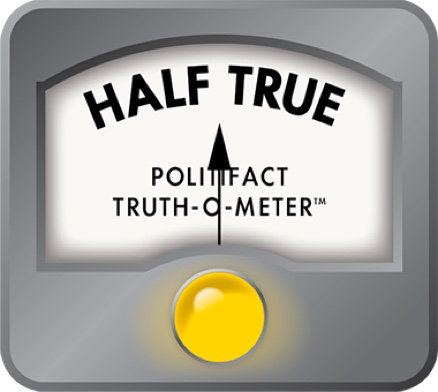 GOP group misses mark with claim prison population reduction would require fast release of criminals
If Your Time is short
Mandela Barnes has been involved in past campaigns calling for a reduction in the number of inmates in Wisconsin

But there is a difference between the meanings of "release" and "reduce" — reducing the number of inmates overtime wouldn't necessarily mean releasing people from prisons immediately

On the other hand, a large portion of Wisconsin's prison inmates was convicted of what's considered a 'violent crime'
Republicans have zeroed in on the record of U.S. Senate candidate Mandela Barnes, a Democrat, as it relates to crime and punishment — or, in one scenario, crime and a lack of punishment.
That includes the National Republican Senatorial Committee, the outfit charged with re-electing U.S. Sen. Ron Johnson and other Republicans to the Senate.  
In a Sept. 9 news release, the committee claimed that Barnes "wants to release 50% of the prison population when 68% is classified as 'violent offenders.' " 
Let's take a closer look at that claim.
The difference between "release" and "reduce" 
The first part of the claim brings us to some familiar ground.
When we asked the National Republican Senatorial Committee for backup for the claim, they sent a link to a February 2021 Madison365 video, in which Barnes talks about a program he supported during his time in the state Assembly, the 11x15 campaign. 
The campaign called for reducing Wisconsin's prison population by 11,000 inmates by 2015. 
The program fell short of that goal — something Barnes acknowledged in the video. But some of its ideas were embraced by Tony Evers in the 2018 gubernatorial campaign, such as considering early release for some inmates, overhauling truth in sentencing and treating 17-year-olds as juveniles instead of adults. Evers won the state's top job, with Barnes as his running mate.
But looking at the 11x15 campaign, and at the promises that Evers made during the campaign, one word stands out, reduce. That compares to the National Republican Senatorial Committee email, which uses the more inflammatory release.
In March 2020, we rated Half True a claim that Evers wanted to release half the prison population. In that item, we noted the definition of the two words at the center of the debate.
Reduce is defined by Merriam-Webster's Dictionary as meaning "to diminish in size, amount, extent or number."  
Release is defined as "to set free from restraint, confinement or servitude." 
Meanwhile, in an August 2018 fact-check, we rated Half True a claim by then-Gov. Scott Walker that the plan of his rival, Evers, to reduce the population in Wisconsin jails would release "thousands of violent felons." 
That fact-check noted that release implies a sudden casting open of the prison gates. But Evers had noted repeatedly the drop was a goal and achieving it would take time, through such things as changing sentencing guidelines, increasing funding for treatment-based probation and other policy-related adjustments. The idea was to reduce the number of people being housed in prisons over about a decade without immediately releasing any current inmates. 
So, in short, the committee misses its mark on this portion of the claim.
Violent offenses
Now let's look at the second part of that claim.
Kenneth Streit, a clinical professor of law emeritus at the University of Wisconsin Law School, said those considered "violent offenders" were convicted of crimes such as homicide, sexual assaults, robbery or aggravated assaults. 
When asked about how much of Wisconsin's prison population consists of people sentenced on those types of charges, Streit pointed to data from a 2018 Corrections Department report, the most recent available. In that report, 66% of the state's prison population consisted of inmates sentenced for a violent offense, 13% sentenced for a property-related offense, 12% for drug-related offenses and 9% for public order offenses, such as operating while impaired. 
But Streit noted that the majority of those incarcerated for violent offenses have been in jail longer than the other types of crimes, too. 
"Violent offenses are actually a much lower percentage of all admissions to prison," he said. "However, they tend to have much, much longer terms and therefore there is little turnover. The other groups have comparatively shorter sentences and, often, they spent a long time in county jail prior to sentencing. Therefore they turnover much more quickly." 
Our ruling
The National Republican Senatorial Committee claimed Barnes wants to release 50% of Wisconsin's prison population, when 68% of inmates are considered "violent offenders." 
Although Barnes has advocated for the "reduction" of the state's prison population, he hasn't endorsed the immediate "release" of 50% of inmates — and there is a key difference in those two words. Reducing the number of inmates would likely require years of policy changes, as opposed to just letting people out of prison, no matter their offense. 
Meanwhile, the number of people who have been convicted of committing violent offenses is a large portion of the prison population — but largely because other offenses allow for shorter jail times. 
We rate this statement as Half True — it's partially accurate, but leaves out some important details or takes something out of context.
National Republican Senatorial Committee, "Barnes wants to cut WI prison population by 50%," Sept. 9, 2022
Youtube, "Real Talk with Henry Sanders: Mandela Barnes," Feb. 25, 2021
PolitiFact, "Wisconsin Assembly speaker's prison claim falls short," March 4, 2020
Merriam-Webster, "Reduce," Sept. 14, 2022
Merriam-Webster, "Release," Sept. 14, 2022
PolitiFact, "Cutting Wisconsin prison population 50% wouldn't require release of thousands of violent felons," Aug. 9, 2018
Conversation with Kenneth Streit, University of Wisconsin Law School, Sept. 14, 2022
Browse the Truth-O-Meter
More by Laura Schulte
Support independent fact-checking.
Become a member!
In a world of wild talk and fake news, help us stand up for the facts.