Get PolitiFact in your inbox.
"WEF chairman Klaus Schwab openly calls for AI technology to replace Democratic elections!"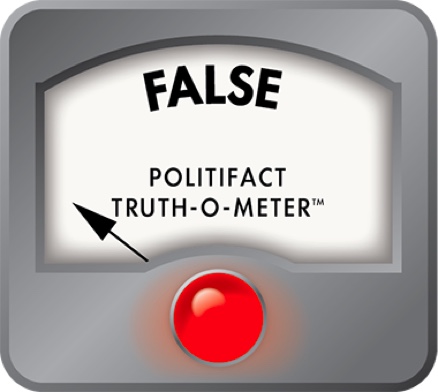 World Economic Forum's Klaus Schwab didn't call for AI to replace elections
If Your Time is short
In a 2017 interview, World Economic Forum founder Klaus Schwab interviewed Google co-founder Sergey Brin.

Schwab posed several hypothetical questions about the future of digital technology, including artificial intelligence.

One question was whether Brin could imagine the technology becoming so prescriptive that elections wouldn't be needed. Schwab did not call for that scenario to happen.
Klaus Schwab and the World Economic Forum, the international organization he founded and chairs, have long been the target of conspiracy theorists, convinced that global elites gather at the group's annual meeting in Davos, Switzerland, to plot new ways to gain power.
We've debunked numerous claims about Schwab and the WEF, including ones that said the group wanted to slaughter people's pets to fight climate change and that Schwab is planning forced global lockdowns for the next pandemic.
A new claim is highlighting a 6-year old video of Schwab conducting an interview with Google cofounder Sergey Brin and merging it with current fears about emerging artificial intelligence technology.
"WEF chairman Klaus Schwab openly calls for AI technology to replace Democratic elections!" read sticker text on an Aug. 5 video shared on Instagram. The video shares a clip of a show by conspiracy theorist Alex Jones, who introduced the segment featuring Schwab and Brin.
"Gee, wonder who's gonna be programming our new #AI overlords. Something tells me it's not gonna be people who tolerate Christian conservative values," read a caption on the post.
In the video clip shared in the post, Schwab did not call for AI to replace democratic elections, as the post suggests. 
Schwab talked about digital technology's analytical and predictive power and said, "The next step could be to go into a prescriptive mode, which means you do not even have to have elections anymore because you can already predict what … predict enough to where you can say, 'Why do we need elections?' because we know what the result will be."
The final sentence of Schwab's question makes clear that he was posing a hypothetical, not calling for elections to be determined by AI.
"Can you imagine such a world?" Schwab asked.
The 2017 interview was described on the World Economic Forum's YouTube page as "a conversation with Google founder Sergey Brin on leadership, entrepreneurship and the Fourth Industrial Revolution."
In the wide-ranging discussion, Schwab asked Brin several hypothetical questions about technological advances. 
Shortly before the hypothetical election scenario, he asked Brin whether he could imagine the same event 10 years from now with the audience having implants that could measure brain waves and show Brin in real time how they are reacting to his answers. "Is it imaginable?," he asked.
Brin replied that it was imaginable, as were other scenarios, but that it was "impossible to predict."
In response to Schwab's election question, Brin replied, "You might then further ask, 'Well, why do we need to have, you know, elected leaders at all because you might as well have all the decisions made.'"
Brin said Schwab was "venturing into profound questions."
And it was just that — a question, not a call for action.
You can watch that exchange, followed by the election question in the video below:
Our ruling
An Instagram post claimed that Schwab called for AI technology to replace democratic elections. But Schwab wasn't calling for that at all. He was posing a hypothetical scenario about the future of technology to Brin, an expert in the field. 

We rate this claim False.
Browse the Truth-O-Meter
More by Jeff Cercone
Support independent fact-checking.
Become a member!
In a world of wild talk and fake news, help us stand up for the facts.