Stand up for the facts!
Our only agenda is to publish the truth so you can be an informed participant in democracy.
We need your help.
I would like to contribute
Joe Biden closed schools during the COVID-19 pandemic.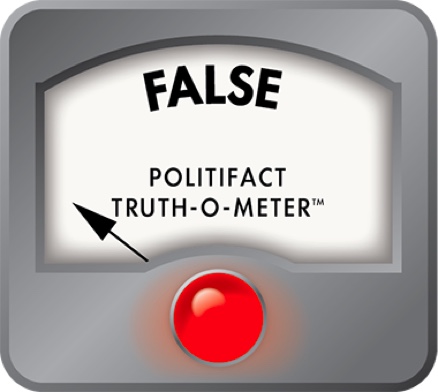 Lauren Boebert said Joe Biden closed schools. Here's why she's wrong.
If Your Time is short
In March 2020, while former President Donald Trump was still in office, governors and state officials nationwide shut down K-12 schools because of the COVID-19 pandemic. 

President Joe Biden called for school reopenings early in his presidency, but also pointed to reopening guidance from the Centers for Disease Control and Prevention. The decision whether to follow the CDC guidance rested with local and state officials. 

In 2021, local officials or governors made the decisions about school reopenings.
President Joe Biden said during his State of the Union address that two years ago, amid pandemic-related shutdowns, "Our schools were robbed of so much." One of his Republican critics said on that point, Biden deserved the blame.
Rep. Lauren Boebert of Colorado tweeted about the school closures, "Hey Joe, YOU CLOSED THEM!" 
That is inaccurate. School closures began in spring 2020 when former President Donald Trump was still in office, and those decisions were made by state-level education officials and governors. 
"State leaders govern education in the U.S., and the federal government has very little say in what decisions governors or education chiefs make about schools," said Christine M. T. Pitts, of the Center on Reinventing Public Education at Arizona State University.
Governors across the nation closed schools in spring 2020
Giselle Berastegui, 9, works on math problems, March 16, 2020, as she does her schoolwork at home with her older brother in Laveen, Ariz. The coronavirus pandemic forced the closure of schools. (AP)
Both Democratic and Republican governors closed schools in their states in March 2020. Ohio Gov. Mike DeWine, a Republican, was the first in the nation to shut down schools statewide. 
"We have to take this action," DeWine said March 12, 2020. "We have to do everything we can to slow down the spread of this virus."
In Boebert's state, Colorado Gov. Jared Polis, a Democrat, issued an executive order March 18  suspending in-person instruction from March 23 to April 17, 2020. (Colorado schools ended up closed for the remainder of the school year.)
In a few states, the policies were recommendations, but most were mandates.
Biden called for reopening schools, but CDC guidance was a hurdle 
Socially distanced kindergarten students wait for their parents to pick them up, April 13, 2021, on the first day of in-person learning at Maurice Sendak Elementary School in Los Angeles. (AP)
As evidence for her statement, Boebert's spokesperson cited news articles from right-leaning publications that argued Biden didn't push hard enough to return to in-person school.
But "Biden's actions did not directly close schools, though they may have indirectly influenced the length schools remained closed," said Nat Malkus, an K-12 education expert at the conservative American Enterprise Institute.
Biden and his administration gave conflicting messages about his school reopening goals. In December 2020, he said he wanted to reopen the majority of K-12 schools during his first 100 days in office. But in January 2021, he narrowed that goal to the majority of K-8 schools, excluding high schools. 
When Biden took office, about half of students were attending school only virtually, according to Burbio, a website that tracks school opening data nationwide. 
On Feb. 12, 2021, Biden called for accelerating school reopenings by following guidance from the Centers for Disease Control and Prevention.
The CDC recommended that schools require masks, keep everyone 6 feet apart, clean regularly and prioritize the use of quarantine and vaccination of teachers. Some health experts criticized the guidance, saying its stringency would have kept millions of students unnecessarily out of school.
Some states such as Florida, which had already reopened schools, shrugged at the CDC guidance.
Biden said his administration deserved credit for the increased number of school reopenings by April 2021, in part because of the billions in school funding included in the American Rescue Plan he signed in March 2021. But we found it was difficult to pinpoint which deciding factors governors or school officials used to reopen schools. 
Many schools were already moving toward more in-person learning before initiatives by the Biden administration. Other factors also played a role, including infection rates, vaccination rates and pressure from parents. 
Reopening decisions in 2020 and 2021 were made primarily by school boards and superintendents, said Sarah Reckhow, a political scientist at Michigan State University who researched the politics of school reopening.
"The decision-making power on when/how to reopen schools was primarily local," although a few state leaders played a more direct role, such as Florida Gov. Ron DeSantis, Reckhow said. 
"The federal government had no direct power over these decisions — just guidance — which could be interpreted by local leaders or ignored."
Our ruling
Boebert tweeted about pandemic school closures, "Hey Joe, YOU CLOSED THEM!" 
When schools closed nationwide in March 2020, Trump was still president. At that time, closure decisions were largely made by state officials, including governors. 
When Biden took office, state and local officials were still in charge of school closure decisions.The CDC offered guidance on school reopenings, but heeding it was up to local or state officials. 
Biden's actions may have influenced the length of time that some schools remained closed, but he did not directly close schools. 
We rate this statement False. 
PolitiFact researcher Caryn Baird contributed to this report.
RELATED: Fact-checking Joe Biden's 2023 State of the Union address
Rep. Lauren Boebert, R-Colo, Tweet, Feb. 7, 2023
Burbio, Burbio's K-12 School Opening Tracker
National Governors Association, Coronavirus state actions,Through July 31, 2020
Ed Week, School closures, 2020
Michigan State University researchers, All States Close but Red Districts Reopen: The Politics of In-Person Schooling during the COVID-19 Pandemic, 2021
CNBC, Trump vows to pressure governors to reopen schools in the fall, July 7, 2020
Chalkbeat, Colorado governor orders all schools closed to stem spreading coronavirus, March 18, 2020
President Joe Biden, Statement of President Joe Biden on Safely Reopening Schools, Feb. 12, 2021
National Review, President Biden Is Keeping Schools Closed, Feb. 10, 2021
Heritage Foundation, Biden Administration "Had a Plan" for School Re-Opening; Let's Review, Sept. 9, 2022
New York Post, Team Biden's shameless bid to dodge blame for school closure damage, Sept. 5, 2022
Florida Phoenix, Gov. DeSantis and education chief order schools to stay open through end of school year, Nov. 30, 2020
PolitiFact, Some research suggests Biden's school reopening goal has already been achieved, Feb. 25, 2021
PolitiFact, CDC issued guidance throughout Biden's first year on school openings, but did it matter? Jan. 11, 2022
PolitiFact, Why it's hard to link school reopenings to Biden's efforts, April 27, 2021
Email interview, Jake Settle, U.S. Rep. Lauren Boebert, R-Colo, spokesperson, Feb. 8, 2023
Email interview, Kevin Munoz, White House spokesperson, Feb. 8, 2023
Email interview, Christine M. T. Pitts, director of impact & communications at the 
Center on Reinventing Public Education, Mary Lou Fulton Teachers College
Arizona State University, Feb. 8, 2023
Email interview, Nat Malkus,  senior fellow and the deputy director of education policy at the American Enterprise Institute, Feb. 8, 2023
Email interview, Sarah Reckhow, associate professor political science at Michigan State University, Feb. 8, 2023
Browse the Truth-O-Meter
More by Amy Sherman
Support independent fact-checking.
Become a member!
In a world of wild talk and fake news, help us stand up for the facts.