Stand up for the facts!
Our only agenda is to publish the truth so you can be an informed participant in democracy.
We need your help.
I would like to contribute
1,609 scientists signed a declaration saying "There is no climate emergency."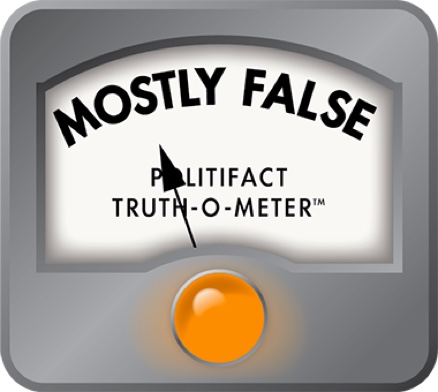 Did 1,609 scientists sign a declaration saying 'there is no climate emergency'? Not quite
If Your Time is short
Based on the descriptions and listed credentials of the 1,609 signatories, not all were scientists.

Several signatories were in fields including engineering, medicine, law, economics and psychology. Some did not list any background in science. Some were deceased.

There is wide consensus among climate scientists, scientific associations and institutions that climate change is real and primarily caused by humans burning fossil fuels.
"There is no climate emergency," posts proclaimed on X, formerly Twitter, sharing a message allegedly supported by more than a thousand scientists.
Some X users circulated a "world climate declaration" that they claimed proves the climate crisis is a "hoax" and is "based on politics, not on science." 
"1,609 scientists, including two Nobel laureates, gathered together to sign a declaration, proclaiming that 'there is no climate emergency,'" a Sept. 15 X post said.
The claim misleads by overlooking a few details.
First, there is wide consensus among climate scientists, scientific associations and institutions that climate change is real and is caused primarily by humans burning fossil fuels. Nearly 200 scientific organizations around the world assert that climate change is caused by human action.

Second, the statement about this document being signed by 1,609 scientists glosses over key information about both the document and its signatories. The document was published by Climate Intelligence or Clintel, a group founded by science journalist Marcel Crok and geophysics professor Guus Berkhout, who began his career with oil giant Shell in 1964. 
Clintel's website says the group aims to "generate knowledge and understanding" of the causes and effects of climate change and climate policy. It makes its stance clear: "The climate view of CLINTEL can be easily summarized as: There is no climate emergency."
A scan of the 1,609 signatures shows that not all were scientists. Several were from other professions; some listed no science background at all.
In September 2022, Agence France-Presse analyzed a previous version of this document published in 2020, which then had 1,200 signatories. Many signatories were scientists of various kinds, including 40 geophysicists and 130 geologists. Only 10 of the signatories described themselves as climatologists or climate scientists, Agence France-Presse found.
About 200 signatories were engineers. Other professionals were mathematicians, medical doctors and agricultural scientists. Six signatories were deceased.
The updated version with 1,609 signatories, published Aug. 14, marked 12 people as deceased. Among the scientists, specialties included geology, chemistry, physics and agriculture. Those with climate expertise were few.
The list included engineers, doctors, lawyers, mathematicians, architects, entrepreneurs, and economists. Others did not list any occupation at all. Some descriptions read:
"Sceptical (sic) Scientific Contrarian in the Climate Debate"

"Leadership development and coaching"

"Physicist and YouTuber"

"Sculptor, designer and innovator"
The two Nobel laureates who signed the declaration — John F. Clauser (the 2022 winner for physics) and Ivar Giaever (who shared the 1973 prize for physics — have a history of denying the climate crisis.
The declaration — a version of which was published as early as 2019 —  made six claims, including that carbon dioxide is not a pollutant. Others downplay the threat, severity and impact of climate change such as, "warming is far slower than predicted," and "global warming has not increased natural disasters." This list of claims has been assessed as having "very low" credibility by scientists, as reported in a review published by Climate Feedback, a global network of scientists that debunks inaccurate climate change claims. The reviewers said the statement gave cherry-picked information about carbon dioxide and climate change impact and presented them in a "biased and misleading way."
The statement that "1,609 scientists signed a declaration saying 'there is no climate emergency'" contains an element of truth but ignores critical facts that would give a different impression. We rate it Mostly False.
PolitiFact researcher Caryn Baird contributed to this report.
X post, Sept. 15, 2023
X post, Oct. 1, 2023
X post, Aug. 16, 2023
Global Climate Intelligence Group, World Climate Declaration: There is no climate emergency, Aug. 14, 2023
Climate Intelligence, About Us page, accessed Oct. 3, 2023
Centre for Global Socio-Economic Change, Professor Guus Berkhout, accessed Oct. 3, 2023
Agence France-Presse, Climate 'declaration' recirculates debunked claims, Sept. 7, 2022
Climate Feedback, Letter signed by "500 scientists" relies on inaccurate claims about climate science, Sept. 23, 2019
Newsweek, Nobel Prize Winner Who Doesn't Believe Climate Crisis Has Speech Canceled, July 24, 2023
Scientific American, Climate Chatter Dominates Island of Nobels, July 13, 2015
PolitiFact, Copious evidence proves climate change is not a 'fraud', Jan. 31, 2023
Yale Climate Connections, Scientists agree: Climate change is real and caused by people, Feb. 17, 2022
NASA, Scientific Consensus: Earth's Climate Is Warming, accessed Oct. 6, 2023
State of California, Governor's Office of Planning and Research, List of Worldwide Scientific Organizations, accessed Oct. 9, 2023
The Nobel Prize, John Clauser, accessed Oct. 9, 2023
The Nobel Prize in Physics 1973, accessed Oct. 9, 2023
Browse the Truth-O-Meter
More by Loreben Tuquero
Support independent fact-checking.
Become a member!
In a world of wild talk and fake news, help us stand up for the facts.