Get PolitiFact in your inbox.
"There will not be another foot of wall constructed in my administration."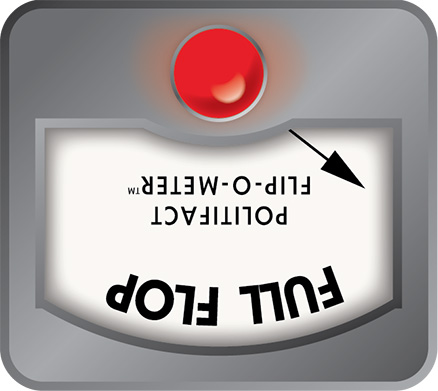 Joe Biden said he would not build 'another foot of wall' as president. Did he keep his word?
If Your Time is short
As a 2020 presidential candidate, Joe Biden vowed that no more wall would be built along the U.S. southern border. Now, after failing to persuade Congress to reappropriate 2019 funds designated for wall construction, his administration said it will build additional border barriers before Sept. 30, 2024. 

Though Biden said his hands are tied because of the 2019 funding, Homeland Security Secretary Alejandro Mayorkas said the border barriers will be built because illegal immigration has increased.
Construction on approximately 20 miles of border barriers along the U.S.-Mexico border will begin soon in Texas, the Biden administration announced Oct. 5.
It's a notable departure from a key promise Biden made as a 2020 presidential candidate, when he criticized former President Donald Trump's policies and dismissed a border wall as expensive and ineffective. 
"There will not be another foot of wall constructed in my administration," he said in an Aug. 5, 2020, interview.
In our #nabjnahj2020 interview, @JoeBiden promised that 'not another foot of wall would be constructed" on the border. Watch our exchange: pic.twitter.com/rM9OgsYicU

— Lulu NYT (@lourdesgnavarro) August 5, 2020
Following the announcement this month, Biden said his administration's hands are tied; he said it must use funds Congress appropriated in 2019 to build barriers along the U.S. southern border. 
Biden, his communications team and his Homeland Security secretary defended the decision to resume construction. 
"I was told that I had no choice," Biden told reporters Oct. 6. "That if Congress passes legislation to build something — whether it's an aircraft carrier, a wall, or provide for a tax cut — I can't say, 'I don't like it. I'm not going to do it,' if this hadn't been vetoed, if it's the law." 
That has not insulated him from criticism from fellow Democrats — nor does it mesh with the explanation from the Department of Homeland Security. 
Homeland Security Secretary Alejandro Mayorkas said the construction is in response to an uptick in the number of immigrants trying to illegally cross into the U.S. through the Rio Grande Valley.
"There is presently an acute and immediate need to construct physical barriers and roads in the vicinity of the border of the United States in order to prevent unlawful entries into the United States," Mayorkas said in an Oct. 5 notice about waiving laws to expedite the border wall construction.
At PolitiFact we have a Flip-O-Meter to measure politicians' consistency on issues. The rating is not making a value judgment about a politician who changes positions on an issue. 
We evaluated Biden's stance throughout the years on building additional border barriers along the southern border. The evidence shows his change in position is a Full Flop, our definition for a complete change.
What Biden said in the 2020 presidential campaign
Biden vowed in campaign materials to stop border wall construction. 
"Building a wall from sea-to-shining-sea is not a serious policy solution — it's a waste of money, and it diverts critical resources away from the real threats," his campaign website read.
In his immigration plan, Biden promised to end a national emergency that Trump had declared in 2019; the emergency allowed Trump to access Defense Department funding for southwest border fencing. 
Biden's plan said, "Building a wall does nothing to address security challenges while costing taxpayers billions of dollars."
In 2023, Biden continues to say a border wall is ineffective. But he says he has no choice.
Biden's actions to stop border wall construction 
On his first day in office, Jan. 20, 2021, Biden fulfilled his promise to end Trump's national emergency, filing a proclamation to terminate it and pause all border wall construction. 
"It shall be the policy of my Administration that no more American taxpayer dollars be diverted to construct a border wall," Biden said. "I am also directing a careful review of all resources appropriated or redirected to construct a southern border wall." He directed his Cabinet to redirect funding and repurpose existing contracts. 
In June 2021, the White House published a fact sheet about its plans to:
Cancel all border wall construction projects that used Defense Department funding;

End expansions of the border wall "as permitted by law;" 

Address "safety and environmental issues resulting from border wall construction under the previous Administration."
The Defense Department returned around $2 billion to 66 military projects that had been paused to fund border wall construction, according to the fact sheet. 
The White House noted that "although most of the funds used for the border wall were diverted from other purposes, Congress provided DHS with some funding for border barrier projects," and the Department of Homeland Security "is legally required to use the funds consistent with their appropriated purpose."
Wall construction linked to congressional spending
The congressional funding referenced by the White House was secured by Trump in 2019 — nearly $1.4 billion to build border barrier systems along the southwest border. 
Biden called on Congress in 2021 and 2023 to cancel its 2019 appropriation. He said in 2021 he would seek no additional funding for border wall construction.
"Unless and until Congress acts on the request, the Administration will continue to use the funds responsibly for their appropriated purpose, as required by law," the June 2021 fact sheet read.
In December 2021, DHS said it would begin repair projects along the southern border such as closing barrier gaps, stabilizing eroding areas and cleaning work sites. At the time, DHS again asked Congress to reappropriate the 2019 funding. Social media claims in spring 2022 said Biden was resuming work on the border wall, but we rated those False because it was repair work, not construction. 
The 2019 appropriation ends at the end of fiscal year 2024, which began Oct. 1. The administration would violate the Budget and Impoundment Control Act if it failed to use the funding, said Gabe Murphy, a policy analyst with Taxpayers for Common Sense.
The administration "is legally required to use the funding and it must be for the purpose Congress intended," Murphy said.
In a June 2021 legal decision, the Government Accountability Office said Biden's initial pause on border wall construction did not violate the law. 
However, Murphy said any further delays "would pretty clearly be intentional disregard for following the appropriations statute as Congress drafted and the president signed."
In a June 2023 press release, DHS authorized U.S. Customs and Border Protection to begin building around 20 miles of 18-foot border barriers in the Rio Grande Valley Sector, a southeast Texas area spanning more than 34,000 square miles, "as mandated by" the 2019 appropriations bill. Besides building physical barriers, DHS said it would add detection technology, lighting and access roads.
DHS said it has $190 million remaining from the nearly $1.4 billion appropriated, and continued calling for Congress to "cancel or reappropriate remaining border barrier funding."
Despite his other comments about a border wall deterring migrants, Mayorkas, the Homeland Security secretary, also said the announcement to resume construction did not signal a position change. 
"There is no new Administration policy with respect to border walls. From day one, this Administration has made clear that a border wall is not the answer. That remains our position and our position has never wavered," Mayorkas said Oct. 5.  
Our ruling
As a presidential candidate, Biden said, "There will not be another foot of wall constructed in my administration." 
On Oct. 5, his administration said construction on the wall will resume after Biden failed to persuade Congress to repurpose appropriated funding. Biden says his hands are tied, and experts agree that the administration must follow the rule of law.
But the 2019 congressional appropriation was already in place when Biden made his 2020 promise not to build any more border wall. He made the vow knowing the limitations that existed. And his statement about the wall was unequivocal.
These actions and statements are a complete change in position. We rate it a Full Flop.
NPR, Biden would end border wall construction, but wouldn't tear down Trump's additions, Aug. 5, 2020
X, Post, Oct. 5, 2023
X, Post, Oct. 5, 2023
YouTube, 'A promise broken': Julián Castro admonishes Biden border wall reversal, Oct. 5, 2023
PolitiFact, The Principles of the Truth-O-Meter: PolitiFact's methodology for independent fact-checking, Feb. 12, 2018
Biden For President, The Biden plan for securing our values as a nation of immigrants, accessed Oct. 11, 2023
The New York Times, Trump declares a national emergency, and provokes a constitutional clash, Feb. 15, 2019
X, Post, Oct. 5, 2023
Federal Register, Determination Pursuant to Section 102 of the Illegal Immigration Reform and Immigrant Responsibility Act of 1996, as Amended, Oct. 5, 2023
White House, Proclamation on the termination of emergency with respect to the southern border of The United States and redirection of funds diverted to border wall construction, Jan. 20, 2021
White House, FACT SHEET: Department of Defense and Department of Homeland Security plans for border wall dunds, June 11, 2021
Congress, Public Law 116–93, Dec. 20, 2019
Department of Homeland Security, DHS to Address Life, Safety, Environmental, and Remediation Requirements for Border Barrier Projects Previously Undertaken by DoD, Dec. 20, 2021
PolitiFact, Construction is not resuming on hundreds of miles of border wall that Trump promised, April 7, 2022
Government Accountability Office, The Impoundment Control Act of 1974, June 29, 1978
Government Accountability Office, Press Statement On Appropriations Law Decision Regarding Border Wall, June 15, 2021
U.S. Customs and Border Protection, CBP moves forward on RGV barrier and Yuma Andrade and El Centro Calexico fence replacement projects to mitigate immediate life, safety and operational risks, June 30, 2023
X, Post, Oct. 6, 2023
X, Post, Oct. 5, 2023
Department of Homeland Security, Statement from Secretary Mayorkas on recent news reports, Oct. 5, 2023
Factcheck.org, Biden's border wall, explained, Oct. 6, 2023
Email exchange, Gabe Murphy, policy analyst at Taxpayers for Common Sense, Oct. 6, 2023
Browse the Truth-O-Meter
More by Maria Ramirez Uribe
Support independent fact-checking.
Become a member!
In a world of wild talk and fake news, help us stand up for the facts.