Stand up for facts and support PolitiFact.
Now is your chance to go on the record as supporting trusted, factual information by joining PolitiFact's Truth Squad. Contributions or gifts to PolitiFact, which is part of the 501(c)(3) nonprofit Poynter Institute, are tax deductible.
I would like to contribute
Enact E-verify
"Enact E-verify to ensure a legal workforce and higher wages for Floridians."
DeSant-O-Meter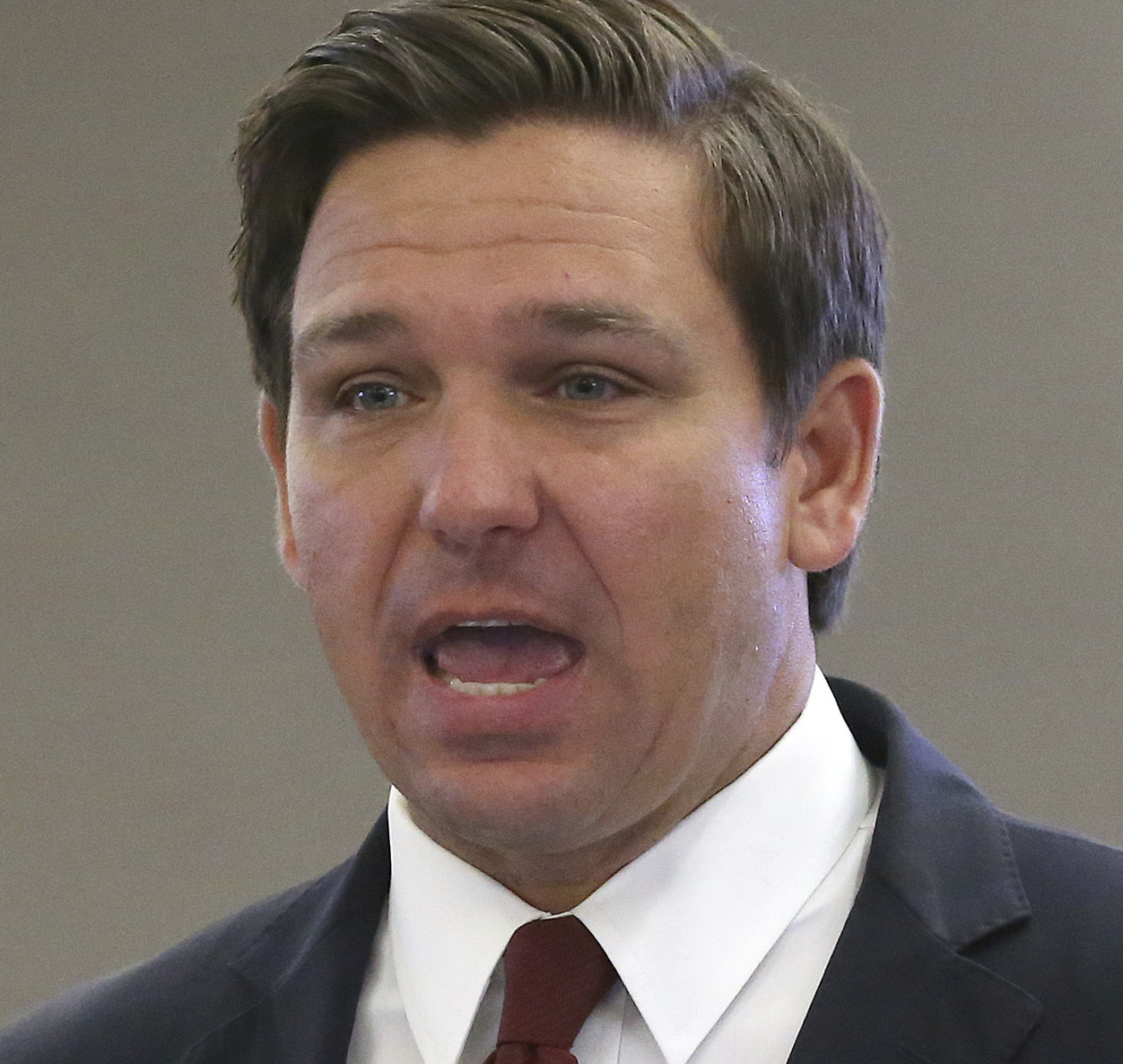 Florida Gov. Ron DeSantis pushes for E-Verify to crack down on undocumented immigration
After a bill to crack down on the hiring of undocumented immigrants died in Florida earlier this year, Republican state senators have filed a new bill ahead of the 2020 session to enact E-Verify.
The idea has the support of Gov. Ron DeSantis, who told reporters that he continues to work toward his campaign promise to enact the program.
"I think the best way to help deter illegal immigration is to pursue E-Verify so we are going to be doing that," he told reporters at a pre-session briefing. "And I think that that will end up saving taxpayers money and obviously it will be a deterrent for people to come illegally."
E-Verify is an online program by the federal government that allows enrolled employers to confirm the eligibility of their employees to work in the United States by matching information employees provide against federal Social Security and immigration records.
Some states require E-Verify for only public workers or contractors while other states have mandated the program for private employers. The new Florida bill filed by Sarasota Sen. Joe Gruters and Sen. Tom Lee, R-Thonotosassa, would go further. It would require all employers to use the federal E-Verify system for new hires starting in 2021. The state could revoke businesses' licenses if they fail to register.
Democrats, who are the minority party in the Legislature, are expected to fight against the bill. But some Republicans will likely oppose it, too, because business groups and industries including agriculture have fought against adding regulations for business owners. (The state Legislature didn't show interest in passing E-Verify under Gov. Rick Scott.)
We found some mixed analysis about the impact of E-Verify. A 2017 analysis by the Federal Reserve Bank of Dallas found E-Verify corresponded with a drop in the population of unauthorized immigrants in some states but had no discernible impact in others.
Steven Camarota, who supports reduced immigration levels, pointed to earlier studies showing E-Verify did have an impact despite modest embrace by states.
"They have few if any penalties for non-compliance with these state E-verify laws, and they only apply to new hires, not existing employees," he said.
Another reason the program may not work as supporters hope is that undocumented workers can use fraudulent paperwork and many businesses don't use the program despite mandates, wrote Alex Nowrasteh, a critic of E-Verify at the liberatarian Cato Institute, in an op-ed in the Orlando Sentinel.
Nationally, enrolled employers represented about 13% of U.S. employers as of 2015, the Congressional Research Service reported.
"E-Verify can be a part of an overall enforcement regime, but by itself and without other immigration changes it is not a solution," said Theresa Cardinal Brown, an immigration expert at the Bipartisan Policy Center.
The Florida bill has an uncertain path ahead in the Florida Legislature, which convenes its annual session in January.
We'll continue to monitor the outcome and what it means for DeSantis' campaign promise. For now, we rate this promise In The Works.
Florida Channel, Gov. Ron DeSantis on AP media day, Oct. 29, 2019
Florida Senate, SB 664, Filed Oct. 24, 2019
Congressional Research Service, Electronic Employment Eligibility Verification, June 6, 2018
Bipartisan Policy Center, The Economics of Step-by-Step Immigration Reform, May 2015
Greenberg Traurig, E-Verify Legislation: A State-by-State Perspective, 2018
Politico Florida, Playbook, Sept. 23, 2019
News Service of Florida, E-verify proposal would require eligibility to work in Florida, Oct. 29, 2019
Orlando Sentinel op ed by CATO's Alex Nowrasteh, director of immigration studies at the Cato Institute, DeSantis Should Avoid Flawed E‑Verify ID System, Oct. 9, 2019
CATO, E‑Verify Is Not an Effective Immigration Enforcement System, as Mississippi ICE Raids Show, Aug. 13, 2019
CATO, Businesses Don't Comply with E‑Verify Mandates, April 5, 2018
Tampa Bay Times, Ron DeSantis says teacher pay, e-Verify top priorities to pass in 2020, Oct. 29, 2019
Immigration and Custom Enforcement, ICE executes federal search warrants at multiple Mississippi locations, Aug. 7, 2019
Public Policy Institute of California, Lessons learned from the 2007 Legal Arizona Workers Act, 2011
Journal of Migration, Do state work eligibility verification laws reduce unauthorized immigration? March 10, 2019
Pew Charitable Trusts Stateline article, E-Verify Immigrant Job Screening Is a Game of Chicken, Politics and State Laws, April 27, 2018
Federal Reserve Bank of Dallas, Digital Enforcement, September 2017
Bipartisan Policy Center, E-Verify Brief History and Overview, April 2013
Email interview, Steven Camarota, Director of Research at the Center for Immigration Studies, Oct. 29, 2019
Email interview, Theresa Cardinal Brown, Bipartisan Policy Center's director of immigration and cross-border policy. Oct. 29, 2019
DeSantis pursues sanctuary cities ban but not E-Verify
Gov. Ron DeSantis is poised to sign a bill to ban sanctuary cities for undocumented immigrants, echoing a priority of President Donald Trump.
But he failed to take action on a promise to prevent employers from hiring undocumented immigrants.
On his campaign website in 2018, DeSantis promised to "enact E-Verify to ensure a legal workforce and higher wages for Floridians." It is one of 15 promises we are tracking on our DeSant-O-Meter.
E-Verify is an online program by the federal government that allows enrolled employers to confirm the eligibility of their employees to work in the United States by matching information employees provide against federal Social Security and immigration records.
In February shortly before the start of the state legislative session, DeSantis announced that he had asked the Legislature to send him a bill related to sanctuary cities and counties and for state officials to cooperate with federal officials on immigration enforcement. He said nothing about E-Verify.
The Miami Herald reported in March that the agriculture industry and Senate leaders struck a deal to focus on sanctuary cities and block an E-Verify proposal. Some Republicans who want to crack down on illegal immigration are wary of offending business owners including farmers, who oppose being told to use E-Verify to check applicants' immigration status. The Florida Chamber of Commerce says E-Verify places significant costs on businesses and consistently flags lawful employees.
Instead, the Republican-led Legislature focused on passing a bill that tells police departments and sheriff offices to support the enforcement of federal immigration law.
In March, DeSantis told reporters he still supported E-Verify while acknowledging that his party was split on the issue. But his comments showed it wasn't a top priority this year.
"I am for E-Verify. I want to do E-Verify," he said. "I am committed to doing it, whether we are going to do it this session or not, I don't know."
A spokeswoman for DeSantis told us DeSantis plans to continue pursuing E-Verify as a tool to ensure that people working in Florida are doing so legally.
DeSantis has three more years to keep this promise on E-Verify. For now, we rate this promise Stalled.
Senate Bill 168, 2019
Miami Herald, Ban on 'sanctuary cities' to become law in Florida, May 3, 2019
Miami Herald, Legislators' secret deal fast-tracks sanctuary cities bill, stalls e-Verify proposals, March 25, 2019
Palm Beach Post, Has DeSantis stepped back from campaign vow on immigration? March 24, 2019
Florida Channel, Press conference on Judicial Appointment, March 19, 2019
Interview, Helen Aguirre Ferré, Gov. Ron DeSantis spokeswoman, May 7, 2019
Interview, Edie Ousley, Florida Chamber of Commerce spokeswoman, May 7, 2018