DeSant-O-Meter
Enact E-verify
"Enact E-verify to ensure a legal workforce and higher wages for Floridians."
Updates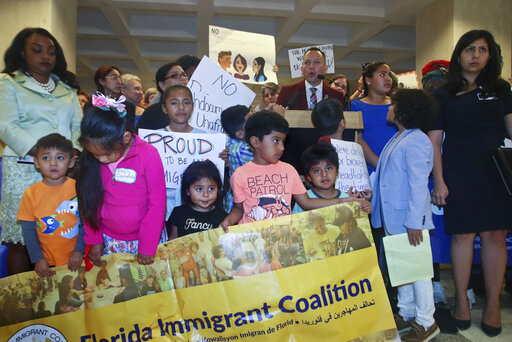 DeSantis pursues sanctuary cities ban but not E-Verify
Gov. Ron DeSantis is poised to sign a bill to ban sanctuary cities for undocumented immigrants, echoing a priority of President Donald Trump.
But he failed to take action on a promise to prevent employers from hiring undocumented immigrants.
On his campaign website in 2018, DeSantis promised to "enact E-Verify to ensure a legal workforce and higher wages for Floridians." It is one of 15 promises we are tracking on our DeSant-O-Meter.
E-Verify is an online program by the federal government that allows enrolled employers to confirm the eligibility of their employees to work in the United States by matching information employees provide against federal Social Security and immigration records.
In February shortly before the start of the state legislative session, DeSantis announced that he had asked the Legislature to send him a bill related to sanctuary cities and counties and for state officials to cooperate with federal officials on immigration enforcement. He said nothing about E-Verify.
The Miami Herald reported in March that the agriculture industry and Senate leaders struck a deal to focus on sanctuary cities and block an E-Verify proposal. Some Republicans who want to crack down on illegal immigration are wary of offending business owners including farmers, who oppose being told to use E-Verify to check applicants' immigration status. The Florida Chamber of Commerce says E-Verify places significant costs on businesses and consistently flags lawful employees.
Instead, the Republican-led Legislature focused on passing a bill that tells police departments and sheriff offices to support the enforcement of federal immigration law.
In March, DeSantis told reporters he still supported E-Verify while acknowledging that his party was split on the issue. But his comments showed it wasn't a top priority this year.
"I am for E-Verify. I want to do E-Verify," he said. "I am committed to doing it, whether we are going to do it this session or not, I don't know."
A spokeswoman for DeSantis told us DeSantis plans to continue pursuing E-Verify as a tool to ensure that people working in Florida are doing so legally.
DeSantis has three more years to keep this promise on E-Verify. For now, we rate this promise Stalled.
Sources:
Senate Bill 168, 2019
Miami Herald, Ban on 'sanctuary cities' to become law in Florida, May 3, 2019
Miami Herald, Legislators' secret deal fast-tracks sanctuary cities bill, stalls e-Verify proposals, March 25, 2019
Palm Beach Post, Has DeSantis stepped back from campaign vow on immigration? March 24, 2019
Florida Channel, Press conference on Judicial Appointment, March 19, 2019
Interview, Helen Aguirre Ferré, Gov. Ron DeSantis spokeswoman, May 7, 2019
Interview, Edie Ousley, Florida Chamber of Commerce spokeswoman, May 7, 2018