Truth-O-Meter unstoppable amid GOP convention shutdown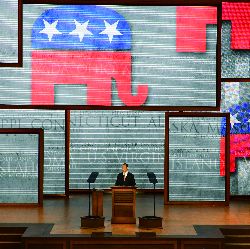 Hurricane Isaac may have shut down the Republican National Convention on Monday. But the Truth-O-Meter was unstoppable.

PolitiFact arrived in Tampa just as former Florida Gov. Charlie Crist made a surprise endorsement of President Barack Obama in The Tampa Bay Times. He served as governor as a Republican, then ran an unsuccessful bid for the U.S. Senate as an independent.

We completed two fact-checks that touched on Crist's endorsement.

Medicare remained a chief concern as the festivities began. Presumptive GOP nominee Mitt Romney accused Obama of hypocrisy, while his vice presidential pick, U.S. Rep. Paul Ryan, said the Romney-Ryan plan "does not affect" benefits for anyone 55 or older.
Read these summaries of our findings below.
Want to comment on our rulings? Go to our Facebook page or find us on Twitter.

PolitiFact will provide daily Truth-O-Meter updates on the GOP before moving on to Charlotte next week to keep tabs on the Democrats.

Virginia Gov. Bob McDonnell: "Independent voters have a 10-point margin in favor of Mitt Romney right now."

Former Florida Gov. Charlie Crist's surprise endorsement of President Barack Obama on Sunday came with his warning that the GOP was turning too far to the right.

Crist was elected governor as a Republican and then ran unsuccessfully for the U.S. Senate as an independent. He made this endorsement in a Tampa Bay Times op-ed.

McDonnell, chairman of the Republican Party's platform committee, defended his party on ABC's "This Week" with George Stephanopoulos. He used this statement as part of his argument.

We found that while the latest national polls by Fox News, AP-GfK, CNN/ORG International and Gallup showed Romney leading Obama among independent voters, the Republican's advantage varied from a few points to 11 points.

Romney was ahead with independents in the battleground states of Florida, Ohio and Virginia between 3 and 5 points.

We rate McDonnell's claim Mostly True.

Mitt Romney: "In 2008, candidate Barack Obama attacked John McCain for proposing cuts to Medicare."

A new TV ad from Romney makes this claim to accuse President Obama of hypocrisy on Medicare.

The ad said that in 2008 Obama attacked his Republican opponent, U.S. Sen. John McCain, for wanting to make $882 billion worth of cuts to Medicare services, then turned around and made $700 million in Medicare cuts to pay for his plan.

(PolitiFact examined Obama's claim about McCain's Medicare plan in 2008 and rated it False. We also looked into the claim Obama made $700 million in cuts Half True).

Romney's ad uses excerpts of an October 2008 speech that Obama made during a campaign rally in Virginia.

We reviewed a transcript and found that it gave an accurate description of what Obama said.

McCain's ideas for Medicare cost savings weren't identical to Obama's, but they were an awful lot like them.

Romney's claim earns a True rating.

U.S. Rep. Paul Ryan: The Romney-Ryan plan for Medicare "does not affect" benefits for anyone 55 or older.

Ryan made this claim to reassure seniors during a rally in The Villages in Florida, a massive retirement community.

The truth is not as clear as the Republican vice presidential candidate makes it appear.

Ryan and Romney are pushing to create voucherlike credits for future retirees to shop for their own plans, either traditional Medicare or a private plan. It would spare beneficiaries 55 and over.

But Romney and Ryan have also pledged to "repeal and replace" the Affordable Care Act, which alters Medicare primarily by extending more benefits and savings.

They haven't said with what. Repealing the law would take away benefits for current enrollees.

Until the leaders explain their plans for closing the doughnut hole for prescription drugs and other Affordable Care Act provisions that would disappear with repeal, we think it's unrealistic to assure seniors that Medicare wouldn't change under a Romney-Ryan administration.

Half True.

Former Florida Gov. Charlie Crist: Republicans included "the Akin amendment in the Republican Party platform, which bans abortion, even for rape victims."

Democrats are attacking Republicans for opposing abortion rights. Crist, who served as a Republican as governor, joined in with this claim in a Sunday op-ed in The Tampa Bay Times where he endorsed President Barack Obama.

Crist was referring to Todd Akin, the Republican candidate for the U.S. Senate in Missouri. The GOP establishment unsuccessfully called for Akin to withdraw after he said that "legitimate rape" rarely results in pregnancy.

The GOP platform opposes most abortions but is vague and does not specifically say that it bans abortion for rape victims.

Also, there is no official Akin amendment, and the implications of a human life amendment and personhood bills are debatable.

There is no dispute, however, that such measures would nullify Roe v. Wade. Some leading anti-abortion groups would like to ban abortions in cases of rape and believe personhood bills would help.

Half True.